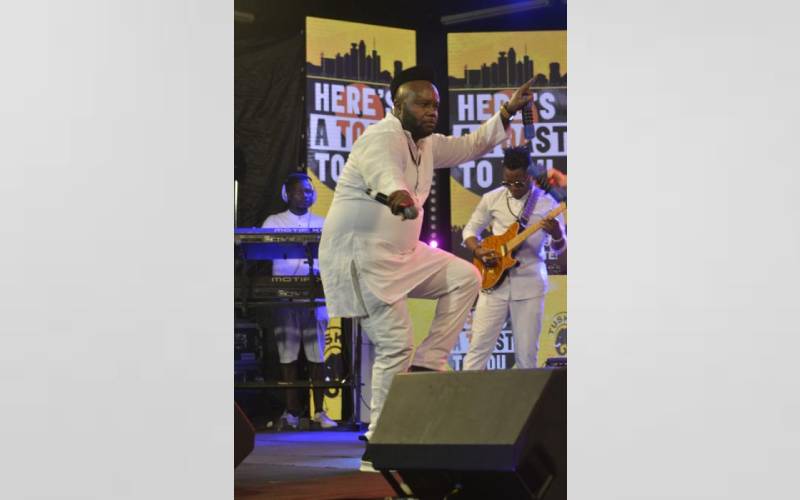 The highly anticipated 47 Million Reasons concert went live on Saturday night with glitz and glamour, uniting Kenyans through entertainment amid the ravaging Covid-19 pandemic. Not your typical concert, this virtual event was a musical expression presented to fans through their screens, as popular artistes took to the stage one after another.
The concert is sponsored by Standard Group Plc in partnership with Tusker, and it aired live on KTN Home, BTV, Radio Maisha, Spice FM, Vybez Radio and all other Standard Group's entertainment social media platforms.
The weekly show is dubbed 47 Million Reasons to recognise and appreciate all the 47 million Kenyans. It is a celebration of culture, tradition and heritage of the people, and features an all-African performance line-up.
The aim of the virtual concert is to promote unity among Kenyans, who have been grappling with the coronavirus and its devastating effects.
The first to take to the stage was H_art The Band, delivering an electrifying performance that kicked off with spoken word. The group then performed their hit song Love-phobic followed by some of their most popular tracks, Uliza Kiatu, Usiseme No and Nikikutazama.
East African Afro-Zouk sensation Kidum came next with his Bodaboda Band, dressed impeccably in all white as they performed his songs with a smooth, mellow rhythm.
"Fourty seven million reasons of togetherness, 47 million reasons of national cohesion. I fully support the initiative and I am happy to be a part of this. I may be from Burundi, but Kenya is my home," said Kidum.
The singer and the band then delighted online fans with his popular 2010 track Haturudi Nyuma, which catapulted him to fame.
Still in the line-up for the coming weeks are Arrowboy, Nadia Mukami, Masauti, Wyre and Ken Wa Maria among other popular entertainers.
Standard Group Chief Executive Officer Orlando Lyomu spoke at the start of the event, saying the affair was a reminder for Kenyans to support each other through difficult times like the pandemic.
"Life as we knew it changed after the first case of Covid-19 was recorded in the country. Life became difficult for many people soon after. Livelihoods were affected and the entertainment industry was badly hit," said Lyomu.
Animated host
"The media has a huge role to play. After the lockdown, artistes have not been able to perform, and their livelihoods and earning capacity was affected. 47 Million Reasons is an opportunity for us to rally together, support one another and start rebuilding what we have left."
Animatedly hosted by presenters Nick Odhiambo and Kwambox, the concert was a ball of energy from the get-go.
The 47 Million Reasons campaign will run the virtual concert every Saturday night. It will feature top Kenyan artistes and public figures.
The audience will be able to participate via running screen text.
The campaign will also run on the Standard website, www.standardmedia.co.ke/entertainment as well as the media group's official social media pages.