No justice yet for MCA clobbered, brutalised by police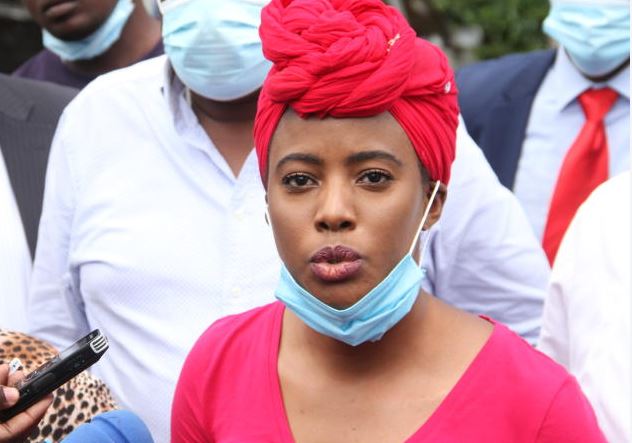 For Nairobi's Mlango Kubwa Ward Representative Patriciah Mutheu Musyimi (pictured), the events of July 28 at Nairobi County Assembly will forever be etched in her memory.
What started as a normal day at work left her admitted to hospital for two days, courtesy of police brutality.
Unknown to her that morning, her fellow MCAs had arrived at the assembly ostensibly to serve former Nairobi County Assembly Speaker Beatrice Elachi with an impeachment notice.
Ms Elachi would later resign on August 11, and was succeeded by former Makadara legislator Benson Mutura on August 14.
"A group of police officers arrived, with one hitting hard the table with a rungu (club). I was a bit shaken. Before I could even explain, one of the policemen hit me with a rungu on my left arm," she said.
Ms Musyimi would then be seen on live national television being clobbered and manhandled by four policemen, one of whom she can identity.
"That really frightened me and before I could do anything he held me by the neck and dragged me down before the rest joined. At some point I thought I was going to pass out," she explained, further stating that she got numb and could no longer feel pain.
Social media later that day came alight with condemnation leveled against the officers. Women legislators came out in support of Musyimi, demanding justice, which the MCA says is yet to be served.
Yesterday, Police Spokesperson Charles Owino said police were still investigating the matter before sending the file with the findings to the Office of the Director of Public Prosecutions.
Goons in uniform
"A team of detectives is still handling the matter. It was reported and efforts to solve the same are ongoing," he said.
Director of Public Prosecutions Nurdin Haji, in a statement issued on July 29, directed the Independent Policing Oversight Authority (IPOA) to investigate the matter and forward the file to his office for appropriate direction.
When contacted, IPOA spoke sparingly on the matter, only saying it was yet to "recommend appropriate action" upon completion of investigations.
The IPOA chair Anne Makori told The Standard the matter was taken up by the investigations team.
However, it emerged that a team of police officers, led by a top officer in Nairobi, had visited the complainant to register apologies. It is not clear if this is part of efforts to solve the matter, although the legislator said there have been calls for her to settle the matter amicably.
Musyimi has finalised her P3 form application and her witnesses have given their statements, awaiting guidance on any developments.
She says she is keen on pursuing the matter to have her assailants brought to book and that she does not understand why she was brutalised at her workplace, yet she was unarmed.
The MCA said she would not wish the same for anyone, as it was a bad experience. She says it does not matter whether the officers knew she was an MCA at the time. "I want justice, regardless," she says.
"I was lucky to get the support I did, but this is not just about me. There are so many people who have suffered in the hands of those who are supposed to protect them," she added.
The sad bit about this incident, she said, was that she was assaulted in the glare of media, yet the case is still not resolved. "You can imagine how many of such incidents happen without being covered by media," she said.
Musyimi holds the four policemen responsible, saying once an order has been given it is up to the enforcer to act responsibly, as she believes they were not deployed to brutalise people.
"Let's see if justice will be our shield and defender," she said, remaining optimistic that the "goons" seen in uniform brutalising her will be brought to book.