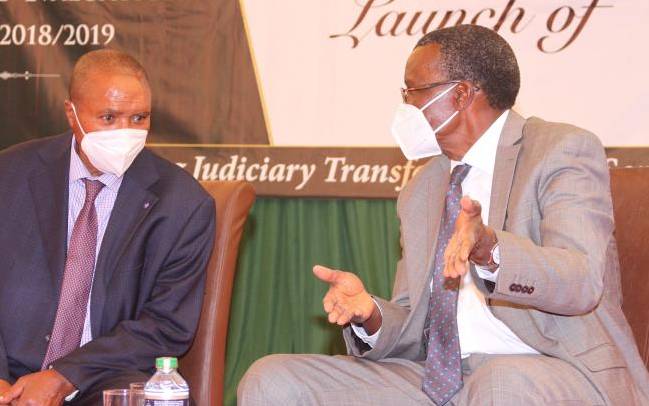 Kenyans seeking justice from the courts should brace themselves for tough times if the Government does not allocate more money to the judiciary, Chief Justice David Maraga has said.
Justice Maraga said it will be difficult to meet public expectations to resolve court disputes expeditiously with the budgetary cuts experienced by the judiciary despite the high number of cases being filed daily.
"As long as the judiciary is underfunded, we will not have any breakthrough in the administration of justice. Kenya is a very litigious county with the high number of cases but without corresponding resources and workforce," he said.
The judiciary has been at loggerheads with the Executive over reduced budget, with the CJ claiming that most of their operations had been grounded for lack of funds. In the last financial year, the judiciary budget was slashed from Sh14.5 billion to Sh11.5 billion.
Speaking during the launch of the Judiciary Strategic Plan 2019-2023 and the performance evaluation scorecard for judiciary staff, the CJ stated that even the virtual court sessions which were rolled out in the wake of the coronavirus pandemic will come to a halt if there are no funds.
"It is absurd that a small case like a rent dispute between a landlord and a tenant is taking up to three years when it could be resolved in a matter of days if we had the adequate workforce," said Maraga.
According to the 2019-2023 strategic plans, the judiciary says they require Sh72 billion in the next four years to fully implement their operations.
The report states that key areas the judiciary will focus on are enhanced access to justice, expeditious resolution of disputes, growth of knowledge management, improved governance, modernising operations and enhance public confidence in the institution.
Parliament's Budget and Appropriation Committee Chair Kanini Kega said they will ensure that the Sh17.4 billion allocated to the judiciary this financial year will not be slashed again in the event that the Executive decides to review budgetary allocations due to declining revenue collection.
In the performance evaluation report, the Anti-Corruption Court headed by Justice Mumbi Ngugi emerged the best performing High Court Division with 95 per cent delivery of judgments within 60 days.
The family division headed by Justice Aggrey Muchelule was the best division in case of backlog reduction at 50 per cent after they reduced the backlog from 5,502 cases to 2,739 cases within a year.