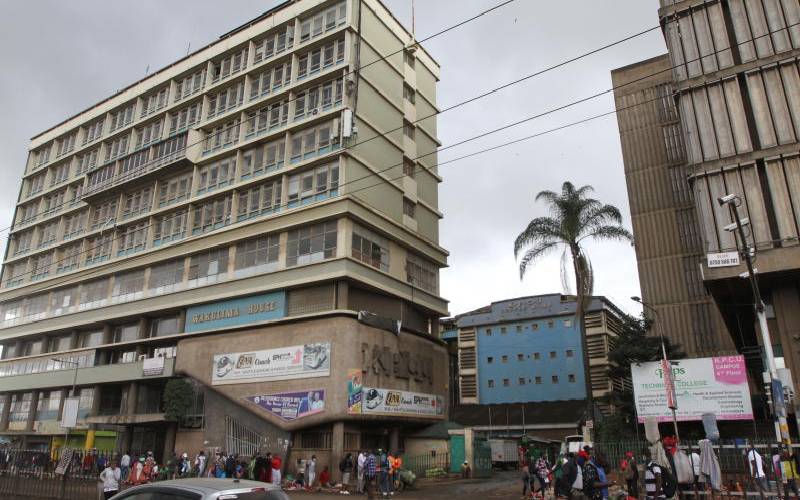 The New Kenya Planters Co-operative Union (New KPCU) is inheriting assets worth more than Sh7 billion from its liquidated predecessor even as it grapples with challenges of missing ownership documents and titles charged on mysterious debts.
A final report of the liquidators Stephen Kamau Njoroge (assistant director of Co-operative audit) and Anthony Maina Waithaka (principal Co-operative auditor) shows the extent of rot at the former liquid entity that almost went under.
Initially, a team of four — including two state counsels — had been appointed for a six-month term to liquidate the old KPCU.
State counsels Doris Wangui Githua and Joice Nkirote Kinuu served in the team until February 3 when a six-month extension was granted to Njoroge and Waithaka only.
Established as a wholly owned coffee farmers' institution in 1937 to mill and market coffee on behalf of the growers, KPCU was kicking its last by last year, weighed down by decades of mismanagement and outright plunder.
Read More
Meagre earnings of farmers had in turn seen coffee production plummet from a peak of140,000 metric tonnes annually in the 1980s to a low of about 40,000 metric tonnes by the mid 2000s.
In addition to milling coffee, KPCU in the early days extended to coffee farmers affordable advances, chemicals and inputs that enabled them to properly take care of their bushes. It was a monopoly until the mid-1990s.
Liquidators used over Sh200 million from the government's Sh3 billion Coffee Cherry Advance Fund to clear a Sh185 million KCB loan and free the prime assets for liquidation.
But most of the union's assets are still charged to other banks over mysterious loans, while others are held in lieu of professional fees. In other cases, ownership changed hands when leases expired.
Underlining the uphill task to revamp the miller is that it is inheriting ageing plant and machinery, majority in a dilapidated state, valued at only Sh24.27 million.
Twenty out of 49 equipment used in the mill are obsolete and in poor working condition.
Seventeen equipment require immediate replacement.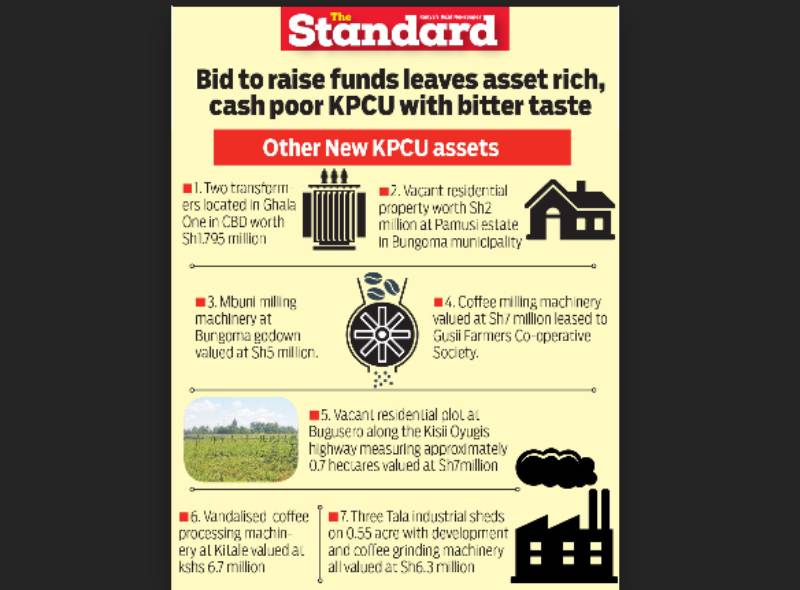 A weighing bridge with capacity of 80 tonnes is among the few equipment certified to be in a working condition.
According to the liquidators' report, the KPCU assets in Nairobi CBD include land valued at over Sh1.08 billion fully developed with an office block known as Wakulima House, Twin Tower Old Mills, Godown, R&K building (coffee warehouse) Ghala One building, a coffee shop and parking toll house, all valued at an additional at Sh2.39 billion.
The old furniture and vehicles at these buildings were valued at just over Sh16 million.
Lost title deeds
According to the liquidators, despite clearing the KCB loan, the union is yet to reclaim the titles for this prime property.
Other properties include the Dandora coffee mills which sits on two plots of 26.61 acres and 27.45 acres collectively, both valued Sh2.1 billion.
Developments here include 13 warehouses, an administrative block, power house, fire station, water storage tank, two weigh bridge offices and security offices, all valued at Sh822.5 million. Ageing plant and machinery at Dandora was valued at Sh24.27 million and furniture at just over Sh1 million.
"Official search on these two titles show the land is charged in favour of Pink Homes Ltd for Sh138 million. The books of account of KPCU under liquidation do not show the name of Pink Homes Ltd as a creditor. No record has been found pertaining to any transaction that could have resulted in such charge," the liquidators said in the report.
A godown located near Bungoma National Cereals and Produce Board premises measuring 0.745 acres was valued at Sh48.15 million, with developments valued at Sh17.6 million.
Curiously, in Kitale, the liquidators valued coffee-processing equipment but did not mention anything about the property they were found in.
In Kisii, the union milling plant is installed at the premises of Gusii Farmers Co-operative Society on lease.
In Sagana, the mill has five warehouse blocks, a manager's house block, water tanks, weigh bridge and offices plus a kitchen with a development value of Sh112 million. Coffee milling machinery at Sagana is valued at Sh37 million.
"The title of this (Sagana) property is held on a leasehold interest for a term of 33 years effective August 1, 1968. The lease had already expired. Official search at the land registry using the documents at KPCU revealed different ownership details," the liquidators reported.
New KPCU lawyers have been asked to get the ownership documents from the predecessor's lawyers and facilitate a lease renewal.
Unpaid debts
Meru KPCU mill sits on 3.8 hectares of land but had no title deed. Land was valued at Sh19 million, while the two warehouse blocks, offices and other developments were valued at Sh58 million. Ageing plant and machinery at the mill was valued at Sh30 million.
The 4,851-square metre Nakuru warehouse sits on 0.162 hectares of land valued at Sh144 million and has developments valued at Sh56 million. Nanyuki godowns next to the railway station sit on 0.743 acres of land valued at Sh115.5 million, including developments.
The liquidators reported that they were unable to authencicate legal fee debt of Sh220.6 million left by the past management. There are also unpaid directors' allowances of Sh40.6 million, and another Sh46 million debt owed to Virtue Over Seas PTE related to coffee-trading activities.
The liquidators also found that 1,811 growers owe the union Sh4.5 billion and recommended that the administration follow up to recover the money or grant waivers.
Six growers owe the miller Sh862.4 million and two others owe Sh1.2 billion.