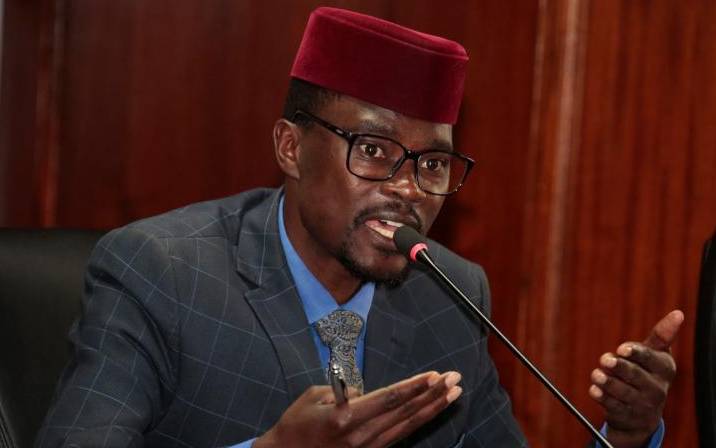 Kimilili MP Didmus Barasa (pictured above) has been freed on Sh100,000 cash bail after pleading not guilty to fraudulently selling a car worth Sh450,000 to a Kitengela-based businessman in 2017.
The legislator has been charged with the offence of fraudulent disposition of mortgaged goods contrary to section 291 as read with section 36 of the penal code.
Read More
Barasa was arraigned at Kajiado Law Court on Tuesday morning after which he was released.
On July 20, the MP went to court to seek an anticipatory bail to bar his arrest over the controversial sale of public service vehicle to businessman John Irungu Mwangi.
"We pray that the court admits the MP to reasonable bail terms pending the investigations and arrest by officers under the command of the IG as a result of the complaint made by Irungu against the MP," a court document stated.
The MP on his defence, through veteran lawyer John Khaminwa, argued that he sold the vehicle to the businessman through an intermediary but the latter breached the sale agreement. He told the court that the sale was on willing buyer willing seller basis.
"Irungu, being in breach of the agreement, has chosen to make unwarranted allegations against the MP, seeking to extort from him a colossal sum of money under the guise of compensation for a nonexistent breach of the sale agreement to purchase the vehicle," Khaminwa argued in his submission.
The legislator further alleged that the businessman had conspired with criminal investigations officers to intimidate him. He further claimed that his woes had been triggered by those opposed to his support for the Deputy President William Ruto's 2022 presidential bid.
"The said people have advised me that I should not attend any meetings as the police will want to arrest me in public to completely humiliate me," he claimed.
"The intimidating, oppressive, unreasonable and threatening conduct and behaviour of the police officers is causing the MP to suffer untold mental anxiety with serious ramifications to his mental and physical state in complete contravention of his rights."