Standard Group signs MOU with UNDP to support development agenda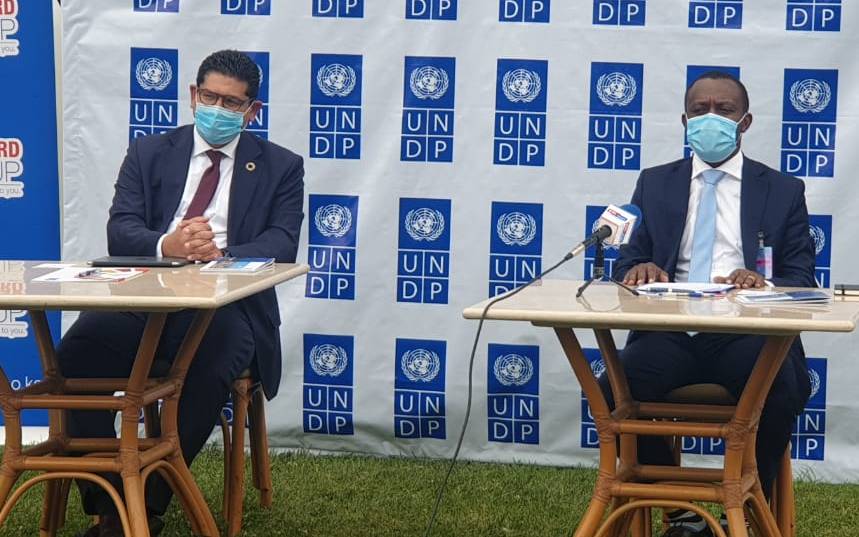 A deserted United Nations office in Gigiri greets visitors in the wake of the Covid-19 outbreak. Offices have been cleared, and the staff has been kept to a minimum.
However, amid the cold reality of the pandemic and its socio-economic effects, the Standard Group leadership and that of the United Nations Development Programme met to drive the development agenda within the country and beyond.
Today, the two organisations signed a Memorandum of Understanding (MOU) that will see the media giant and the intergovernmental organization tell positive and informative stories that will encourage innovation and development.
Speaking at the signing of the MOU at the United Nations office, Standard Group Chief Executive Officer Orlando Lyomu said the project focuses on homegrown solutions with the media playing a significant role in sensitising citizens on crucial growth agendas.
" The ability to share ideas that will spur development is critical, which is what we do as the media. People need access to information about development. We need platforms that will influence behavioural change to assist in driving important messages such as healthcare during this pandemic," said Mr Lyomu.
UNDP Resident Representative Walid Badawi, who signed the document on behalf of the organization, said the UN agency was committed to working together with the media to strengthen storytelling on development and contribute to the national development agenda.
"Media has a role to play in highlighting what organisations like the UN do to push the country towards achieving sustainable development goals. We aim to mobilize resources and strengthen the partnership. We know that it is the media that can reach our audiences. Media promotes national unity and provides the citizens with a means to air their grievances and find a resolution. We hope to utilize our platforms to effectively change development in the country and bring the attention of this to the global community," said Mr Badawi.
The MOU will see the two entities co-creating content on various platforms highlighting development issues affecting the country and the efforts to address them. Another goal of the partnership is supporting national efforts to identify and promote locally-developed innovative solutions to address Kenya's development challenges.
The MOU aims to invest in building capacity of journalists through supporting efforts aimed at promoting development journalism in Kenya, especially coverage of national efforts towards the attainment of the Sustainable Development Goals.
Back in 2014, the Standard Group collaborated with the UNDP in a deal that created a show dubbed "Sikika Sasa".
The show allowed Kenyans to discuss and address their concerns and debate on human rights issues. Much like the goals the current MOU has, the show offered a national dialogue platform.