Uhuru team to Mkapa burial returns midair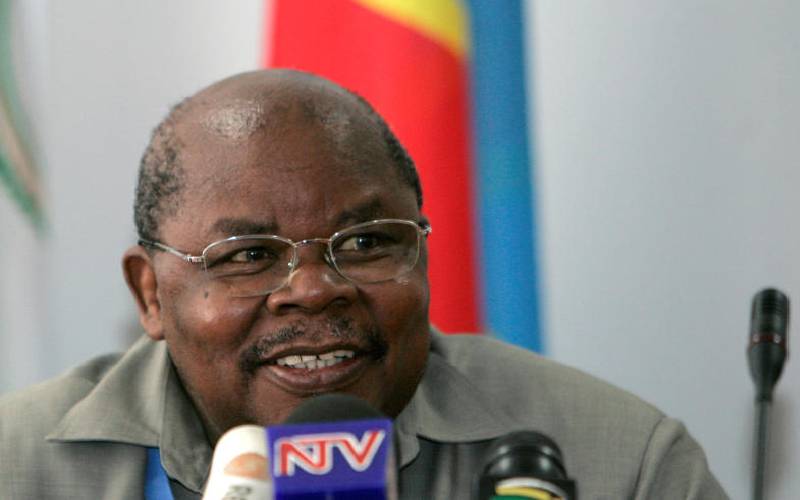 Thousands of Tanzanians gathered yesterday to pay their last respects to the country's third president Benjamin Mkapa (pictured) in a requiem at Uhuru Stadium in Temeke District, Dar es Saalam.
But as the event went on, President Uhuru Kenyatta's delegation to the function ahead of today's burial was forced to u-turn midair due to what was termed as bad weather.
Senate Majority Leader Samuel Poghisio had been sent to deliver Uhuru's message of condolence to Mkapa's family and the entire nation of Tanzania.
Tanzanian government officials announced during Mkapa's farewell ceremony that the Kenyan delegation could not attend the event.
On Friday, President Kenyatta announced three days of national mourning
Speaking at the event, President John Magufuli said Mkapa was instrumental when he took part in peace talks and reconciliation for countries in the Great Lakes region.
"Mkapa was a global citizen. He was a dynamic leader, a seasoned diplomat, a mediator and a peacemaker," Magufuli said in his address televised live by state-run Tanzania Broadcasting Corporation.
The head of state added that during his administration, Mkapa also oversaw the country's economic reforms, good governance and growth of the private sector.
Mkapa, who died on Friday, will be buried today in his native village of Lupaso in Masasi district in Mtwara region.
Born on November 12, 1938, Mkapa served two five-year terms from 1995 to 2005.
And yesterday, Poghisio told The Standard that the weather was 'very bad'. "The Tanzanian Civil Aviation warned us of bad weather and we could not land in the city. We needed time to hold before the weather clears or be rerouted back," said Poghisio.
Tanzania's Minister of Foreign Affairs and International Co-operation of the Government of Tanzania Palamagamba Kabudi said the plane returned when it reached Monduli District in Arusha Region of Tanzania.
Poghisio left Wilson Airport at 8am in the morning and was expected to deliver the president's message at noon before flying back to Nairobi where there would be a showdown at the Senate over the controversial formula for allocating revenue to counties.
"We realised that based on time, we could not take long in Tanzania due to the bad weather and decided to return," said the Senate Majority Leader.
The presidential Fokker 70 ER, christened Harambee One, that flew Poghisio and two parliamentary staff, is also used by VVIPs. It was acquired in 1995 through the Kenya Air Force by former president, the late Daniel Arap Moi.
In his message, Wiper leader Kalonzo Musyoka described the former Tanzanian leader a trusted neighbour and a champion of regional integration. Mkapa will be remembered as a champion of regional integration and a trusted neighbour to Kenya," wrote Kalonzo.
He spoke at the Tanzanian High Commission where he was received by the newly appointed High Commissioner Dr John Stephen Simbachawene.