Lockdown won't help: Uhuru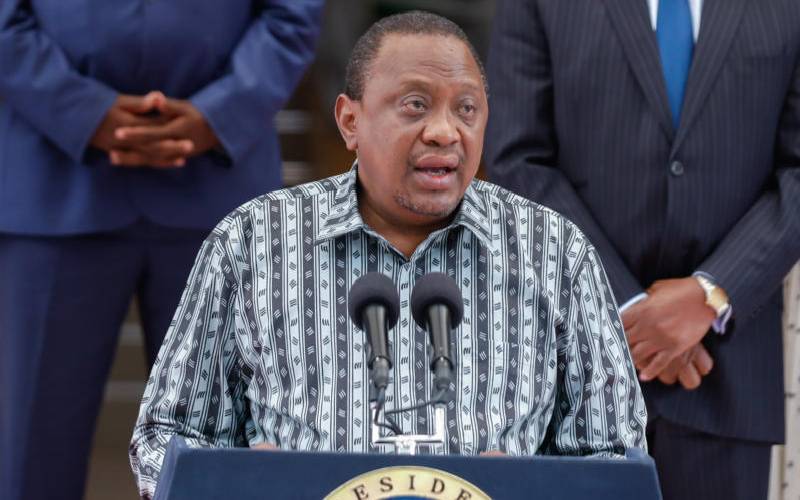 There will be no partial or total lockdown.
Speaking after meeting stakeholders amid a second lockdown fears, President Uhuru Kenyatta (pictured) today pointed an accusatory finger at bars operating and flouting Health guidelines on coronavirus.
Speaking at State House on Monday, Uhuru said there will be no lockdown as the control of the spread of the disease now lies on citizen responsibility.
But politicians have been at the forefront in violating some of the regulations set in place like the ban on public gatherings as well as the curfew.
However, Uhuru emphasised on the fact that ranks or statuses will not exempt anyone.
"This is not a cmpetition fbetween political groupings...we either drown together or win together."
Bars shall henceforth remain closed indefinitely and those found operating risk losing licences permanently.
His warning comes a few days after Health CS Mutahi Kagwe said citizens will no longer be allowed to take any alcoholic drink in restaurants, entertainment joints or any public places once proposed rules are enacted.
This is according to a draft legal notice by the Ministry of Health. The set of rules aims to govern the sale and consumption of alcoholic drinks during the Covid-19 pandemic.
Kagwe proposed the rules under the Public Health Act, Cap 242.
As the coronavirus national tally hit 17,603 today, Uhuru reiterated that the country's concern is the greatest surge of infections among young Kenyans who in turn affect the elderly.
Contact tracing shows social life violating the MoH guidelines is hurting the war aginst Covid-19.
The President added that the low rate of deaths is giving Kenyans false comfort that the pandemic is not serious.
He added that the governmnet's move to ease restrictions further made Kenyans pay no heed to MoH guidelines.
"The reckless actions are endangering citizens."
While lauding the police for implementing the curfew effectively, Uhuru said the government cannot police the morality of its citizens.
Uhuru extended the dusk-to-dawn curfew for another 30 days citing increased Covid-19 infections.
"I hereby order that the nationwide curfew remains in place for another 30 days," he said.
"Citizens must balance between their rights and responsibilities to one another."
Places of Worship
Following clerics' and faithful' outcry, the President had earlier ordered that places of worship be opened but adhere to MoH guidelines that included only having 100 at a time and that services would only run for an hour.
But the church organisations have asked for more, and Uhuru, heeding to their calls, said the responsible teams will review that restrictions and have an extra day other than Sunday for worship. The designated day and details around it will be announced later.
Echoing MoH sentiments on personal responsibility, Uhuru warned that those who refuse to obey should be reported.
"We are living, globally, in abnormal times. Careless citizens will suffer greatly...don't think we are immune."
The president criticised countries that are not sharing the true state of their Covid-19 situation, urging Kenyans to only pay attention to the national government updates and ignore countries that claim to have warn the war against corona.
"Others are suffering [more] than we are and are not speaking up. Nobody is special."
Condoling with mourning families of the 280 who succumbed to coronavirus, Uhuru said Kenya is at war "with an invisible enemy who is relentless in their desire for destruction".