Churches open doors on Tuesday; will you enter?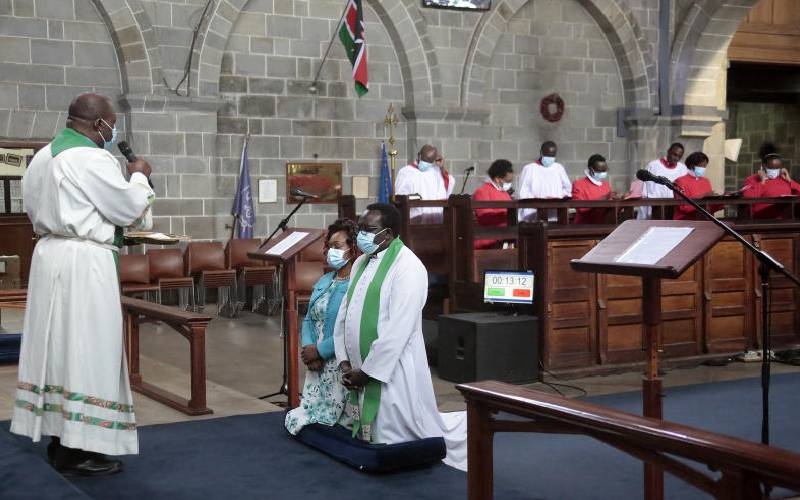 As churches prepare to resume services after more than three months, believers and clerics have expressed mixed feelings on whether they should attend.
Bishop Mike Brawan of Metro Church was yesterday shocked to see some faithful show up for services, claiming that was the official date for places of worship to resume normal services, as recently advised by President Uhuru Kenyatta.
"We had to hold three services with a maximum of 15 people each. Other members had to leave until next Sunday when we can allow up to 100 at the same time," said Brawan.
Bomet and Nakuru resident interviewed said they were eagerly awaiting the reopening, while a section had reservations, citing increasing cases of Covid-19 in the two counties, even though the churches largely remained deserted.
Bomet Pastors Association, through their chair Felix Korir, said in a statement that every church has the free hand to plan for its date to reopen and resume normal service. "We thank the government for allowing resumption of church services. We are praying for normalcy to be attained soon. Meanwhile, individual churches can plan their reopening based on the level of preparedness and compliance with the government guidelines," said Korir.
Nakuru ACK Diocese Bishop Dr Joseph Muchai said bishops drawn from around the country were set to hold a zoom meeting tomorrow ahead of the official reopening of their branches countrywide.
Muchai said the church had advised their grassroots leaders to strictly adhere to the guidelines set by the Ministry of Health after the July 14 reopening date.
"We shall have a meeting on Tuesday with all bishops. Age limitation given by the Interfaith Council shall be among the topics to be discussed. However, the churches are free to reopen after July 14," said Bishop Muchai.
Elsewhere Anglican Church of Kenya (ACK) Memorial Cathedral in Mombasa hosted this year's Sea Sunday mass in a near empty cathedral, as it observed health directives on social distancing. When 12 choir members removed their masks to sing, they discovered they were twice the number of the congregation, which had six people.
At the Holy Ghost Cathedral Catholic church in Mombasa, gates to the prayer place remained locked, with a sentry confirming that there was nothing going on at the moment.
Closed gates
A spot check by The Standard revealed Catholic, Presbyterian and other mainstream churches remained shut and held virtual sermons instead. Sea Sunday is marked on July 12 to remember seafarers and their work.
This year's event, marked globally, was themed 'Come to me all that are weary, and are carrying heavy burdens, and I will give you rest'.
Mombasa ACK Cathedral Provost, the Reverend Dr Festus Kiseu, who presided over the mass, assisted by the Reverend Moses Muli, who is Mission to Seafarers Mombasa Port chaplain, said they adhered to all standard operating protocols as outlined by the Ministry of Health.
"We have restricted number of congregants. In fact, going forward, we shall be keen to have only 100 people, who sit in designated spots with ample space between each other," Kiseu said.
He said all those going for mass when they resume church services on July 19 must wear face masks and sanitise at the gate before entering the church.
Muli said this year's Sea Sunday took an extra-ordinary significance because of the isolation experienced by seafarers unable to come ashore due to the worldwide pandemic.