Church leaders want bill on reproductive health shelved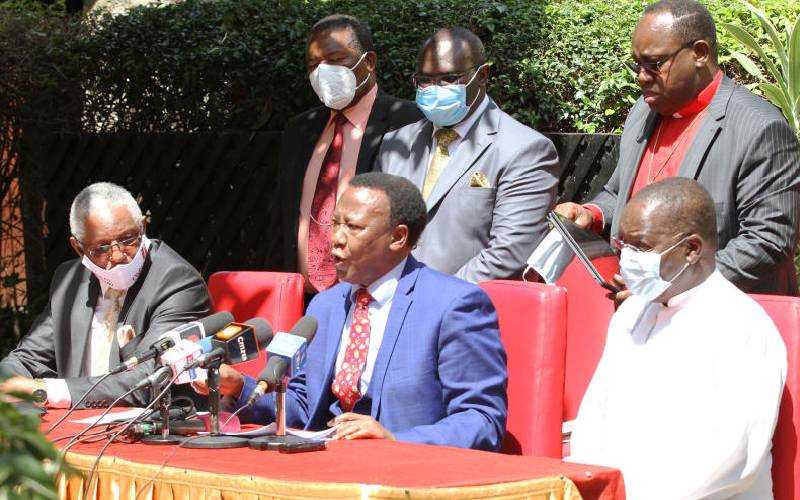 Religious leaders have poked holes in the Reproductive Health Bill and now want the entire bill shelved.
The leaders under the auspices of Kenya Christian Ministers Forum who are also members of the Evangelical Alliance of Kenya want the Senate to reject the bill when the House resumes next week.
"There are provisions in the bill that we find problematic and dangerous if approved into law. The bill should be shelved to allow for more consultations. We appeal to Members of the National Assembly and Senate to reject this bill," said Bishop Kepha Omae, Presiding Bishop of Redeemed Gospel Church, who read the statement on behalf of other clerics.
According to the clergy, the bill normalises underage sex and if passed, it will open the door for children between the ages of 10-17 to receive and use contraceptives, procure safe abortion.
"We find this to be wicked and abominable," said Omae in a statement.
Further, they argue that the bill which seeks to introduce the Comprehensive Sexuality Education (CSE) will teach that sexual pleasure is a right.
"Teaching sexual pleasure as a right would automatically create perverts who will engage in masturbation, same sex relationships, rape, bestiality, incest, teenage sex," said Omae.
Nakuru Senator Susan Kihika's bill if passed into law, will govern how assisted reproduction is performed, who performs it, and under which environments.
In addition the proposed law is silent on gay couples or singles as well as about a child's right to know its biological parents when he or she reaches age 18.
Presiding Bishop of Christ is the Answer Ministries David Oginde, Bishop Dr Stanley Muriuki, EAK Chairman Bishop Mark Kariuki, EAK Nairobi Chapter Bishop Peter Njao signed the statement.