Dodging virus roadblocks: Motorists, 4 police officers arrested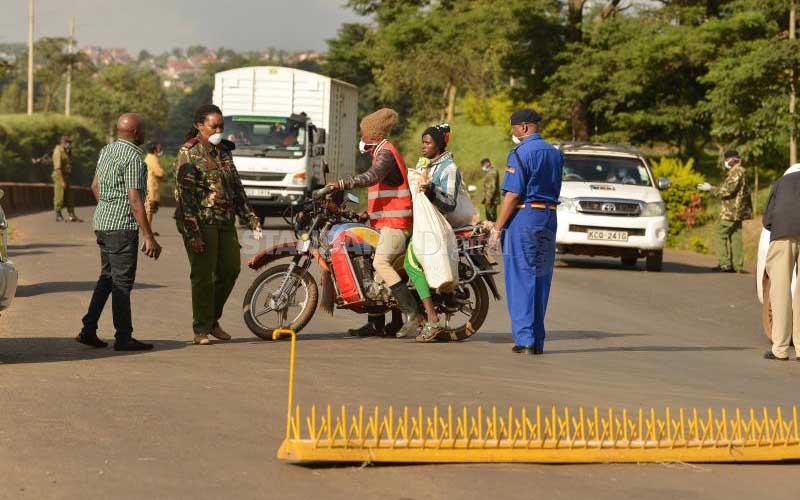 At least 10 motorists and four police officers were arrested on Wednesday for bribe giving and taking to drive past a roadblock erected to enforce the cessation of movement into and out of Nairobi Metropolitan area tame the Covid-19 pandemic.
The arrests were made by a sting team led by the General Service Unit (GSU) Commandant Douglas Kanja following complaints it was business as usual at the Blue Post roadblock in Thika Town.
Inspector General of police Hillary Mutyambai said he ordered the operation following complaints motorists were passing through the roadblock with impunity after possible bribery of his officers.
"We are processing those arrested for action. People need to know this cessation of movement is serious and aimed at curbing of the spread of the disease in the country," he said.
The team of undercover officers drove to the area and took strategic positions and waited for the motorists to pass through the roadblock before striking. The confessed to having paying bribes to pass through.
The victims were taken to Thika Police station for processing. Mutyambai told officers manning roadblocks enforcing the order to be firm and allow only deserving cases.
"If we are not serious we will take this disease to our rural areas which will be dangerous and difficult to contain," he said.
President Uhuru Kenyatta extended the nationwide curfew and cessation of movement in some counties up to July 7. Also affected by the cessation of movement was Mombasa and Mandera Counties.
Roadblocks have been mounted at various exit and entry points to enforce the order. But some motorists beat the roadblocks using various means.
Uhuru said he took the decision following advice he received from the health ministry and relevant government agencies about the prevailing health situation in the country.
The president appealed to Kenyans to adhere to health regulations which are put in place by the government and assured the nation that the economy will soon reopen.
The cessation of movement in several counties and the dust-dawn curfew are among a raft of new measures aimed at combating the spread of the coronavirus.
The president warned that the government will not delay in escalating the measures put in place if the need arises.
Kenya has also banned large gatherings to ensure social distancing, closed learning institutions and suspended international passenger flights and closed borders among other measures to contain the spread of Covid-19. Some 254 new cases were announced today increasing the confirmed cases to 5,206.