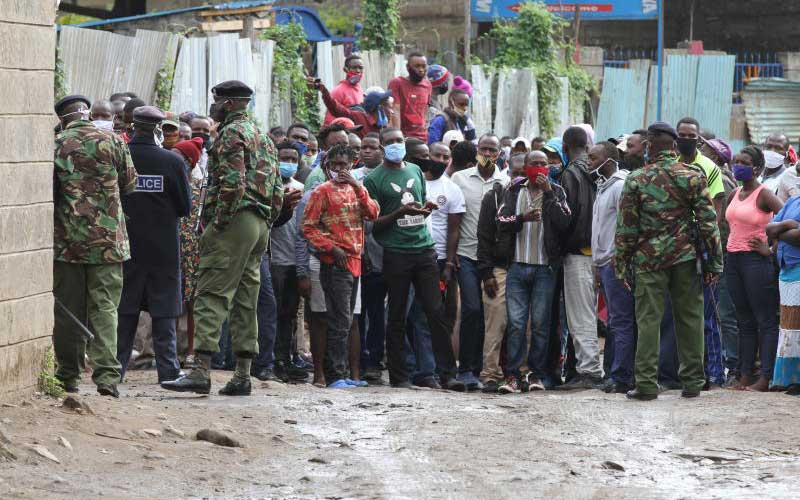 It is 8.30am and a crowd is forming at the junction joining Eldoret Road to Eastleigh from Kiambiu.
Two armed police officers are managing the crowd while two others are at a roadblock on Eldoret Road.
Read More
There was confusion as the residents tried to go past the roadblock.
Some did not understand why the officers did not let them move around yet they live in Eastleigh, and movement within the estate is allowed.
The police and residents clashed over the boundaries of Eastleigh, which has been locked down for 15 days as the government fights to contain the spread of coronavirus.
"They (police) say we cannot go through," one man shouted from the crowd as he walked away, dejected. "It is strange because we stay in Eastleigh. The roadblock has been erected within Eastleigh and we know the government said we can move within Eastleigh."
The order on cessation of movement as issued by Health Cabinet Secretary Mutahi Kagwe on Wednesday stopped any movement in to and out of the area but allowed movement within.
Eastleigh has been locked down from parts of Shauri Moyo and California Estate, Section III and Biafra estate on First Avenue.
But many residents of Kiambiu and Gituamba said the order was either misunderstood or they do not know where they live.
Some said they have always known they are in Eastleigh. But according to the government, they live in Bahati.
"Eastleigh is big. Where we are now is Eastleigh South. It does not make sense to lock us out yet movement within Eastleigh had been guaranteed," said Oliver Brian, 26. Brian washes vehicles in Section II of Eastleigh and lives in Kiambiu.
The police erected a roadblock on the bridge across Nairobi River, next to Eastleigh Police Station. The river, a police officer said, is what separates Eastleigh and Bahati.
Residents of Kiambiu and Gituamba, who do not fall under the targeted Eastleigh area, can access town through Jerusalem Estate, and connect to Kimathi, then to Jogoo Road.
Depend on Eastleigh
"Most of the people who stay in Jerusalem, Bahati and Kiambiu depend on the businesses in Eastleigh. So how does someone expect them to survive in the face of the lockdown?" Brian said.
Lillian Akinyi said: "I depend on menial jobs in Eastleigh. As we speak, I was supposed to collect my pay from a client. However, with the way things are, that's not possible. I am hungry and I have a seven-year-old child to take care of."
There was a heavy police presence in the area. A water bowser for controlling rioters was parked at a garage near Madina Mall, in case riots erupted. The street that is usually busy was almost lifeless. It is the business hub in Eastleigh but shops, hotels and malls were all closed yesterday. Only a few traders were selling edibles.
More water bowsers were parked at Pumwani Maternity Hospital Roundabout and Juja Road Roundabout at Mlango Kubwa. It is here that we meet Edward Mwenda, an essential services provider, working as a pharmacist at Eldohosp Pharmaceuticals Limited. He had a motorbike loaded with cartons of what looked like medications.
"The police have asked me to wait here. I have given them all my credentials and I don't know what is going on," he said. "These are drips and this small carton has a dose for a patient who gets an injection at 1pm daily."
It took a while before the police allowed him to proceed.
Just as he left, a cart puller innocently crossed the roadblock. He was ferrying what appeared to be potatoes. An officer stopped him. After a chat, the cart puller went back. Another one arrived and he too was turned back.
The officers allowed in patients who are going for treatment.
"Where is that lady who was going for dialysis?" one of the officers asked. A woman and an elderly man approached him and after they talked, they were let through.
However, anyone going to hospital had to produce evidence -- doctors' letters or prescriptions.
While cart pullers transporting food were not allowed through at Mlango Kubwa roundabout and Juja Road, those at Kariokor were given access.
There was drama at a roadblock at Kariokor as motorists parked their vehicles and started begging the officers to let them through.
"I will not tell you this again. I have said drive this vehicle away from here. Why are you giving us a hard time?" an officer manning the roadblock was heard shouting at one of the motorists.
There were claims some people had escaped the Eastleigh lockdown and went to hide in South C estate. However, the estate remained calm yesterday.
"I haven't seen any new residents here," Peter Sindiyo, a South C resident said.
A shopkeeper in South C, who did not wish to be identified, however told The Standard that some people arrived in the estate on Wednesday evening.
[Additional reporting by Jacqueline Mahugu]