Man burnt to death inside his car in Buruburu, police launch probe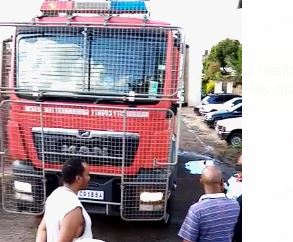 A man was Wednesday burnt to death in his car in Buruburu Estate (Phase V), Nairobi.
The charred remains of the man were found after the fire had been contained. Police suspect arson because the car's engine and trunk were not burnt.
The interior of the Subaru Impreza parked next to the man's house was damaged.
Police say the man is married with two children. Although the body is burnt beyond recognition, eighbours say he is Terrance Korir, 36.
The neighbours and guards said the car caught fire as the man started the engine ready to leave for work. He works with a bank in the city.
Police said they were called by guards and management of Maimahiu Court and informed there was a car on fire at about 8.30 am.
They then called firemen to the scene. It was after they had contained the fire that they established the man's identity and his house.
The remains were removed from the scene as investigations continue.
Buruburu police boss Adamson Bungei said they are yet to establish the cause of the fire. He added preliminary analysis of the wreckage showed only the inner part of the Subaru was damaged killing the man who was seated in the driver's seat.
"The engine and rear part of the car is intact and the fire concentrated inside. We don't know what happened but experts are on the case for now," said Bungei.
He said the witnesses said there was an explosion from the car as it caught fire. Bungei said the experts carried samples from the car to establish what caused the fire.
Shocked neighbours milled around the car before it was removed to the local police station and body taken to the mortuary.