Retired bishop dies of Covid-19 in Italy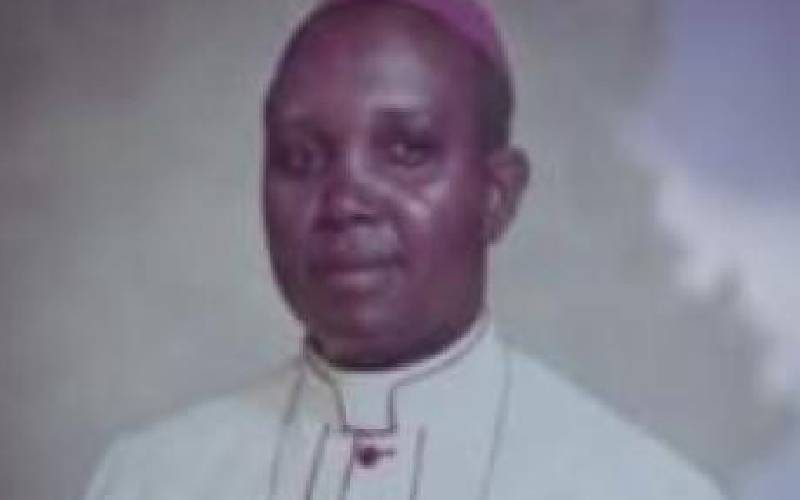 A retired Kenyan Catholic cleric has succumbed to coronavirus in Italy.
Bishop Silas Njiru (pictured) died yesterday morning at a hospital where he had been receiving intensive care.
The 91-year-old bishop (emeritus) of Meru Diocese relocated to Italy a few years after retiring from the pulpit in 2004.
He had served as the second bishop of Meru Diocese for 28 years and retired on March 19, 2004 when he turned 75.
His death was confirmed by his successor, Bishop Salesius Mugambi, through Fr David Kaberia, the priest in charge of St Joseph's Cathedral.
Fr Kaberia remembered the now departed cleric as a "well gifted, articulate, good communicator, very prayerful and a generous man."
"You would never go to Bishop Njiru with a problem and leave without a solution. He insisted on a prayer life," added Fr Kaberia.
Joined monastery
According to a priest in Embu, Njiru initially joined an Italian monastery until two years ago when he went to live at Castello-Alpignano, a home for the elderly in Italy.
On Monday morning, the Catholic Diocese of Embu Bishop Paul Kariuki received a message from fellow priests in Italy about bishop Njiru's condition, with a request for prayers.
"I hereby write to let you know that Bishop Silas Njiru, Bishop Emeritus of Meru Diocese, and our dear son from Kevote Parish is currently in the hospital in Italy. He and other two Consolata missionaries are coronavirus positive and are in critical condition. I hereby exhort you to pray for Bishop Silas and Consolata missionaries for a quick recovery," read Bishop Kariuki's message in part.
Bishop Njiru was born in Embu Kevote Parish in 1928 and studied at Mujwa Seminary and St Paul's seminary in Nyeri.
When Consolata missionaries were taken prisoners in South Africa, Njiru went to Uganda to further his studies.
He later returned to St Paul's and was ordained as a priest on December 17, 1955 by Victor Bissone, the first bishop of Meru diocese.
Parish priest
He served as an assistant parish priest in Tigania, Amungenti and Mujwa parishes before being appointed Director of St Pius Seminary Nkubu in 1961.
Njiru, who taught Mathematics, established the secondary school section of the seminary.
In August 1968, the cleric went to St Peters College, Rome for a Master's degree in Pastoral Theology.
Upon completion, he was appointed as rector of St Thomas Aquinas Nairobi in 1971. While there, he played a great role in affiliating the seminary to Pontifical University of Urbaniana in Rome.
In 1974, he was recalled by Bishop Bissone and appointed Vicar General.
On January 1, 1976, he was consecrated as an auxiliary bishop and appointed as Bishop of the Meru Diocese on December 18, 1976 following the death of Bishop Bissone.
Diplomat by nature
The Meru Diocese remembers him as a diplomat by nature, who was accepted by all.
Njiru will be remembered most for his great passion for formal education.
During his service, he started a lot of schools in Meru as well as self-reliance projects to support the diocese.
According to the Meru diocese, Njiru was a big promoter of vocation of priests and opened a lot of parishes, dispensaries and water projects.