Senators: Lack of board hurting drugs agency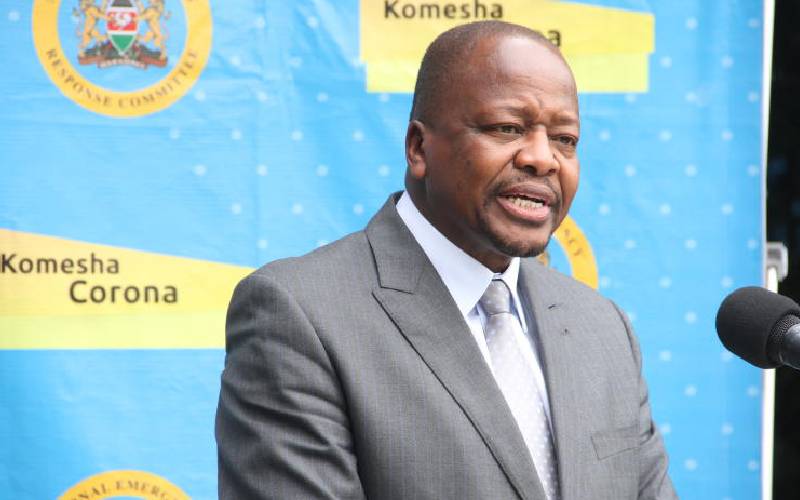 Health Cabinet Secretary Mutahi Kagwe (pictured) is on the spot for declining to renew the Pharmacy and Poisons Board members' term.
Senators took the CS to task on why he had delayed to put in place a board, resulting in regulatory gaps in the industry and undermining the war against the coronavirus.
Mr Kagwe has, however, defended his decision, arguing that the governance structures of the board should be changed before fresh appointments are made.
Appearing before the ad-hoc committee on Covid-19 that is chaired by Nairobi Senator Johnstone Sakaja, the CS insisted that the structure of the board was ineffective, making it incapable of offering guidance to the institution.
"Boards are appointed for the purpose of directing and guiding institutions. This one has failed largely because of the way it is structured," he told the senators.
"As Cabinet Secretary, you are the one who should appoint the board and you owe it to the public to explain what is happening," Mr Sakaja told the CS.
The senator said industry players were increasingly getting concerned about the delay.
Though Kagwe acknowledged that the Covid-19 situation was largely the reason for the delay, he stressed the need for structural changes to make it responsive to modern trends.
"Boards of the agencies under my ministry require legislative changes to make them effective" he told the Sakaja-led committee.
The members' term expired last month. The immediate former board was constituted on March 8, 2017 by former CS Cleopa Mailu.
Their mandate expired just six days before Kenya announced its first Covid-19 case on March 13. The nine-member board consists of the Director of Medical Services, who, by law, is mandated to chair it.