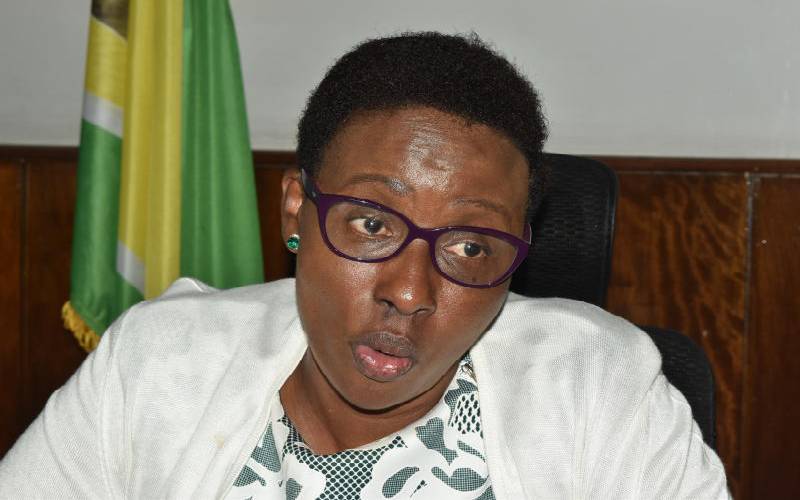 Differences between County Speaker Beatrice Elachi (pictured) and clerk Jacob Ngwele have forced the Nairobi County Assembly to change its official letterheads.
A letterhead is a printed heading on stationery stating an organisation's name, address and logo or corporate design, and sometimes a background pattern.
Read More
Nairobi County Assembly Service Board last week announced it had adopted new letter heads for the Nairobi County Assembly Service Board, Office of the Speaker and Office of the Clerk.
"It is notified for the general information of the public that the city assembly service board has adopted new letter heads. This is in accordance with the Nairobi City County Flag and Other Symbols Act, 2013, which provides for the flag and other symbols and prevents the improper use of the county flag and of certain symbols, names, words and likenesses for professional or commercial purposes and for matters incidental there to," read a notice published by the board chairperson, Ms Elachi.
The Speaker said old letterheads have since been discontinued and "any person using them is a charlatan and the assembly will not be held liable for any business transacted by their use".
However, it has emerged the changes were prompted by the long protracted feud between Mr Ngwele and Elachi.
A source revealed yesterday that Ngwele, who was hounded out of office at the climax of his wrangles with Elachi last year, was last week reinstated as the official signatory of the County Assembly CBK accounts, a move that did not sit well with Elachi.
"The speaker's move seeks to nullify the letterheads that are in use by the clerk, now recognised as the substantive signatory. The speaker is the chairperson of the board and has control over the two crucial offices at the assembly and she is now trying to control the office of the clerk, which is independent," said a source who sought anonymity for fear of reprisal.
An MCA, who also sought anonymity, accused Elachi of bringing division to the House by fighting the governor and Ngwele. They are fighting over who should be the substantive CBK account signatory.
"It is like we are in a dictatorship. MCAs are surprised by how things are turning out," the MCA said.
Minority Chief Whip Peter Imwatok, however, defended Elachi and accused Ngwele of improper use of his office.