Writing is on the wall for coronavirus
A picture is worth a thousand words.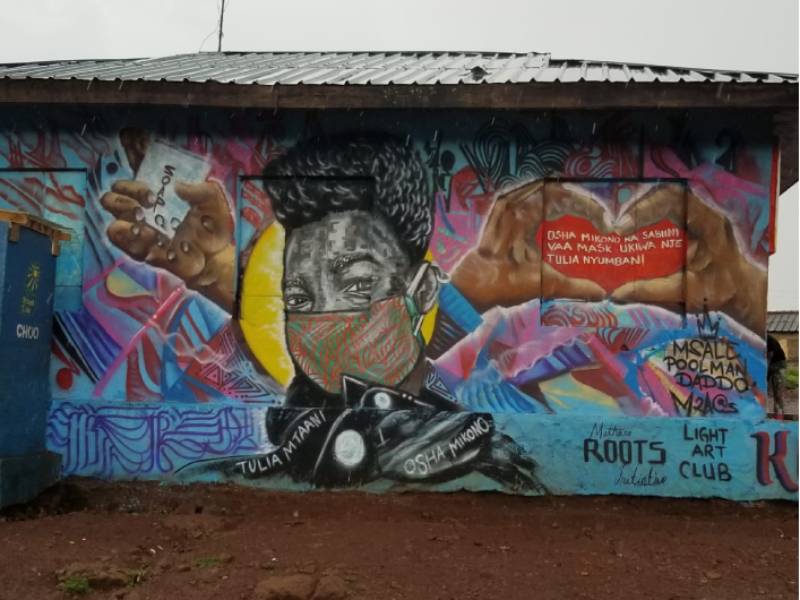 This is the old adage that pushed some graffiti artistes in Nairobi to join forces and start a coronavirus awareness campaign in slums.
With majority of Kenyans living in congested shanties, the concept of social distancing and hygiene is a myth. The World health Organization (WHO) reports that 60 per cent of urban dwellers live in overcrowded places, without water and proper sanitation.
These details moved a group of youth in Baba Dogo, Nairobi to use their talents to create awareness, on how to combat the coronavirus pandemic through visual art.
"We have been watching news and listening to other information outlets but we have not been able to see the seriousness in which the community treats the disease. So we decided to let them see some pictures around them so that they can practice what is required of them," says Daddo Umutitti, the team leader.
The joint group of graffiti artistes in town who include Bantu One, Cachinoh ArtLover, Nitah Arts Msale Brian among others has begun a robust process that aims at painting informative messages on the walls in slums with messages on the prevention of Covid-19.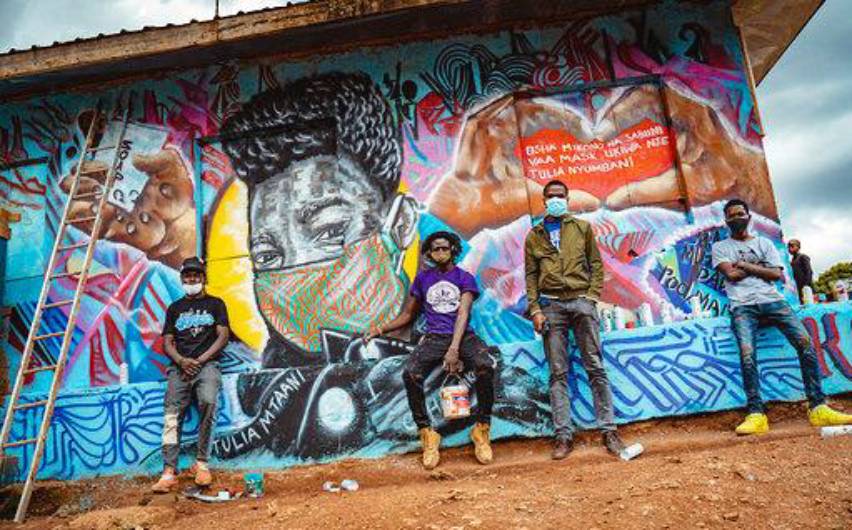 They decided to put the writing on the wall.
Through their spraying cans and their impeccable artistic skills, they have been on a mission to warn and educate their community in the slum.
The hiss of their cans, as they spray the black and yellow lines across the wall is all they had. The shrill metal clacking as they bring their handiwork to life. They pray that through their art, someone would save themselves from the clutch of this pandemic.
Because charity begins at home, the group decided to start off from where they were born and bred.
"We started here at Ngomongo in Baba Dogo, in order to sensitize people on washing their hands regularly with soap and water, maintaining social distance, wearing masks and observing all the Ministry of Health is saying to them, "adds Umutitti.
On the dry cracked walls are now nicely painted pictures of taps with running water, people washing hands and others wearing masks, with bold lettered message 'KOMESHA CORONA' These images are slowly being replicated in the day-to-day activities of the community.
Umutitti recalls an incident that struck his conscience when they were painting together with his colleagues.
"I remember one time as we were painting, and some children came. They saw the tap and the running water we had painted on the wall and they immediately started washing their hands. That was really motivating, "he reminiscences.
The motivation propelled them to begin the same activities in other areas. The team has already made some paintings in Mathare and Kayole area.
Challenges:
Their story has however not been a walk in the park.
Their effort however did not come easy. They had to and still are overcoming some challenges in making their projects continue to impact more.
The cost of painting the walls has not been easy since they have to procure the paints, canisters and securing walls to paint.
"Some of the paints we use are very expensive. A Full box of spray paint averagely goes for Sh3000 depending on the on the vendor. It's not fixed, "Posits Harrison Chege, one of the artistes.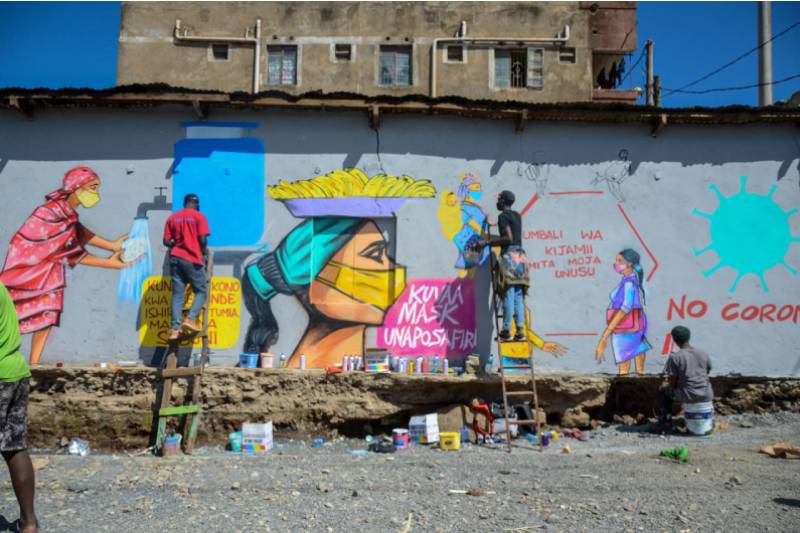 After securing the paint, there comes a challenge of getting the wall to paint and also getting skilled artistes to do the work.
"It is not easy getting the right wall to paint. Most of them are not well furnished and we have to start from ground zero; paint the wall with undercoat before we start our work, "adds Chege
Although the cost of sending their messages through visual aids is expensive, it is the cost Umtitti and his colleagues are willing to take to protect their community from the coronavirus enemy. They say, they are ready to do all they can to stay the deadly virus at bay.
This come as the coronavirus grip continues to tighten globally every day. Currently, over 2.3 million people have tested positive for the virus while deaths have hit 161,000.
Back at home, cases are being reported everyday with the latest update putting the country at 270 positive cases.
The government has however put in a raft of measures, including sensitizing Kenyans to continue adhering to the guidelines issued by the ministry of health and taking responsibility for personal safety.
"From the above data, it is evident that the virus is now being spread through community transmission. This now calls for a lot more personal responsibility among Kenyans in this fight against this disease," said Health CS Mutahi Kagwe.