Grades did not deter Walibora's path to success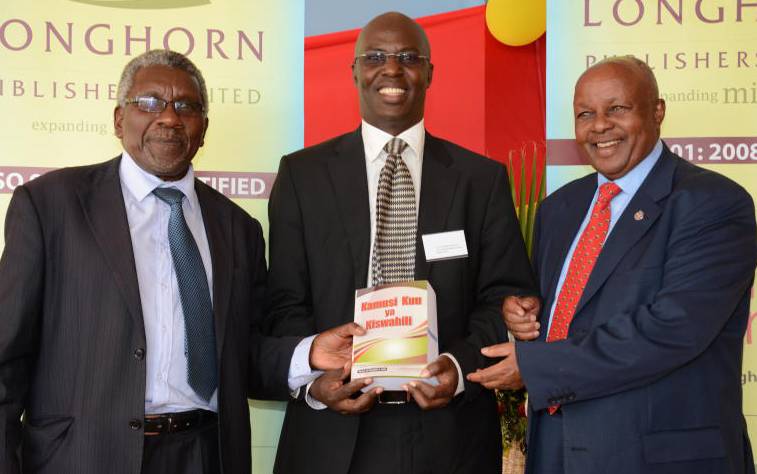 There is obviously no lesser death but some deaths, more than others, descend with added malice and clearly drive a stake in the heart of society.
The death of author and journalist Ken Walibora (pictured centre) is one such death. It was unexpected, unfair and unbelievable.
Walibora was the author of many books in Kiswahili, the most famous being Siku Njema.
In my view, his contribution to the language rivals that of Julius Nyerere, Shaaban Robert, and Wallah Bin Wallah, but I will leave the measure of his contribution to be determined by Kiswahili scholars.
I knew Walibora since our days at Koelel High in the 1980s where we were in the same "A" Level class. That was before the quota system of admission to high school was enforced, limiting the exposure of students to colleagues from other parts of the country.
Different schools
Each of the boys in our class had come from different schools from all over Kenya, and from all walks of life. Ken had come by way of Olekejuado High School but he was from Trans Nzoia, Cheranganyi to be exact.
I remember him then as a devout Christian who was later to profess Jehovah Witness convictions but with an ever-inquisitive mind.
We all knew him then as Kennedy Wafula Waliaula, and had nicknamed him "Alufa," which was based on a reverse reading of the name "Wafula." He was a great soccer player, a lanky boy who played the goalkeeper and was the captain of the school soccer team.
At one time, he actually broke his leg while playing for Koelel and spent six weeks with a humongous orthopaedic cast and crutches. He looked cool with it and even got a special dispensation to sit special end of term exams.
Yours truly, then called philosopher, mainly for reading huge, dog-eared novels, was the unofficial reporter for all school games and other functions and events.
At one time, we gatecrashed into a Catholic function just so that we could be within striking distance of interesting visitors from Njoro Girls High School who were easy on the eyes of the beauty-famished boys. For our troubles, six of us were sent home for two weeks.
How we survived re-entry into Koelel, which was then headed by the legendary principal Gichuki Kenda, the first headmaster I ever saw wearing a school uniform and caned boys while enjoying a soda, is a story for another day. Kenda had been brought to the school to tame the boys soon after some bullies had thrown some kid over a cliff.
We had a common class in English Literature, which was taught by the great Mrs Judy Ghikas, and History, which was taught by Mr Ndachi Mwambute Ndachi, who also taught us General Paper, which was a smorgasbord of current affairs, communication skills, and tacit life skills.
Notable author
To complete his three A-Level subjects, Walibora also studied Kiswahili under Mr Alex Ngure, who was to become a notable author himself after publishing Utoro and Fasihi Simulizi.
Truth be told, however, we focused more on reading novels than reading textbooks.
The son of a teacher, it was evident from our discussion those days that Walibora was quite well read. His exposure to literature was however more structured, unlike some of us whose reading was more of the free reign kind.
Walibora was a genius when it came to languages. People know his prowess in Kiswahili. What they don't know is that he could write equally well in English. Indeed English was his language of deep scholarship. He wrote his PhD in English and published several academic papers in the language.
At Koelel, he penned many poems and regaled us with many mashairi that he composed. I hope some of those early works, which he once told me he had misplaced, will be re-discovered and published posthumously.
After A-Level, Walibora trained as a probation officer at the Kenya School of Government (then KIA) while I pursued journalism. We used to meet while we were in different colleges in Nairobi. He envied my luck. And I felt bad about it knowing where his heart really was.
There is something to be said about the nature of abiding resilience and focus. Those with evergreen resilience always get what they ask for. Walibora never gave up the pursuit of a career in letters.
A great deal has also been said about the correlation between great grades and success. May it continue to be said but here is an enduring truth we can learn from Walibora's life; to be successful, what you need is not a weak mind but to be stubborn and persistent in your pursuit for the things you desire.
Walibora later came to terms with his grades in the national exam, but I can tell you that they did not reflect his abilities. Indeed grades are an unreliable measure of success in life, as the lives of greats such as Prof Ali Mazrui and Prof Calestous Juma, both of whom didn't hold stellar high school grades, clearly show. His success is another sediment to the testimony of that fact.
News casting
While still working as a probation officer, Walibora eventually found his way to the Kenya Broadcasting Corporation, initially in a talk show, before gravitating into news casting. He later pursued further education at Ohio State University where he finished his PhD and later taught at the University of Wisconsin – Madison, before returning to Kenya.
Along the way, he worked for NTV as a news anchor. He was until his death a senior lecturer at Riara University in Nairobi.
When talked last year, he told me he had been charged with establishing a centre for the study of international languages at the university.
In life, however, even incidental experiences are a resource. His decade-long stint as a probation officer produced in him an abiding interest in prison affairs, as some of his work shows.
In 2014, he published one of his lesser-known works titled: Narrating Prison Experiences: Human Rights, Self, Society and Political Incarceration in Africa.
On his Linkedin profile, he penned the following revelation about himself:
"I am an avid reader and good keen observer and patient listener. Like all humans, I make mistakes from time to time, regret them, and I apologise, but most importantly, I learn from them and move on. I strive to attain more humility in all spheres of my life in good times and bad times, and to always avoid being prejudicial and celebrating another person's crisis or calamity. I want to appreciate people more and not to judge them harshly by relying on one-sided sources."
Clearly, Walibora desired to be understood in a particular way, an acknowledgement that no one is an open book, not even the writers of books.
In our classmates' WhatsApp group, and in the larger Koelel Alumni group, news about his death hit us like a rogue train. We just couldn't believe that in this day of coronavirus deaths, death would come by way of a road accident.
Let's just say that it kills us sometimes how we all die.
May Ken's soul rest in peace.
[The writer teaches at the School of Journalism, University of Nairobi]