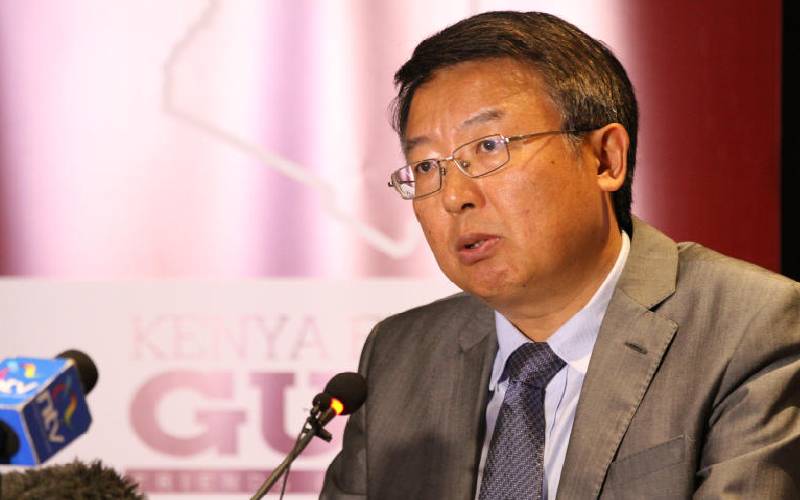 Alego Usonga MP Samuel Atandi has asked the government to withdraw all security officers manning Chinese business installations and residences in the country following the reported dehumanisation of Kenyans living in China.
Atandi said it is wrong for the government to treat Chinese nationals in the country like kings and queens when Kenyans are subjected to torture and suffering in their country.
Speaking to Standard Digital on phone, the legislator said it is common knowledge where the coronavirus originated from and wondered why the Chinese authorities would believe Kenyans or African nationals will infect their people with the virus.
Read More
"While China was the first country to report cases of the virus, they are now targeting Kenyans and Africans as the carriers of the virus, this is discriminatory and hypocrisy of the highest degree," he said.
He urged Interior Cabinet Secretary Fred Matiang'i to t respond to the dehumanisation of Kenya's citizens by withdrawing all security officers deployed to guard Chinese business premises and palatial homes.
"Matiang'i should withdraw all our police guarding Chinese business installations and residences as a response to what is happening to our people in China," he said.
Gatundu South MP Moses Kuria had earlier condemned the Chinese authorities for mistreating Kenyans yet the virus originated from China.
"They can't blame us for a virus they forced down our throats the same way they forced expensive commercial loans to us," said Kuria.
Dismissed reports
But in response, Chinese Ambassador to Kenya Wu Peng has dismissed reports of mistreatment, saying only those who flouted the regulations on social distancing were mistreated.
"People who found themselves in trouble did not follow regulations on social distancing. Most reported are not Kenyans."
Wu Peng said he is in constant touch with authorities in China on the safety of Kenyans and reiterated solid relations between the two nations, also asserting that China has zero-tolerance for discrimination of foreigners.
Wu Peng was responding to an uproar from Kenyans who were incensed after their compatriots were mistreated in China.
Kenyans and other Africans were forced to sleep on the streets after they were evicted from their houses in China for allegedly having Covid-19.
According to reports, Kenyans and other Africans were forcibly evicted and their legal documents were taken away.
Posters have been put up in malls and restaurants asking Africans to stay away and in some videos, they were also banned from accessing hospitals.
The government through Foreign Affairs ministry on April 10 raised the complaint with Beijing over the issue.
"The Ministry's attention has been drawn to information concerning the situation of some Kenyan nationals in China specifically concerning a recent decision by the Government of China to undertake stringent testing of foreigners and Chinese nationals alike, to forestall imported and asymptomatic cases of COVID-19 in Guangzhou and other areas of China."