Red lights out as curfew spoils the party for hookers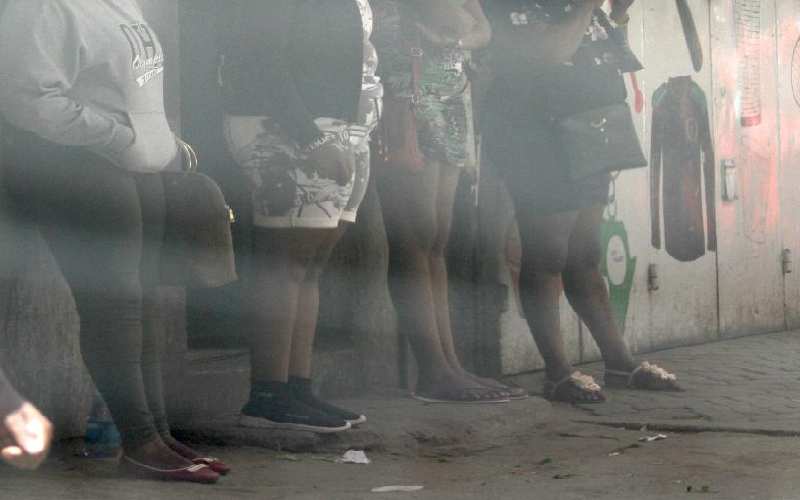 Nairobi's Duruma Road mirrors a typical street of any of the world's most potent sin cities.
Packed outside doors of brothels are tens of prostitutes, braving the afternoon sun and bearing the scrutiny from tens of judging eyes.
They are going through a terrible patch, what with business at an unprecedented low and clients unbelievably few. The coronavirus pandemic has caught up with the hustle and bustle of downturn Nairobi, sucking the life out of a once lively area of East Africa's chief business hub.
"There is literally no money," says one of the women, looking distraught. "I have to walk half the way from my house in Kayole and take a bus along the way."
This is because fares to Kayole, like for most satellite towns around Nairobi, have reached Sh250, which all but eats into her day's proceeds if she has had a good day. If the day has been as dry as today, she will have to walk home.
The asking prices for their services remain anything from Sh200, but people are unable to afford even that.
These women have families to feed and have rents to pay. With desperate times calling for desperate measures, you will offer them anything and they will gladly accept.
"Rents have not reduced, and this means that we have to come to town each day to work in order to make money to pay the landlords," says the woman.
Used to operating in the evenings, it is a change from the norm for the women to be parading for customers in broad daylight all day long to eyes that admire but take not. They, like every other Kenyan, have a curfew to beat, and the time that usually marks the beginning of business now signifies end of business. These are odd times, and they can feel it.
"We are being whipped off the streets every 5pm. That limits our time of operation to 10 hours of the day, most of which the people who would be visiting us are in the office." But most of these people are home. This trade of the night thrives in zones that boast dingy drinking dungeons, with doors leading into dark brothels opening into narrow, poorly lit streets.
But now pubs are shut down and patrons are bidding their time away at home, missing their hangout joints as much as these women on the streets do.
Seemingly battered by the desperate situation that they are facing, the women have gotten hostile. Any passerby that has the gait of a potential customer is not immune to unending catcalls seductive words, a barrage of crude words or a grab of the arm in the middle of the day.
When we went to interview them, they frisked us for hidden cameras, finally demanding that we had to part with Sh1,000 to receive any information. Their desperation is understandable; they have been seated on these unforgiving verandahs all day, their dignity all but laid bare for the world to feast on, and yet when the police come to toss them off the streets, they have nothing to show for it.
The tens of twilight girls have to spend agonising days trying to compete for attention from men who are themselves afraid of approaching them in broad daylight. The brothels are lonely and empty, and resuscitation does not look guaranteed.
"Most men are afraid to come and meet us outside for negotiations. They wonder what people will think about them. As such, it is getting hard to nail down any customers," one of the women confesses.
Mary Mueni, 27, a River Road-based sex worker in Nairobi, is sad that she no longer sees her regulars.
"Before the virus business was very vibrant. I could attend to even five clients, making around Sh700 to Sh800 a day," she reveals.
Since the curfew took effect and most businesses shut, Mueni hardly makes enough to pay her bills.
"There are days when you wait for clients the whole day without success and go back home without food while your child is crying for food you do not have. This is very demoralising for a mother seeing her child crying for hunger," she laments.
Joan Wairimu, 32, says she is finding it difficult fending for her 8-year-old daughter.
"What is the other way? I cannot steal to feed my only daughter, but where things are getting now it is a matter of life and death for me. Sex work which is my core business is slowly fading a situation that has left me hopeless," she laments. And they have taken to odd screening of clients and sanitising.
Joan from Kasarani says her typical transactions with clients start with discussing how the client feels; if they're experiencing any symptoms.
When they get down to the 'real business', Joan says, she doesn't allow clients to kiss her, something she always entertained before.
"I ensure we both sanitise our hands before and after sex. This is what the Ministry of Health has directed and it is always fair we do so for our own safety," she adds.