Leaders mourn selfless bishop who spoke bitter truth to State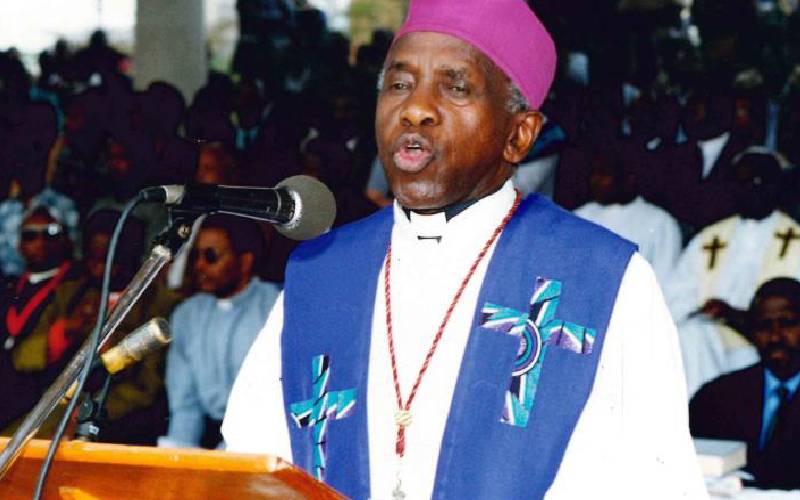 Retired Archbishop Raphael Ndingi Mwana a'Nzeki, who died yesterday aged 89, was praised for his fearlessness in upholding fairness in the society.
Ndingi rose to prominence at the height of the clamour for multi-party democracy while serving as the Catholic Bishop of Nakuru.
He was one of the clergymen who played an active role in the struggle for the reintroduction of multiparty democracy in Kenya.
He publicly condemned injustices during his powerful Sunday sermons. Ndingi is remembered best for his fearless confrontation with the Provincial Administration and the police force, who he accused of doing little to end ethnic clashes in Rift valley in 1992.
Ordained priest
Ordained as a priest in 1961 at Kololo Terrace in Kampala, Ndingi was first appointed Bishop of Machakos in 1969. He was later appointed Bishop of Nakuru in 1971 where he served until 1996.
The prelate would be appointed Coadjutor Archbishop of Nairobi in 1996. In 1997, Ndingi was made Archbishop of Nairobi, succeeding the late Maurice Cardinal Otunga. He served in that position for 10 years before retiring in 2007.
Yesterday, political and religious leaders eulogised Ndingi as a man of God who was selfless in his pursuit for justice.
President Uhuru Kenyatta described Ndingi in these terms: "a Kenyan icon, a bastion of peace and a man of true faith who answered his lifelong calling as minister of the gospel and a shepherd of mankind."
He continued: "Besides his role as a religious leader, the late Archbishop dedicated himself to the protection of the weak and the fight for justice, and never shied away from doing the right thing, and in doing so, he distinguished himself as a servant leader and role model. His contribution to Kenya's social and political life over the decades will forever remain with us as a nation."
The president asked Kenyans to remember Ndingi's famous words, "Mwamini Mungu si mtovu" (He who believes in God lacks nothing).
"Our thoughts and prayers are with the family, the Catholic Church and friends of His Grace Archbishop Emeritus Raphael Ndingi Mwana Nzeki," said Deputy President William Ruto on his Twitter handle.
Brightest lights
Opposition chief Raila Odinga described Ndingi as one of the brightest lights to have graced the nation.
"Kenyans knew they could always count on him to stand and speak in defence of truth and justice whatever the threat that posed to his life. Ndingi was one of the brightest lights to have graced our nation," said Raila.
He went on: "I join all Kenyans and the Catholic Church in particular in praying that God places his soul in eternal glory. As a country, we will miss his distinguished service and dedication to humanity. Fare thee well."
Baringo Senator Gideon Moi also mourned Ndingi, describing him as a devoted Christian, an earthly vessel for the Gospel who venerated humanity, and had outpouring love for the country.
"Since his ordination, he reaffirmed the Church's place in shaping our governance discourses while being the sober voice in the face of crises. Even in his death, he remains the unwavering and quintessential defender of human rights. His contribution to the democratisation of our country is deeply etched in our history," said Gideon.
Senate Minority Leader James Orengo (Siaya), who was a key player in the pro-multiparty reforms, described Ndingi as a person who had a profound impact on the future generations of humanity.
"Archbishop Emeritus Ndingi Mwana a'Nzeki had a profound impact on the future generation of humanity. His understanding of the link between religion, human poverty and equality undoubtedly influenced a generation of bishops and policymakers," said Mr Orengo.
Lawyer Paul Muite termed the late Archbishop as a towering figure during the struggle against the one party rule.
Muite narrated how at one time, he was in the cathedral with Ndingi when the church compound was surrounded by officers from the General Service Unit (GSU); Ndingi though stood firm.
"During the tribal clashes, he collected accurate data on the number of people who had been killed. He was a towering figure in the struggle. At times, he was the lone voice. When everyone else was afraid, he spoke for the people," said Muite.
Kenya Conference of Catholic Bishops (KCCB) Chairman and Kisumu Catholic Archbishop Philip Anyolo eulogised the late cleric as a church leader who was a good shepherd full of fiery power of the Spirit that remains inspirational.
Servant of god
"What emerged out of his faith in, and love for Christ, was a pattern to live by namely; to be Christ's heart of mercy, Christ's voice of hope and Christ's hands of justice. He was good at thinking about this in theological, historical, political and practical terms," said Anyolo.
"I am grateful for his place of faith and Christian values in the emerging democracy within our country. I appreciate him. He will continue to be in our prayers. May he Rest in Peace."
Amani National Congress party leader Musalia Mudavadi, Wiper leader Kalonzo Musyoka and Council of Governors chairman Wycliffe Oparanya hailed the late cleric as a true servant of God.
"A man of God who stood for righteousness, championed the cause of the poor and downtrodden and stood up for political and social justice," said Mr Mudavadi.
Kalonzo, while sending his message of condolence, said the prelate was a key figure in advocating for human rights.
"The late Archbishop was a man who stood for what he believed was right. He was ever speaking his mind and was a key figure in advocating for human rights and championed the spirituality of the nation," said Kalonzo.
Oparanya said that Ndingi was a true servant of God and a defender of Human rights.
"The death of long-serving Catholic Archbishop Ndingi has saddened me. He was a true servant of God and a defender of human rights. My thoughts and prayers are with the family, friends, relatives and the entire Catholic family. Go well Papa," said Mr Oparanya
Ndingi joined Kiserian Seminary after completing his primary school education, after being ordained in Kololo, he served under the then Nairobi Archbishop JJ McCarthy.
Nakuru Catholic Diocese Bishop Rev Maurice Muhatia eulogised Ndingi as a man of great faith. "He stood in faith with Christianity and the people of Kenya to ensure there was no discrimination, tribalism and oppression," said Muhatia.
Lay Apostolat Coordinator Nakuru Diocese Ronald Sunguti said Ndingi was firm in his decisions.
Additional reporting by Daniel Chege