Njoya: Ndingi a model of faith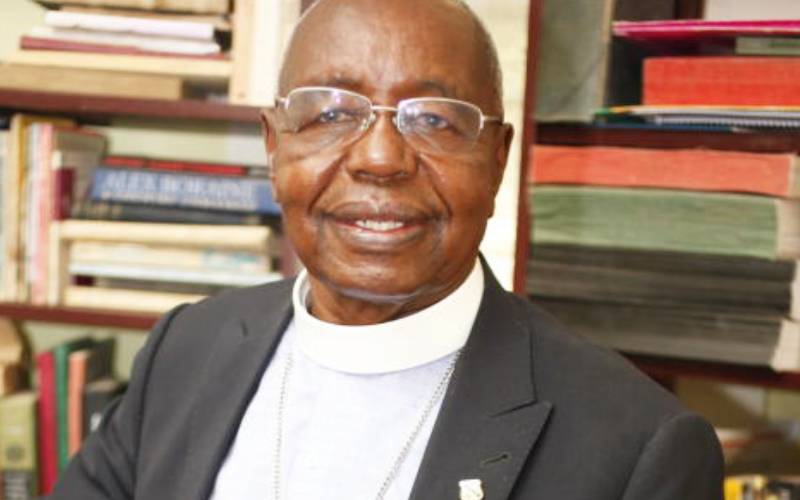 Archbishop Emeritus Ndingi Mwana a'Nzeki, who died yesterday, has been described as a model of the Christian faith and a leader whose mind, faith and courage superseded his generation.
Rev Timothy Njoya (pictured), who in his missionary journey has been to hell and back in his pursuit of justice, places Ndingi among the giants of the cold war politics in and outside Kenya, who fought gallantly from the pulpit without fear of persecution or death from the powers that be.
"I have no qualms in my mind whatsoever when I compare departed Archbishop Ndingi to the late Cardinal Jaime Lachica Sin of the Philippines, who helped topple dictator Ferdinand Marcos via a People Power movement, late Archbishop Oscar Romero of El Salvador who was assassinated on the pulpit in 1980 for preaching against poverty and human injustice in his country, and closer to our shores, Archbishop Desmond Tutu of South Africa, who heroically helped wrestle down apartheid from the pulpit," Njoya said in an interview with The Standard.
On the local scene, Njoya drew parallels between Ndingi and the late Bishop John Henry Okullu of Maseno South Diocese, the late Bishop Alexander Muge of Eldoret Diocese and the late Archbishop David Gitari, describing the trio as gallant revolutionaries who stood against injustice when Kenya needed them most.
"Ndingi was in the league of these chivalrous servants of God who carried their cloth with dignity as opposed to present-day capitalist clerics who prefer carrying money bags. Without the Ndingis of our nation, Kenya would not be the same today as churches have become more corrupt than Parliament and the courts. Even the police," said Njoya.
He added: "Together, we were comrades-in-arms who faced the State without fear for the good of our people. Bishop Muge died in a controversial road accident in the process."
As Njoya reminisced on the day he was bludgeoned by regime goons outside Parliament Buildings in 1999, he said Ndingi had bravely prayed for a demonstration under the National Constitutional Executive Council to advocate for a people-driven Constitution as opposed to a parliamentary one.
Take a quick survey and help us improve our website!
Take a survey
Unflinching resolve
"He, together with Rev Mutava Musyimi, prayed for us at the Holy Family Basilica before I led the march to Parliament on Budget Day of 1999. He was our comrade in the struggle and will be remembered for his unflinching resolve to fight oppression at any cost," said Njoya.
He said Ndingi led a group christened 'Ambassadors of Peace' on a visit to Kiambaa Church in Eldoret where victims of the 2007 post-election violence were burnt alive and many killed by Kalenjin warriors when they sought refuge in the house of worship.
"I was in a team appointed by the Jesuit Catholic Mission under Archbishop Ndingi to help bring warring tribes together. After a courtesy call on Bishop Julius Korir of the Eldoret Catholic Diocese, we visited hospitals where we prayed with patients. We also visited the displaced and distributed food and clothing.
"I remember Archbishop Ndingi asking Bishop Korir why he was not stopping his tribesmen from brutalising others, to which the late bishop answered that he did not want to be targeted as he was welcoming all Christians without discrimination," said Njoya.
He recalled how he first met Ndingi in 1993 when, as a minister of the Presbyterian Church in Dagoretti Parish, he had breakfast at the archbishop's residence in Nakuru en-route to Molo, an area then ravaged by politically engineered ethnic clashes to drive away 'unwanted communities'.
"Ndingi was against ethnic cleansing and had opposed the exclusion of some areas, including Molo, by the Kanu regime as security zones. He came to see us at Bondeni Police Station following our arrest in Molo and mobilised the clergy to express solidarity with us whenever we appeared in court up to the day we were released on bond," said Njoya.