Reality home as 20pc globally under lockdown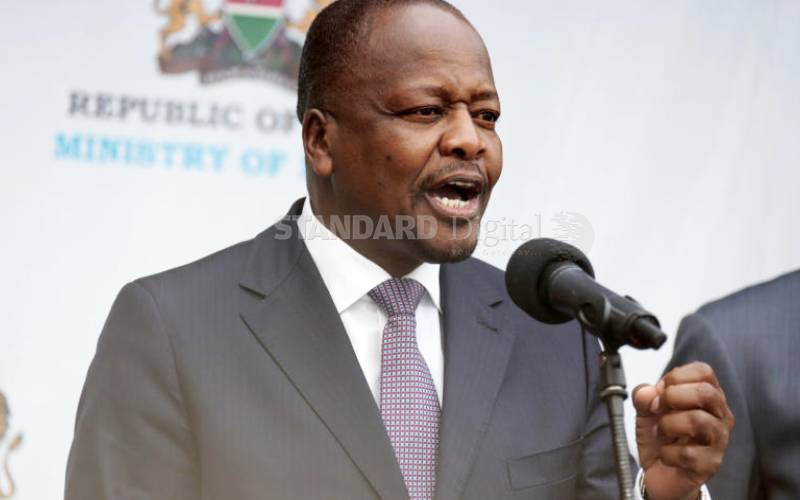 The prospects of a total lockdown appear inevitable to break up teeming crowds still evident in markets, bus termini and urban streets countrywide, as authorities battle to contain the spread of coronavirus.
Health Cabinet Secretary Mutahi Kagwe (pictured) yesterday announced that nine new cases had been confirmed, raising the number in the country to 25 and more than 700 people who had been in contact with the patients were being traced for isolation.
Authorities have warned that the next few weeks are crucial to determining the country's fate with the disease that has since spread in Nairobi, Mombasa, Kwale and Kilifi, as it is within this period that the true extent of community-to-community infections will become evident. The State has clamped down on imported cases.
The blatant violations of public health guidelines, particularly avoiding public gatherings blamed for fueling the spread of the pandemic, are making stronger the case to enforce the stay home order.
A highly placed source told The Standard the government was considering a total shutdown, which has already been imposed by Rwanda after it confirmed 17 cases. South Africa, with 550 confirmed Covid-19 cases, is set to implement a 21-day lockdown beginning tomorrow.
"We are waiting for the last Kenya Airways flight bringing in Kenyans, which is expected to land tomorrow (Wednesday) around midnight. After that, everything is possible. The lockdown could be announced as soon as Thursday," disclosed the source.
The recklessness that some of those who have contracted the virus have displayed, including defying a directive to isolate, exposing the public to the deadly virus as well as actions by others that endanger their lives have invited the government to tighten the noose. "Tomorrow (today) we will be announcing further measures to respond to this situation," Health CS Kagwe announced yesterday.
Governors Ali Hassan Joho (Mombasa) and Ali Roba (Mandera) have called on President Uhuru Kenyatta to declare a total lockdown to stem further spread of the coronavirus. They argue that this is the only way the country can contain the spread of the disease, which has had devastating consequences on businesses, occasioning layoffs and in some cases closure.
The Judiciary, a critical cog of the country's social order and administration of justice, has, after considerations and evaluating the reported spread, alongside the dangers it was posing to the minimum workforce that has still been operating from the courts, closed down altogether and directed the entire workforce to work from their homes.
The Chief Registrar of Judiciary Anne Amadi said they had been forced to review their earlier position announced by Chief Justice David Maraga of providing minimal staff in courts after the latter raised concerns about their safety.
"We have taken these concerns into considerations and having reviewed the press statement by the Cabinet Secretary for Health on the seriousness of the pandemic, and upon consultations with the Chief Justice, it is our view that the health and safety of the entire Judiciary family must be prioritised," announced Ms Amadi.
Lessons from Wuhan
The Judiciary announced that for urgent matters that cannot wait, every station must have at least two persons who will be on duty and their names, mobile phone numbers and emails, displayed outside the court premises and the same provided to the registrar of the court, who will then upload the same in the websites. Amadi directed the judges, judicial officers and staff to embrace Electronic Case Management Case Directions of 2020 where applicable, even as they await further guidelines on mitigation measures.
Mr Joho and Mr Roba maintained that a lockdown was the necessary evil required to tame the spread. Joho said Kenya should learn from Wuhan, China — the epicenter of the worldwide Covid-19 — where a shutdown of day-to-day activities has proved effective in containing spread of the pandemic.
"Why did Wuhan beat the virus? It is very simple — a total shutdown. That is what has made them successful. They are even saying they will not allow other people to come to Wuhan where it all began," said Joho.
On January 23, the Chinese government locked down Hubei Province, including Wuhan, the city of 11 million people, where the outbreak started, barring people from working or going to school, with exemption to the ban being only shops selling food or medicine. On March 19, no new confirmed infections were reported in Hubei, according to Chinese officials.
On January 30 when declaring the coronavirus outbreak a public health of international concern, WHO Director General Tedros Adhanom had noted: "There is no reason for measures that unnecessarily interfere with international travel and trade".
Ordinarily, WHO does not recommend limiting trade and movement. But these are extraordinary times. Dr Adhanom called on "all countries to implement decisions that are evidence-based and consistent, as WHO stood ready to provide advice to any country that is considering which measures to take."
Joho said a lockdown would bring along serious ramifications, but pointed out that it was a painful decision that the country ought to take.
"These are painful decisions… Do we need to take them? Yes of course. They could cost us… So be it. I want to go on record that I said it. There is a need to scale down on the things that we normally do in our day-to-day lives for the purposes of preventing coronavirus from coming in our midst."
Roba said the country should not wait further. "Instead of waiting for these rising numbers to get to catastrophic levels, we must consider total lockdown early. This is the only way we can get some control guaranteed," he said.
The calls by the governors came even as the Kisumu County Commissioner Sussan Waweru announced a complete lockdown of Kisumu city, defending the radical move as the sure way of containing the virus from spreading. Yesterday morning Ms Waweru directed everyone to move out of Kisumu town by 2pm, with law enforcement officers later moving around the streets urging locals to immediately head home.
The County Commissioner had warned that nobody would be given a chance to explain why they were in town in the mop-up by law enforcers, causing panic and confusion among the traders.
"There is no discussion about this directive, and people must go home. We cannot be talking about the same thing over and over," said Ms Waweru.
The directive came a day after Governor Anyang' Nyongó locked down the main bus terminus, and provided alternative bus stops out of town. This was moments after reports indicated that a Catholic priest who had visited Siaya and Kisumu counties tested positive to Covid-19.
"The only way people can be assured of their safety is being home. I do not want to call it a curfew, but the directive is let everybody stay home and work from home," she said.
The declaration was followed by an announcement through public address. Kisumu Central OCS Dan Kibore led a team that traversed the town and the nearby estates, asking people to stay indoors. Officers manning the announcers warned traders to fold their wares and leave town or face unspecified consequences. Waweru said her office had dispatched officers across the city and within the entry points to ensure no one gets into town.
By midday there was already a roadblock at Mowlem, blocking entry of vehicles accessing the town through Nairobi road.
National Assembly Majority Leader Aden Duale has, however, said time is not ripe for a lockdown as the government, especially the working committee led by Kagwe, is still in control of the situation. He discouraged Kenyans against acting in panic , urging them to just follow government's instructions.
Duale, however, said the government must supply food to people in casual labour and other low income sectors who will stay away from work.
"The National Assembly will hold a special sitting on April 7, and I expect that by then the Government must in two weeks inform themselves on whether they want us to legislate and create a Stimulus Fund to cushion Kenyans in low cadre sectors of the economy and also feed the low in the society," Duale said.
Roba said Mandera would implement special allowance for doctors, nurses, clinical officers and health workers assigned to the Covid-19 response. "Ban on miraa transportation and sale within the county remains in force and we ask the public to bear with us," he added.