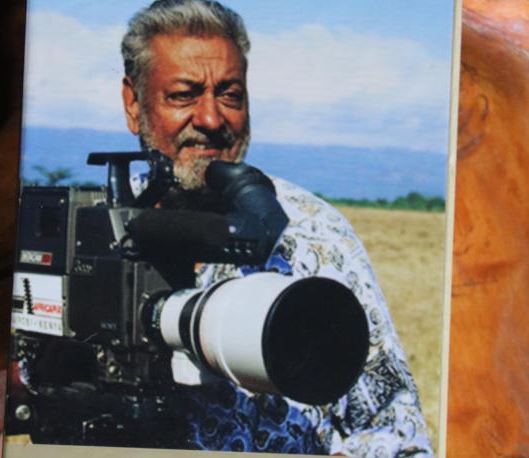 Away from the panicked spraying of disinfectant, the veteran documentary director sat, as if oblivious of Nairobi city, which was in turmoil. Not even the birds happily chirping away in his garden appeared to cheer him. Something almost akin to the ravaging coronavirus, had turned his life upside down and plunged him into deep mourning.
"How can I even smile when I am mourning an exceptionally good man I have known and worked with for 30 years? This man was not just a colleague but a friend. A brother. We have done so much together," he said.
Richard Vaughan, the former director of BBC is the man in mourning. The subject of his current state of grieving had defied death many times it was tempting to think he is immortal. And yet when Vaughan finally settled in his veranda in Kitsuru and gestured for us to sit down, he resignedly accepted his dear friend, Mohinder Dhillon was gone.
His well-moderated voice still commands respect and demands undivided attention just like it did decades ago when he broadcast news for BBC.
"He was an exceptional man, who transcended his origins. Mohinder was a man who defied categorisation although he liked to stay in the background," said Vaughan.
And with this, the memories come back in torrents transporting the listener to faraway lands, graphically reliving the exploits of his daredevil friend, who at times operated as if he had a death wish or a self-destruct chip.
He paints the picture of a legendary cameraman, who chose photography after flunking his exams. A man with a severe stutter who barely talked in public but chose to view the world with one eye while the other was firmly fixed on the viewfinder of his camera.
But even with one closed eye, Mohinder could capture and immortalise history as it unfolded right before him, frame by frame. He also had a nose for good pictures and trouble.
"I first met him in 1990. At the time, he was a well-known cameramen in his golden years. He owned Afripix and I was just an upcoming documentary producer straight from BBC. He was a compassionate man, who could never compromise the dignity of the people he filmed," said Vaughan.
At the time the two were filming a documentary in Ruwenzori about vaccinations. The subject was quite delicate as they had to film the moment a baby hit the ground from the mother's womb.
Mohinder insisted that we had to make sure the woman's private parts was not exposed or her dignity compromised as they filmed the baby head down.
"The mother was terrified because she thought we were filming because her birth was complicated," he said.
During another assignment, Vaughan recollected how Mohinder had demonstrated his agility and inexplicable reflexes.
"He was filming from a helicopter when suddenly he lost his grip and started falling from the plane," he added.
Even as the legend hurtled down from 8,000 feet, crashing the canopy on Mt Kilimanjaro, he never loosened his grip of his camera. Ultimately, he saved his camera but sustained a fractured thighbone.
Mohinder almost lost his life on another mishap after an Ethiopian pilot insufficiently fueled his plane. As fate would have he got lost as he was overflying the Ruwenzori and was forced to crash-land. And although Mohinder cheated death by a whisker, he did not report the mistake to the aviation civil authorities in Uganda. The same pilot would later crash after he flew an overloaded plane. He and all the other occupants perished a few weeks later.
The cameraman's bravery, friends says knew no bounds as he would dash from one trouble spot to the another, and was common feature wherever there was war or turmoil in East Africa and beyond.
In his autobiography "My Camera, My Life: Sir Mohinder Dhillon, published in 2015". I feel that I have been incredibly lucky, for the accidents of life have not only given me great opportunities. They have also kept me alive through some of the worst imaginable predicaments."
In 1964, young Mohinder was literally hopping from one coup to the next as he travelled from Zanzibar where the Sultan was routed out unwittingly and walked into another mutiny in Tanzania and when he ultimately returned to Kenya, he found another coup in the making.
He also cheated death by seconds when he was yanked from the gunmen in Congo, where he had gone to cover the aftermath of the ouster of Patrice Lumumba and the attendant chaos, which engulfed the country giving rise to the rise of Mobutu Seseko and Desire Kabila.
Mohinder was saved by an ITV team, who pleaded with the rebels who had captured him and were accusing the newshound of being sympathetic to Belgian mercenaries. Ironically, Mohinder's colleague would later exchange his pen for a gun as he abandoned his role of a journalist and joined the mercenaries.
Mohinder had teamed up with Hans Germani, a veteran war correspondent to shoot a documentary for ZDF German TV − on the Simba Rebellion.
"The following morning, in Albertville, where we had stayed overnight, I received the most extraordinary request from Hans. He had decided to stay on in Albertville, and to enlist with the mercenaries. Would you do me the favour?" he asked, "When you are back to Nairobi, of informing my wife of this?"
Ambi, Mohinder's wife too had on more than one occasion received news of his death from colleagues who tearfully narrated how the cameraman had allegedly died. In Yemen, Mohinder perfected the art of dodging bullets as he filmed the rebels and government forces and would aptly capture the developments in his memoirs.
"Often, through my viewfinder, I could get both sides into a single frame. A Yemeni Arab protester would hurl a grenade. Swinging my camera away from him, I would film the grenade's exploding. Then, moments later, on panning back, I'd film the grenade thrower's being shot. I'd then film both him and his British victim writhing on the ground, wounded," said Vaughan.
Their last major assignment was a documentary, True Terror, which was about what happened to the victims of the Nairobi bomb blast long after the rescuers after the news crews left the scene.
"He was my cameraman. He had a talent of winning the confidence of the victims until they opened up. I will forever remember one woman who had lacerated by glass. She told us that was unsure whether she would ever marry because there pies of glass in her body."
Vaughan concurs with his late friend who once was bewildered by the turns of his life.
"Looking back, I am astonished by where my life has taken me. What a journey this has been for a rustic lad born in 1931 in a distant corner of the British Empire. I have lived the life of my choice."
His life and times will be immortalised in a new condensed biography, Witness to History, be released in the next two weeks.