More Kenyans are still starving, Hunger report shows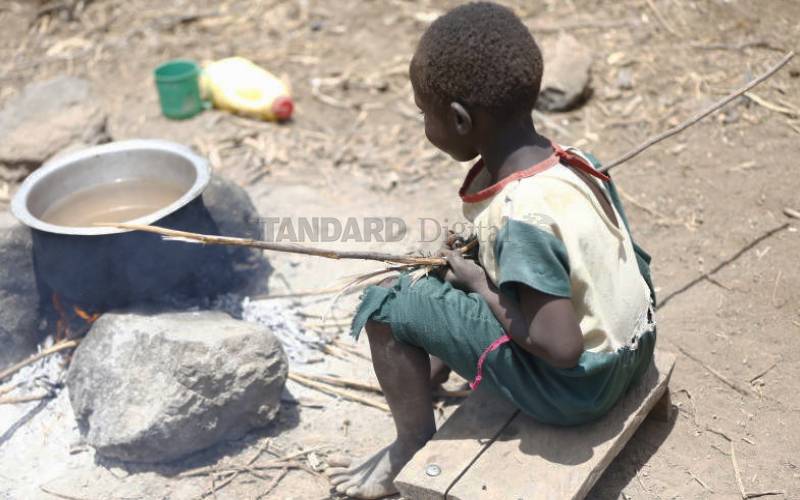 A Global Hunger Index report shows Kenya's food security is worsening.
The 2019 GHI report states that government efforts to ensure nutrition and food security by 2022 have not been enough.
Kenya was ranked 86 out of the 117 countries reviewed.
However, in 2018,
the study showed
the country still has "serious levels of hunger" with a ranking of 77 out of 119 countries.
The revelation coincided with the revelation by then Agriculture CS Mwangi Kiunjuri who disclosed that over Sh8 billion worth of maize may have gone bad in the National Cereals and Produce Board stores.
The revelation was a smack on the face of the Jubilee Government that put up measures to promote food security.
Food security is part of President Uhuru Kenyatta's Big Four agenda which includes affordable housing, universal healthcare and manufacturing.
The report indicates that for every three Kenyans, one is grappling with severe food insecurity and poor nutrition.
It claims about 20 per cent do not meet the required dietary needs that can sustain a healthy and productive life.
The study recommends that Kenya should prioritize food security policies at county and national levels of governments.
It stated that it is reasonable to view the progress made globally in reducing hunger and undernutrition over almost 20 years.
The report further added, " The number of undernourished people in the world is increasing."
It attributed food insecurity and low production to extreme weather events.
Of the 117 countries with GHI scores, levels of hunger are still serious or alarming in 47 countries.
The report comes as the Agriculture docket grapples with the locust invasion.
In Embu, there is fear that the desert locusts invasion in the lower part of the county
may worsen
after the eggs they laid start hatching.
The GHI report urged donors and governments to increase investments in disaster prevention and risk reduction.
Kenya's ranking is not much different from the previous year's report.
County Assembly Minority Leader Masters Mwaniki and Muminji MCA Newton Kariuki warned that the locusts from the millions of eggs laid in Kiambere ward would be more destructive.
Swarms of locusts that have invaded the country will continue ravaging vegetation because the Government is unable to acquire a key chemical used to kill them.
Agriculture Cabinet Secretary Peter Munya told a Senate committee the Government is at the mercy of foreign business interests that are yet to supply Fenitrothion, a
powerful pesticide
only available in Japan and Australia.
In January, the World Food Programme stated that should the outbreak lead to severe food gaps, it will be ready to mobilise additional support.
Agriculture is the main economic driver in the country, although 80 per cent of the land is either arid or semi-arid.
According to the WFP, rapid population growth, climate change, stagnating agricultural production and underperforming food systems are the most significant challenges to food and nutrition security.