What it was like living in South B in the 1990s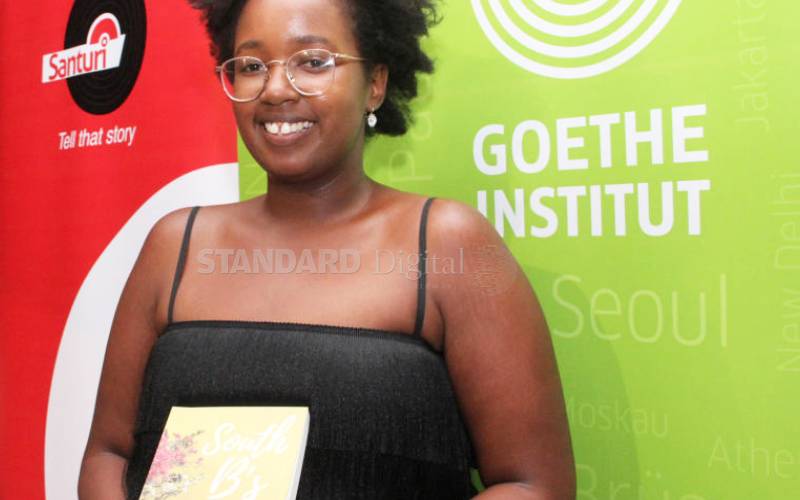 Makena Maganjo (pictured) had always wanted to read a book on living in Nairobi in the 1990s.
When she could not find such a book, Maganjo decided to write it.
"If there's a book you want to read, but it has not been written yet, then you must write it," said Maganjo, citing novelist, Toni Morrison.
Last week, Maganjo's dream came true with the launch of her debut novel, 'South B's Finest'.
The book was launched by a close-knit group of writers and book lovers at the Goethe Institute in Nairobi for the launch of the book.
'South B's Finest' is set in South B, Nairobi, during the 1990s. The novel chronicles the lives of three families living in the fictional Malaba Estate in South B, Nairobi, and how their lives interconnect.
It is based on the writer's experience growing up in South B, where she lived since birth in 1992.
However, while the novel is heavily influenced by Maganjo's childhood, the plot and characters are not based on her actual life.
"It is not based on my real life, but I thought it would be fine to put my childhood in a book," Maganjo said of her inspiration to write the novel.
Prior to 'South B's Finest', Maganjo's only other published work was a short story, which was published by the East African.
"I have always written, but no one ever told me I could do it as a career," she said.
During the book launch, Maganjo described writing as her first love that she veered away from to study economics.
The novel was edited by Joyce Nyairo, a cultural analyst.
Maganjo fondly recalled meeting Dr Nyairo, whom she had for long idolised, through her friend.
It is this encounter that finally gave her the nudge she needed to write.