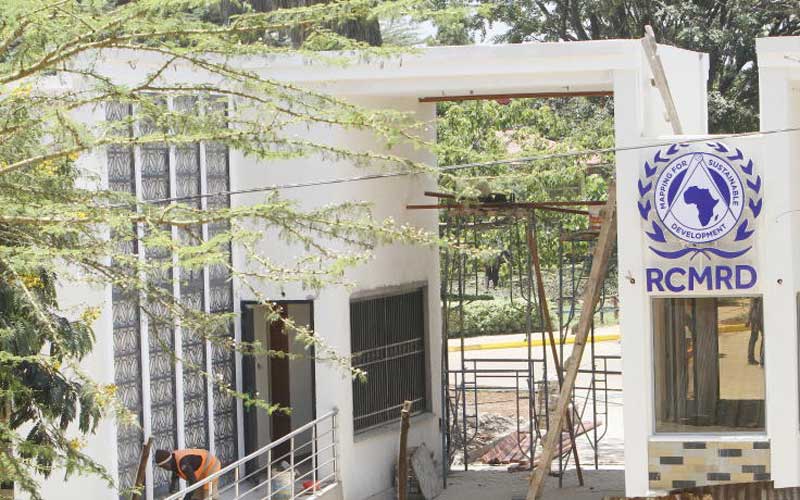 A half a billion-shilling complex, claims of sexual harassment and corruption allegations are at the heart of a bitter war threatening to tear apart one of Africa's mapping centres of excellence.
So intense is the infighting at the Kasarani based Regional Centre For Mapping of Resources for Development (RCMRD) that four whistle blowers, among them a technical director, have been sacked.
The working environment at the 44-year old institute is so toxic that members of staff are now fearing it will compromise operations.
Investigations by Saturday Standard indicate that bad blood between some top managers has forced the board of governors drawn from 20 countries in East and South Africa to intervene.
RCMRD's Director General Emannuel Nkurunzinza insists he is a victim of a plot to sabotage his work, dismissing claims of harassment against him.
In October last year, some staff complained to the council chairperson Bonolo Elizabeth Khumotaka about Nkuruzinza's governance style.
Some -- John Kiema (director of technical services), Joseph Masatu (staff assistant head), Byron Anangwe (business development) and Ann Kingori (executive secretary) -- have now been pushed out.
All the four had testified against the director general when a raft of allegations were presented to the council last October. "I had worked for RCMRD for 20 years. My contract was to expire in December last year and I expected it to be renewed. However, after I testified, my letter of termination was dropped at home, shortly before Christmas. What they did was not right but I have accepted this and moved on," Mr Anangwe said.
He said he had complained about bad governance as there was too much interference by his director, whom he claimed was antagonising partners and shooting down other ideas, in the process killing creativity among staff.
Anangwe said he was concerned after all the reserves the centre had been saving for two decades were committed to the construction of a four-storey complex that will cost $5 million (about Sh500 million).
But Nkrunzinza said Anangwe's contract and those of his two colleagues had been terminated by the governing council which had also directed they should not be renewed.
Nkrunzinza, a Rwandan, has also been accused of unilaterally awarding two contracts for training in use of drones in mapping in Zambia and Rwanda a compatriot, Rhona Nyakuluma, instead of letting the centre do the work and earn some money.
The director however defended himself, saying the centre had been contracted by the World Bank to engage the consultant who they had already identified and that it was only supposed to be paid an administration fee of 17 per cent.
Subscription fees
Each member country is supposed to pay an annual subscription fee based on its Gross Domestic Product. There was controversy surrounding how some arrears owed to the centre by Uganda in form of subscription fees had been settled.
Nkurunzinza dismissed as untrue allegations that he had waved off the debt after he secured a contract for the recovery of data from a destroyed disk for a Kampala based firm irregularly. "Uganda has cleared all its arrears. Those making those allegations do not know what they are talking about. The centre's accounts are scrutinised by external auditors and no queries about our finances have been raised," he said.
A complaint letter to the chair seen by Saturday Standard detail the frosty working environment at the centre. It reads in part: "2019 has been a very difficult year for TSD (technical service department) and indeed essentially because of unwarranted interference in the management of TSD) and lack of support from the Director General."
According to this petition, staff had raised their grievances to the management, issues they said were never discussed.
The staff had complained of sexual harassment of students and interns during a meeting held on April 5, 2019, but the director general conclusively dealt with the matter through a memo on May 20, saying the claims had no basis.
The staff had further claimed there had been a doubtful payment of about $37,945 (Sh3,832,445) in 2017 to a Ugandan firm after it repaired a computer disc that had vital data.
According to documents seen by Saturday Standard, the payment was suspected to be fishy because another firm in South Africa had unsuccessfully tried to repair the disc.
While requesting for payment, Banuli Kasanga of Dream Soft Uganda Limited had confirmed that his firm had repaired the faulty device which had been tested at at the DG's office and found to be working.
Nkurunzinza had on July 5, 2017 written to Dream Soft: "This is to acknowledge that Mr Babuli Kasango has today delivered data recovered from Dell Power Vault MD32000 and on a sample basis demonstrated that the data is in good condition," he wrote.
This raised questions among the technical staff who wondered why the repaired disc was never returned to the centre and why the DG had gone to Uganda not long after the payment had been made.
Received data
But the director general maintained that he had indeed received the data which he had handed over to a client who had been patiently waiting for it.
When these issues were presented to the governing council, which conducted its sittings in Nairobi between November 28 and 30 last year, things turned nasty for the whistle blowers.
In a case of the hunter becoming the hunted, Prof Kiema received a letter from the governing council dated January 24 informing him of the turn of events.
"Reference is made to your letter of November 28, 2019 addressed to me in which you raised a complaint against the Director General. The governing Council undertook investigations in Nairobi. From the investigations, undertaken no evidence has been established supporting your allegations."
The chairperson of the board said their investigations had unearthed incontrovertible evidence of insubordination towards the director general and the whistle blower was given five days to show why severe disciplinary action could not be taken against him.
Ultimately, the axe fell on Kiema on February 3 when Khumotaka fired back: "I wish to inform you that I have received your explanation on the offences you were accused of. However, I do not find the explanation satisfactory".
She added: "In the interest of smooth running the centre, your contract is terminated with immediate effect by paying you three months salary in lieu of notice in accordance with your contract of employment".
When asked why the witnesses had been sacked barely a month after testifying against him, Nkurunzinza said although the complainants had poisoned the working environment with baseless allegations, this was not the basis of their loss of jobs.
"Their contracts ended in December and the governing council opted not to renew them. They were not victimised for reporting me," the DG said.
On sexual harassment allegations, Nkurunzinza said when the investigators came, nobody came forward or presented evidence to back the claims.