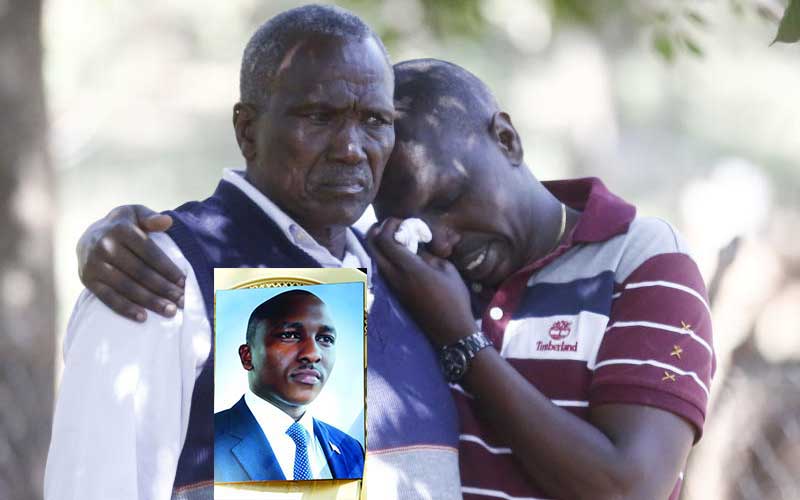 A policeman attached to Deputy President William Ruto's office who was found dead on February 20 was troubled when news broke of the arrest of former Sports Cabinet Secretary Rashid Echesa. A woman friend recounted that Sergeant Kipyegon Kenei did not seem his usual self when he joined them at an entertainment spot in Imara Daima, Nairobi, on Sunday, February 16. After exchanging pleasantries and offering to buy his friends a bottle of wine, Kenei ordered a bottle of Tusker Malt and went and sat by himself at a corner at Tents. "He didn't seem his usual self. He looked bothered... like someone was after him because he kept looking around. It was weird that he was sitting by himself because he was always jovial and social," recalled the woman.
SEE ALSO: MCAs condemn colleagues who met Ruto
She said a mutual friend, who was with Kenei on February 13 when Echesa was arrested, recounted to her and some friends the officer's fears when the news broke. That Thursday, Kenei had travelled to his rural home, from Nairobi, to pick his firstborn from school for the mid-term break and also to see his newborn. He was planning to wed Judith Yegon, the mother of his 10-day-old baby boy. While on his way he stopped in Nakuru for a meal with the mutual friend. As they enjoyed their lunch, news of the arrest came on TV. The friend told them that Kenei suddenly got concerned. He stood up and moved closer to the TV. He told the friend that he was on duty the day Echesa and the rest visited the DP's Harambee Annex office.
Expected trouble
"
Mimi ndio nilikuwa
on duty and I ushered them in.
Lakini DP hakuwa. Hii story itaniweka kwa shida
," the friend quoted him as saying. Kenei, who was attached to Administration Police's Security of Government Buildings, was in charge of security the day Echesa and the two foreign arms dealers- Mustafa Mamdough Amer Lofty and Kozlowski Stanley Bruno- visited. Echesa and the foreigners were arrested outside by officers investigating a Sh39 billion fake arms deal.
SEE ALSO: DP Ruto: Stop the endless politicking
The friend explained that he parted ways with Kenei who went home. Over lunch, he confided to the friend that he could be in a lot of trouble over Echesa's arrest. He promised to divulge more information later once he saw how the case was unfolding. He returned to Nairobi that Saturday and the following day in the evening went out for a drink at Tents where he found his friends and asked them what they would have. "We told him wine and he bought us a bottle. We asked him what he was up to and he said 'Sina Hesabu,' recalled the friend. She said they left Kenei at Tents when they left between 8pm and 9pm. The following day, Monday, February 17, their mutual friend tried to call Kenei but he couldn't reach him. "We didn't talk after that until our friend called me to ask if I had heard from him or seen him because his phone was off and he couldn't reach him," she added.
SEE ALSO: PCEA cleric Rev Kania laid to rest in church compound
He said that Kenei was worried over the Echesa arrest and had promised to give him more information, but he suddenly couldn't reach him. "The next thing we heard was that he had been found dead. We don't think he killed himself because he was a guy who was full of life," said the woman friend. Police said Kenei went missing on Wednesday, February 19, when he was supposed to accompany his colleagues to the Directorate of Criminal Investigations (DCI) to record a statement on the Sh39.5 billion fake arms probe. Officials claimed he had been to office on Monday and Tuesday when they were informed they were to record a statement on Wednesday. But his body was found on Thursday, February 20, following reports by neighbours who complained about a foul smell from his house. His five junior colleagues have so far recorded statements with the DCI and claimed they were acting on instructions to clear the guests to the second floor, the office of the Deputy President. The woman said that according to family sources Kenei was found wearing pajamas meaning he had gone to bed or was about to go to bed. John Chesang, Kenei's father, has confirmed his son was in the village to pick his firstborn son from school. "He was here for three days. He was jovial, full of life and did not share any challenges that might have led to his sudden death. He asked me about marriage customs and how to make his wedding successful. I told him everything - little did I know it was the last time I would be talking to him," Chesang said in an interview on February 21. Meanwhile, investigation into his death is focusing on people he spoke on phone with and autopsy to establish the time of his death. A senior police officer described Kenei's death as treachery but did not explain whether the investigation is narrowing to suicide or murder. "From the preliminaries, it is a case of treachery. But let us wait," said the officer who asked not to be named. Armed police are guarding the scene of crime at Villa Franca in Imara Daima, Nairobi, where Kenei's body was discovered last Thursday with a bullet wound in the head. Kenei lived alone in the bedsitter.
Tracing phone calls
Detectives have sent Kenei's mobile phone data for analysis. They want to know who he talked to last before his death. They also want to know who talked to him before and after the visit on February 13 to the DP's office at Harambee House Annex by Echesa, former Sports Cabinet Secretary and two foreigners . Kenei was scheduled to record a statement with the Directorate of Criminal Investigations regarding the incident in which Echesa and his team visited the second floor of Harambee House Annex where it is alleged they signed a fake Sh39 billion arms deal. Police investigating the death of Kenei said they cannot tell the exact day he died. A postmortem on the body is scheduled for today to explain various issues including how he died, when and the cause. Kenei's family has been unable to view the body at the Chiromo Mortuary or visit his house after police declared both exhibits sensitive. "After the postmortem we will know more. Autopsy is key in such incidents," said another official who asked not to be named.
Bullet wound
Kenei went missing on February 19 when he was supposed to accompany his colleagues to the DCI to record statement in the arms saga. His body was found in his house on February 20. Witnesses said he had a bullet wound in the head and his gun was lying next to his body. The body was discovered by locals who called the police. A spent cartridge was found on his body, which was half covered with a bedsheet.