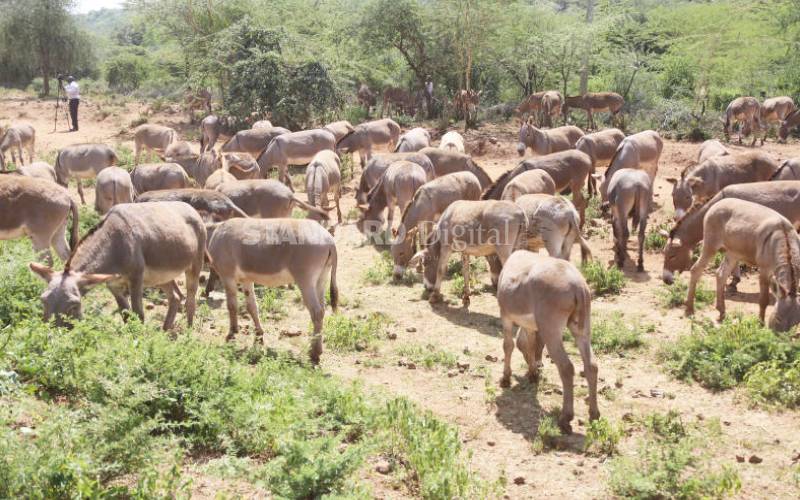 The donkey population in the country has dropped from 1.8 million to 600,000 in the past decade, an animal welfare organisation has said.
Africa Network for Animal Welfare (ANAW) Executive Director Josphat Ngonyo said it was estimated the rate at which donkeys are being sold or killed was about five times higher than their reproduction rate.
"We have established that the current population of donkeys in Kenya stands at around one-third from the 2009 population census numbers. It is a worrying trend that is worsened by their uncontrolled slaughter," Mr Ngonyo said during a media workshop in Kitengela at the weekend.
Kenya has four donkey slaughterhouses that have been blamed for a sharp rise in animal smuggling across borders as well as from neighbouring countries.
It is estimated that nearly 1,000 donkeys are slaughtered in the country every day.
Off-take rate
Ngonyo warned that the high off-take rate would render the donkey trade unsustainable.
Donkeys are being traded and stolen to satisfy the Chinese demand for donkey skins that drives the production of ejiao, a traditional Chinese remedy believed by some to have medicinal properties. It is estimated that the ejiao industry requires approximately 4.8 million donkey skins annually.
Ngonyo said his organisation had been documenting the illicit movement of the animals into Kenya for nearly six months.
"In our study to establish the existence, nature and extent of illegal cross-border movement and trade of donkeys at the Kenya-Tanzania border, with focus on Kajiado and Narok Counties, our preliminary reports indicate that over 100 donkeys cross the border from Tanzania to Kenya every day, through unofficial routes, headed for two slaughterhouses," Ngonyo said.
According to the Kenya National Bureau of Statistics, 301,977 donkeys were slaughtered between 2016 and 2018, representing 17 per cent of the total population, before the donkey export trade kicked off in earnest.