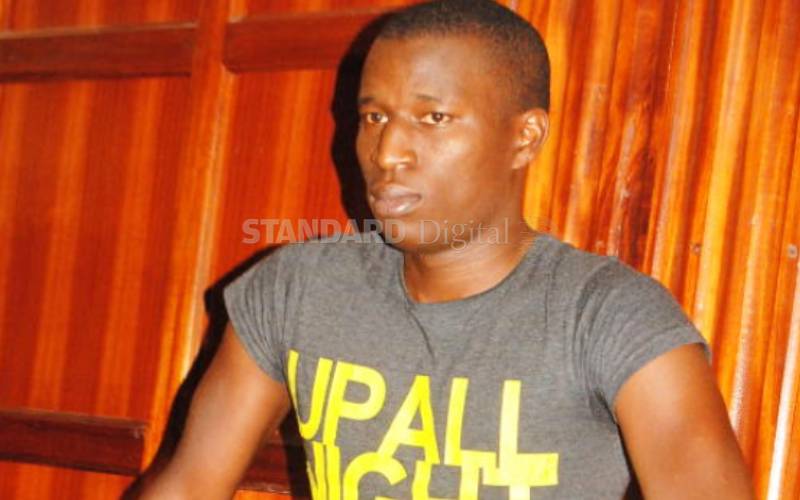 Blogger Cyprian Nyakundi (pictured) has been charged with Sh17.5 million extortion.
He appeared before the Milimani Senior Principal Magistrate and denied one count of extortion.
The charge sheet reads that on January 20, 2020, at the Westgate Mall, Nyakundi and others not before the court, with intent to gain, extorted Sh1 million from Yogesh Pattni, the CEO Victoria Commercial Bank Ltd, for a downpayment of an earlier demand of Sh17.5 million.
The prosecution's case is that Nyakundi demanded the money as a pre-condition for pulling down several libellous articles he posted on a blog between September 10, 2019, and January 15, 2020.
Contempt of court
The complainant's lawyer, Kamau Chege, said Nyakundi is in contempt of court since he keeps on posting the libellous articles.
Chege wants the court to deny Nyakundi bail, saying he is a notorious blogger who disobeys court orders.
But lawyers Danstan Omari, Cliff Ombeta and Dudley Ochiel said the alleged contempt of court has not been proven.
They requested the magistrate to release Nyakundi on bail.
The blogger is not new to the controversy surrounding his site.
In 2018, politician Steve Mbogo and his wife Sabrina Jamal sued him over a defamatory publication.
They sought to have Nyakundi compelled to immediately retract all defamatory contents on his online pages.
At the time, Mbogo said there was no jurisdiction for Nyakundi to publish such an article concerning him because there was no evidence to support the allegations.
Lady Justice Jackie Kamau later that month barred Nyakundi from publishing the alleged defamatory piece against Mbogo and his wife.
Nyakundi is said to have published the articles on his website, Twitter and Facebook pages in November that year.
The ruling on bail is yet to be delivered.