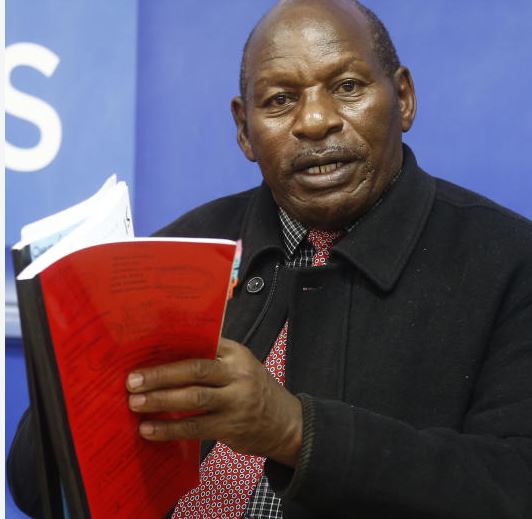 Land matters are ranked the most emotive issues in post-colonial Kenya. The demand for land, one of the most preferred forms of investment, has seen the increase of land grabbing cases. In most cases, the perpetrators are people considered untouchable in the society. Those who speak out against these ills face all manner of threats and chicken out while others are forced to flee from home for their own safety. However, Mr Moses Gitonga, 65, is a daring human rights defender who speaks for the oppressed land owners in Nakuru County.
SEE ALSO: Kenya Army chopper crashes in Masinga killing two soldiers
The retired Kenya Defence Forces officer is a frequent visitor to the Lands offices.
Exploited
"I was a Lieutenant in the military during the Ogaden War. After the short service commission, I resigned to concentrate on other issues. I'm now fighting a different war," he said. Values instilled by the Defence Forces would come in handy decades later, when facing land cartels in Gilgil and surrounding areas. "If it were not for my military background, I wouldn't have had the courage to face some land grabbers," said Gitonga.
SEE ALSO: KDF forces redesign of crude oil pipeline
He has walked along the corridors of the Ministry of Lands offices in Nakuru County since 2008 to conduct land searches on behalf of the community and individuals who have lost property to cartels. The peace and security in Gilgil after the 2007/2008 post-election violence led to scramble for land in the area which attracted cartels keen to make quick cash This saw an influx of people from other areas leading to increased land subdivision that was exploited by cartels. "There were many parcels of land earmarked for public utility but were yet to be developed. Some were developed but had not been fenced off. Schools were the most targeted by land grabbers," said Gitonga. Seeing the growing interest in public land by cartels, he decided to stand up for the community.
SEE ALSO: Soldier in wife murder case released on bond
The affected schools include DEB Primary School and the secondary school, St Patrick Primary, Woodard Secondary and Kiambogo Primary School whose land was on the verge of being grabbed. "At DEB Primary its 3.5 acres was subdivided. A senior county council official directed that I be allocated one of the plots but I declined. We organised demonstrations and it was later reverted to the school," he said. In 2010, officials of the defunct Nakuru Municipal Council mooted a plan to grab prime land belonging to pensioners of a government parastatal. The pensioners had purchased 25 acres of land and planned to construct residential and commercial buildings in Gilgil town. To silence Gitonga, a senior county council official informed him that he had been allocated three quarters of an acre of the said land. "The land had been illegally sold. The buyers wanted to develop but feared what would happen later. I was offered part of the land worth Sh14 million but this was not enough to buy my silence. I turned down the offer," he said.
Encroached
The pensioners have since moved to court seeking to reclaim their land where a 50 by 100 feet plot today is valued at Sh20 million. In 2013, a private developer encroached St Patrick Primary School and constructed a house. This came to the light after plans to construct a road through the school emerged. Gitonga mobilised parents and teachers to uproot at least 20 beacons that were demarcating plots within the school. In 2012, Langalanga area in Morendat Ward had no public school forcing children to walk for kilometers to access education. A donor came to their rescue by offering the community Sh40 million on condition that they acquire at least ten acres of land to construct a school. A broker entrusted with the process purchased ten acres but grabbed half of it when he realised that there were no funds to develop it. The broker was forced to give up the land which had been subdivided ready for sale after Gitonga threatened to sue him. Local administrators backed him in the quest to secure the land. "The then area District Commissioner Elmi Shaffi gave support whenever I raised the red flag. At times I endangered my life but he was there for me and the people of Gilgil constituency," said Gitonga. Shaffi who is now Nakuru West Deputy County Commissioner lauded Gitonga for speaking for the voiceless. "I have known Gitonga since 2011 and he has never given up in championing the poor people's rights. He is a very shrewd, committed and persistent man who goes an extra mile to ensure public land remains public land," he said. The Deputy County Commissioner recalled how the activist helped secure the land where the Gilgil CDF and DO's office stand today. "He was the first activist I came to know when I was transferred to Gilgil in 2011. An acre belonging to the public works at the heart of Gilgil town had been grabbed and subdivided. He marshalled residents to the recover the land," said Shaffi. He recounted how Gitonga assisted a Jua Kali Traders Association recover two acre piece of land along the Nakuru-Nairobi Highway which had been grabbed and structures illegally erected. "There was a plot owned by Maasai herders for animal holding in the town which he assisted in recovery. "There are many other private plots in Loresho that had been grabbed and he filed cases against the culprits. Some have been recovered and other matters are pending in court," said Shaffi.