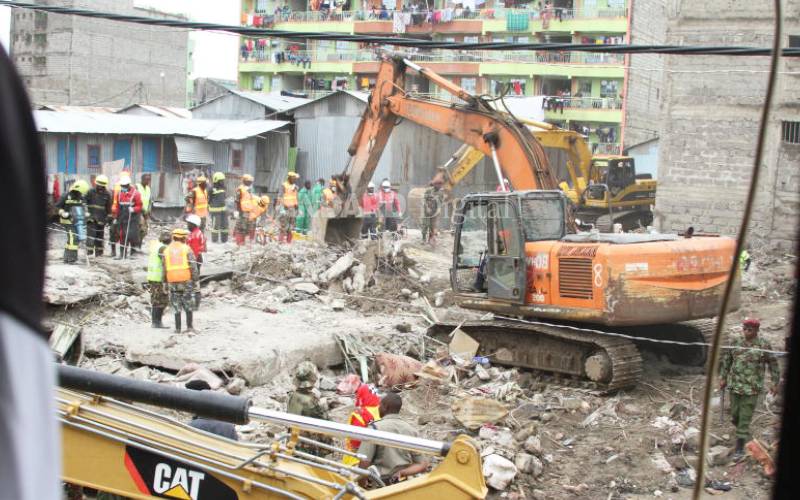 With painstaking precision, a yellow excavator gently rolls over a large mass of debris from a seven-storey building that collapsed in Tassia on Friday morning. A team lightly steps over the remains, using a hand-held radar machine to search for more people suspected to be still trapped, as officers from the Kenya Defence Forces shovel through the rubble. The sounds of light blasting and drilling can be heard from other machines sorting through the debris. Rescue workers from the Red Cross and St John's Ambulance are on standby to attend to rescued victims.
SEE ALSO: Ruth Matete husband buried in brief ceremony in Nairobi
In a tent pitched next to the scene, counsellors from the Amani Counselling Centre sit with families, engaging in extensive sessions. According to Embakasi Deputy County Commissioner James Wanyoike, some progress has been made since Friday. Thirty-five trapped occupants have been rescued and five bodies retrieved from the top five floors. Two of the rescued occupants have since died at the Mama Lucy Hospital, Mr Wanyoike added, during a media briefing. "Last night we recovered two people – a man and woman – who were taken to Kenyatta National Hospital. They are okay and one of them was even talking. We also recovered two bodies, also a man and woman," Wanyoike added. By yesterday afternoon, Wanyoike revealed that the rescue teams were working on clearing the bottom two floors, adding that the rains were a challenge to the operation.
SEE ALSO: Pregnant, yes, but too scared of Corona to dare go to clinic
He, however, asserted that the rescue operation would be complete in another day or two. For Edwin Makokha, the incident has been a startling reality. The body of his friend, 32-year-old Christine Wanjala and her daughter, 13-year-old Sheila, were among the first to be retrieved from the ruins. Wanjala's eight-year-old son was the only survivor in the household and was discharged after tests confirmed he was okay. Luckily, her other son John had visited Makokha on that fateful morning. "Sheila's body was okay so I think she died from shock. It is Christine who was severely injured; she was bleeding from the mouth, nose, ears and even eyes. Her arms and neck were also broken," Makokha told
The Standard
, while also expressing hope that the government would help them with the funeral arrangements. While Wanjala's family comes to terms with her death and that of her daughter, many other families have been plunged into uncertainty. Since Friday, their kin, who occupy the building, have been missing. They anxiously wonder whether they will be found alive.
SEE ALSO: KNH yet to lower cost of testing for virus to Sh1,000
The authorities had on Saturday evening revealed that 26 people were still missing, but Wanyoike said he could not provide an accurate figure until the operation was complete. Nahashon Okowa, the chairman of the Association of Construction Managers of Kenya, said the building was likely faulty, as are most buildings in Tassia.