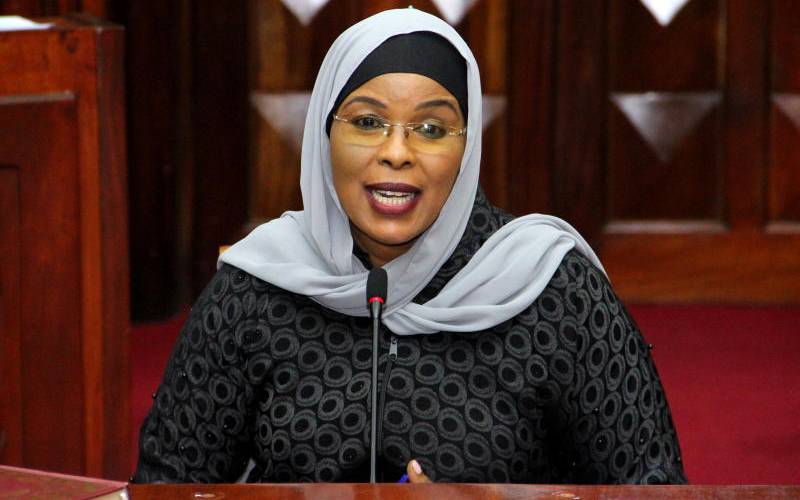 The High Court has nullified the appointment of former MPs Tiya Galgalo (pictured) and Esther Murugi as members of the lands agency.
The Employment and Labour Relations Court on Thursday declared that President Uhuru Kenyatta erred in nominating two for vetting, Parliament, for positions they had not applied for at the National Lands Commission (NLC).
Murugi, the former Nyeri Town MP and Galgala, who is an ex-Isiolo Woman Representative, had applied for the position of chairman and had been shortlisted.
However, they ended up being nominated for the post of members.
Read More
And today, Justice Hellen Wasilwa ruled the selection panel chaired by former Nyeri Woman Representative Pricilla Nyokabi irregularly recommended their appointment to the President.
"I find that the nomination and appointment of the 8th and 9th interested parties (Galgalo and Murugi) unconstitutional, null and void, especially when vied against article 232 of the constitution," Justice Wasilwa said.
The judge also criticised the National Assembly for vetting and approving Ms Galgalo even after failing to produce a tax compliance certificate during the exercise and allowing her to bring the documents later.
Lady justice Wasilwa, however, allowed the nomination and appointment of lawyer Gershom Otachi as chairman even after she found that selection panel was not legally constituted.
Activist Okiya Omtatah and lawyer Antony Otiende moved to court to stop the swearing-in of the nine on grounds of irregularity. They claimed due process was not followed.
The two claimed the selection panel was not competently constituted as it omitted representatives from other sectors such as civil society.
The judge concurred with the argument but failed to quash the appointment of Otachi and six commissioners, who are now set for swearing-in to office.
Justice Wasilwa declared that although the panel was incomplete, she could not fault the nomination and eventual appointment of the seven.
They include former Labour minister Kazungu Kambi, ex-Egerton University Vice-Chancellor James Tuitoek, Reginald Okumu, Getrude Nguku, Alsiter Mutugi and Hubbie Al-Haji.
Mr Omtatah said he was aggrieved by the decision and will be moving to the Court of Appeal to challenge it. However, he did not apply to suspend the ruling pending his intended appeal.
Justice Wasilwa's verdict now means Chief Justice David Maraga, who had been injucted from swearing in the chairman and members, is at liberty to do so except for Ms Murugi and Ms Galgalo.
The new leadership is expected to clean up the mess left by previous officeholders, who have been targeted by the Director of Public Prosecution.
The activities of the NLC had also stalled with their absence after the first commission vacated office in February, at the expiry of their six-year term.
The Otachi team is now expected to work with Kabale Arero who has been acting CEO since last December.