Chaos as Sonko fights cheating claims by EACC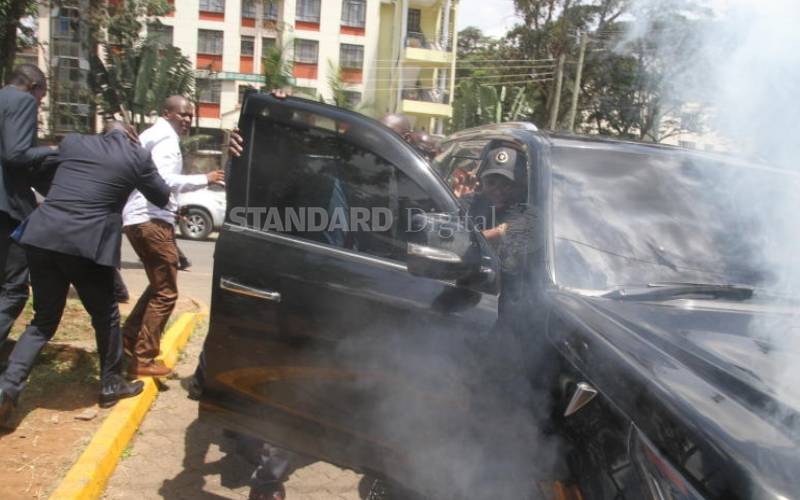 Nairobi Governor Mike Sonko yesterday appeared before the anti-graft agency in a day punctuated by confrontations between police and his supporters.
Mr Sonko was summoned to the Ethics and Anti Corruption (EACC) offices at Integrity Centre to shed more light on a self-declaration form submitted to EACC in 2017 while vying for governorship.
Through a letter dated October 28, EACC claimed the county chief lied about never being convicted of any crime in his self-declaration form.
Sonko is claimed to have been charged in Mombasa law courts in 1997 for making a document without authority contrary to section 357(a) of the Penal Code.
In March 1998 the investigators documents showed that the governor was convicted and fined Sh200,000 or in default serve six months in prison. He was committed to Shimo La Tewa Maximum prison to serve his custodial sentence having failed to raise the fine, according to the documents.
Skipped hearings
Also, it is reported that in March 1998, Sonko alias Gideon Mbuvi was also fined Sh500,000 or in default spend six months in prison for failing to appear in previous hearings of another case in Mombasa.
It is mandatory for those seeking public and State office to fill the self-evaluation forms with EACC and they are certified by the Commissioner of Oaths, before getting cleared by the commission.
In the letter, EACC Chief Executive Twalib Mbarak said the commission noted that pursuant to its constitution and its mandate as set out in the Constitution 2010, the EACC Act, 2012 and the Leadership and Integrity Act, 2012 is investigating allegations that Sonko provided false information to the commission in his self-declaration form dated March 9, 2017.
"The commission would like you to respond to these allegations and record a statement regarding the same. To this end, you are required to appear at the EACC headquarters integrity centre, Nairobi on November 5th at 10am to facilitate investigations," Mr Mbarak told Sonko in the letter.
The governor appeared at the Commission offices yesterday even as police tear-gassed his supporters.
Sonko has, however, accused EACC of witch-hunt, saying some top officials at the agency were out to hound him out of office.
He said the multiple summons he had received were a clear indication that he was being unfairly targeted. The Nairobi boss spoke of a ploy to get him out of office due to his stand against corruption.
Sonko explained that during the period of this case, he was taken to Kibera law courts where he was remanded in custody for four months, but was never convicted.
"In the self-declaration form, there was a section asking whether I have ever been convicted to which I answered no. I have never undergone any trial in all cases that I have encountered. I was only, however, remanded for failing to appear in court, but the same sentence was quashed by the High Court and I was free to walk," he said.
The governor also accused EACC of intimidation given the numerous summons issued against him. In the last two months, Sonko has been summoned four times to answer to corruption related allegations.
He said his troubles began after a top officer at the agency approached him, urging him to help out a friend who had grabbed a public playground in South C and was constructing a mall.
"This is a personal war against me and they are trying to remove me so that they can continue with corruption. I have raised a complaint with the DCI (Directorate of Criminal Investigations) who have since cleared me of any wrong doing," stated Sonko, adding that the agency was fighting graft 'selectively'. "Among all the other 46 governors aren't there any others that can be questioned with regards to corruption allegations?"
Scenes of chaos
Sonko's supporters had marched to Integrity Centre in solidarity with the governor, but were repulsed by police. Some were arrested and booked at the Nairobi area police station but later released after Sonko intervened.
In August, Sonko was questioned over Sh357m worth of tenders for garbage collection and disposal during financial years 2017-18 and 2018-19.
Elsewhere, the Media Council of Kenya yesterday condemned harassment of journalists covering Sonko's appearance at EACC. Journalist Collins Kweyu (Standard Group), Steve Shitera (Citizen TV), Jeff Angote (NTV) and Joseph Wakhungu (Milele FM) were attacked while covering the event.
"The council notes with concern that instead of protecting journalists, police deliberately lobbed teargas at them in a bid to prevent them from recording the events," MCK said in a statement.
It urged the DCI and the DPP to investigate circumstances surrounding the attacks.