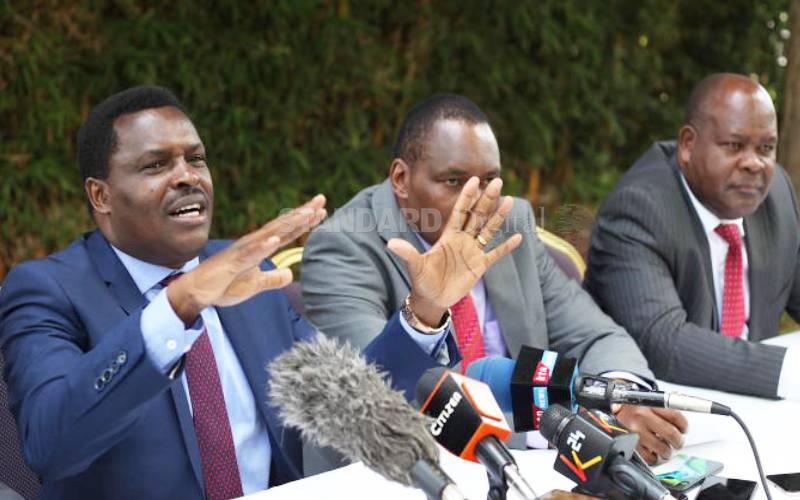 Monday's release of the national census figures continued to generate heated debate, even as several leaders vowed to contest the results in court.
Leaders led by governors, senators, MPs and party leaders were united in rejecting the data launched by President Uhuru Kenyatta at State House on claims of manipulation. Most of them claimed that the statistics were not credible on the grounds that the numbers for some regions were suppressed, while others were exaggerated and warned that this would affect resource distribution.
Governors Muthomi Njuki (Tharaka Nithi), Francis Kimemia (Nyandarua), Wycliffe Wangamati (Bungoma) and John Nyagarama (Nyamira), as well as Senator Aaron Cheruiyot (Kericho) led the chorus of those dismissing the 2019 census.
Repeat exercise
Read More
Mr Njuki, accompanied by three MPs - Maara's Kareke Mbiuki, Tharaka's Gitonga Murugara and Chuka's Patrick Munene - threatened to move to court on Monday to contest the data showing a county population of 393,177.
"We are disappointed with the figures we have received. The rate of increase is inconsistent with what is obtained for the rest of the country. If the Cabinet Secretary for Planning and KNBS (Kenya National Bureau of Statistics) do not review the results, we shall be compelled to move to the High Court seeking orders to compel them to cancel the results and repeat the exercise," Njuki said.
On their part, Mr Kimemia and his Bungoma counterpart Wangamati vowed to challenge the results, claiming that they did not reflect the truth on the ground as there was no population growth indicated in the results.
"We do not agree with the results, and that is why we are seeking to have an audience with the government agency. It cannot be true that Nyandarua had an increase of only 40,000 people in 10 years," said Kimemia.
Mr Wangamati noted that the region was ranked fifth in the last census, and wondered why it remained the same.
"Our region is known to be one which has more population growth, and that is why we are wondering what happened. The government agency must come and shed light," he said.
Mr Nyagarama said he had dug into the county health information systems to ascertain the figures and births that occurred in Nyamira between 2009 and 2019. The governor said within the last 10 years, about 94,000 children were born in Nyamira's healthcare facilities, while about 15,000 others were born at home, adding that 17,000 people had died over the period, bringing the figures to a projection of 698,000.
Call for probe
The governor said the 605,000 population figure that was released by KNBS was a falsified picture of Nyamira County, and that it was hurting the devolved unit's growth projections.
"The wrong impression that the population of Nyamira grew by merely 7,000 people is misleading and it will be hurting to the county's development because, even on revenue allocation, we are afraid we may be marginalised," Nyagarama said.
Kericho Senator Aaron Cheruiyot and Bureti MP Kiptergech Mutai in separate interviews argued that Kericho residents were more than the 901,777 figures released by KNBS.
"I do believe Kericho's population is way above the 901,777. All factors of growth standing, based on 2009 figures, we should be around 1.2 million," said Mr Cheruiyot.
MPs Joash Nyamoko (North Mugirango), Ali Wario (Garsen), Eseli Simiyu (Tongaren), Kiptergech Mutai (Buret), Abdi Omar Shurie (Mbalambala), Rehema Hassan (Tana River) and Adan Haji (Mandera West) led the group of legislators who cried foul.
"I don't agree with the result of this year's population census. It is impossible that our county has recorded a growth of about 10,000. We are very fertile people. It seems there was a well-planned scheme to suppress population growth in certain areas. We will have to challenge the figures," Ms Hassan said.
Mr Wario added: "We are going to do everything possible in challenging the results, including going to court to have a repeat exercise ordered for. The figures are inaccurate."
On his part, Mr Nyamoko said: "Unless the CEO of KNBS convinces us that there were very high rates of child deaths and high immigration, then the figures should be revisited. We may not be convinced that the figures are a true reflection of the county. We are reading some mischief with the report and we are going to subject it to further scrutiny in Parliament."
Yesterday KNBS Director General Zachary Mwangi defended the exercise from the widespread allegations of manipulation, saying the survey was done in line with internationally recognised standards set by the United Nations.
"This was a professional exercise carried out using the latest technology and enumerators from the local community and also monitored by international observers. The enumerators counted people where they found them. There was no room for any manipulation as claimed," he said.
More Data
According to Mr Mwangi, KNBS will by January next year release other sets of the census data, including mortality rates, births, immigration, urbanisation trends, age groups and political unit-based statistics.
"What we have released is the administrative units. We shall release the other details based on political units (wards and constituencies), age, urbanisation and immigrations so that Kenyans can analyse and understand the census results," he said.
Kakamega Governor Wycliffe Oparanya, under whom the 2009 census was done when he was the Planning minister, said he expected his county's population to have slightly exceeded 2.1 million people going by projections from a decade agp.
"This could be all about resource allocation; it must have been a major contributing factor. I don't think the figures are real. The data might have been tampered with deliberately. I need to be told how a shortfall of 300,000 occurred in this county, yet the projections indicated a steady growth in population," he said.