Police dilemma over order to probe DIG Mbugua, others in fraud claims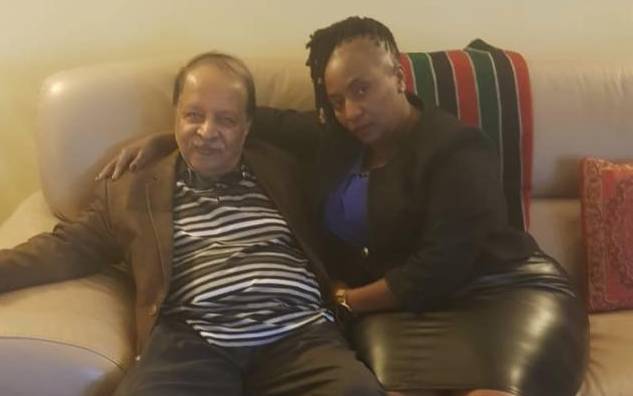 An investigation into an alleged plot to grab property worth Sh700 million from a businessman has placed the police in an awkward position. The probe has sucked in a top police officer.
Dillip Bakrania, 70, claims a close relative used top State officers in an attempt to have him deported so as to take over the family property, prompting Interior Cabinet Secretary Fred Matiang'i, Inspector General of Police Hilary Mutyambai and Director of Public Prosecutions Noordin Haji to order an investigation.
Among those mentioned adversely is Deputy Inspector General of Police Edward Mbugua, who is second in command after Mutyambai. And herein lies the dilemma.
Sources within the police say because of police protocol and his rank, for Mbugua to be questioned, a senior officer, probably Mutyambai, has to personally ask him to write his statement regarding the allegations. But this is yet to happen.
Issues of rank
"Because of his rank, you cannot send a junior officer to interrogate him. We now wonder if it is the IG who will do it because this will be seen in another way," said an insider aware of the intrigues.
However, sources reveal that the IG can delegate the questioning to any officer from the rank of superintendent -- an assignment Mutyambai is yet to execute. Prior to his appointment to the current position of DIG, Mbugua, a seasoned officer who has risen through the ranks, was the Commandant of the Presidential Escort Unit for almost six years.
The investigation stems from claims Bakrania made in an investigation aired by Citizen Television on Sunday that some security agents conspired with members of his family to deport him and take over his property.
Bakrania claims a close relative used top officials within the police and immigration department to have his work permit revoked. Then there was an attempt to have him deported to the United Kingdom in order to seize family property he took over following the death of his brother. The property includes houses in Nairobi's Westlands and Industrial Area estimated to be worth Sh700 million.
The businessman has passports from the United Kingdom and Northern Ireland. Bakrania, the report claims, sought the help of Makadara MP George Aladwa to stop the planned deportation.
Yesterday, Mutyambai said the matter was being investigated. "It is under probe. Let us wait," Mutyambai told The Standard. He declined to respond to questions about tension over Mbugua's questioning.
No comment
Yesterday Mbugua said he could not comment on the matter because it was under investigation. "You are aware there are investigations going on. Let investigations unearth the truth. I can't comment on issues under investigation," Mbugua responded.
Director of Immigration Services Alex Muteshi also welcomed the probe. "That is the best way to address the issue. This route will bring out the truth," said Mr Muteshi.
Aladwa said he had done nothing wrong and dismissed the claims of extortion.
"I helped him. I have known him since 2009 and he was my constituent. The claims being made against me of extortion are lies," he said.
The Ministry of Interior had on Tuesday issued a statement saying the IG had ordered investigations into the matter involving a businessman, security officials, immigration officials, and politicians.
"The Government's attention has been drawn to allegations of irregularities and illegalities at the Immigration Department and other Government Security Agencies," said Interior Ministry spokeswoman Wangui Muchiri.
She added that a consultative meeting involving Matiang'i, Mutyambai and Haji was held and ordered that full and proper investigation be undertaken with immediate effect to determine the validity or lack thereof of the allegations.
"The IG is, therefore, directed to commence investigations and submit a status report within 14 days."
Those with information were asked to submit the same to the Director Internal Affairs Unit (IAU) in the National Police Service Charlton Murithi, who can be reached on 0798474619 or email: [email protected]
"The Government undertakes to ensure that justice is done for all without fear or favour," added Ms Muchiri.
This means Murithi, an Assistant Inspector General of Police (AIG) will lead the probe and hence has to take the statements from those mentioned. Internal Affairs is a unit within the police established under section 87 of the NPS Act with the mandate of receiving and investigating complaints against police.
"Without making prejudice to sub-section (2), the Unit may, where necessary, investigate and recommend appropriate action in respect of anyone found engaging in any unlawful conduct," says part of the unit's objectives.
Hand over to others
The matter is more complicated because apart from Mbugua as a police officer, there are civilians mentioned in the saga.
Insiders said there is a push to have the probe taken over by other agencies like the Ethics and Anti-Corruption Commission (EACC). This is because IAU deals with complaints against police only yet there are other outsiders like politicians, civilians and officials from Immigration department named in the matter.
Private investigator Jane Mugo first brought the matter to public alleging her arrest on alleged trumped up charges was retaliation because she was investigating top officials within the police and Immigration. Ms Mugo had been hired by Bakrania after his efforts to fight his deportation appeared to run into headwinds.
File sought
On Wednesday, The Standard established that the Deputy Director of Criminal Investigations Gideon Ashmalla asked for the investigation file on the matter. The file was at the Nairobi Area DCI command where a team had been investigating the matter.
Mugo had cited the case as part of the reasons she was being harassed by security agencies. She is facing charges in a court of threatening to kill.
But police say they had received complaints from two people against her. Mugo was arraigned before Milimani chief magistrate and charged that on August 15, 2019, at New Muthaiga Inn in Nairobi, she drew a pistol and threatened to kill Patrick Mugusia Kefa.