Mwinzi accuses MPs of outright discrimination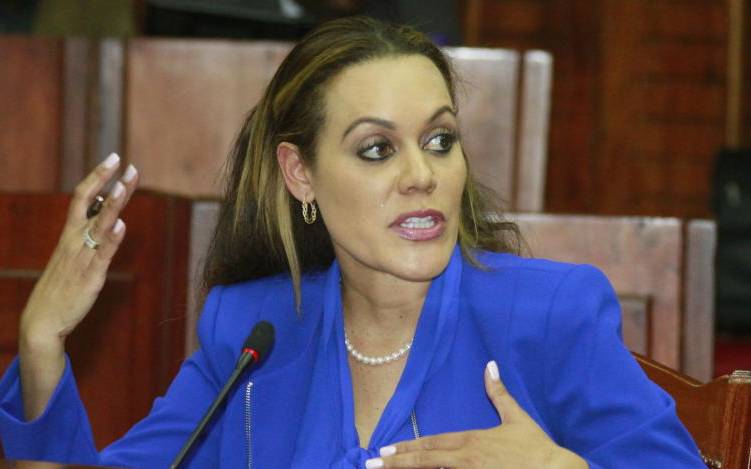 President Uhuru Kenyatta's nominee for ambassador to South Korea, Mwende Mwinzi, has come out to explain why she took the appointment dispute to court.
Clutching on to her national ID card, birth certificate and Moran of the Burning Spear (MBS) badge of honour, Ms Mwinzi told the Sunday Standard that she grew tired of being bullied around by those misinterpreting the law on citizenship and public appointments.
She said there are Kenyans missing out on offering their service on account of their parents' choices and misunderstanding of the law. It's about time the courts pronounced themselves on the matter, she urged.
Born in Milwaukee, US, of Kenyan father Maluki Mwinzi and American mother Mary Christine Geil, she sounded ready to take one for the dual citizen team. She was reluctant to discuss the case but resolute on its importance:
"This is not about me, although it does affect me. This is about the many Kenyans who ought to be mainstreamed into Kenya's development and leadership. It cannot be that for all that we do for our country, and all that it does for us, we suddenly become strangers in times like these," she said. Mwinzi's nomination ran into the headwinds of a half-hearted approval by Parliament.
The committee agreed to her formal appointment but on condition that she relinquishes her US citizenship.
Citizen by birth
Take a quick survey and help us improve our website!
Take a survey
But she says that was a tough call on her given that her US citizenship was automated by the fact of being born there in the 70's. Wagging a copy of the Kenyan Constitution, she says it protects people like her.
"I can only restate what we have placed on record in our case. We are taking refuge in Article 78 (b) acknowledgment of the predicament of those who, like myself, are unable to opt out of their other citizenship," she said.
Article 78 states that a person is not eligible for election or appointment to a state office unless they are citizens of Kenya. It also expressly forbids dual citizens from holding state office or defense force jobs but exempts these two clauses to a set of people: "Clause 1 and 2 do not apply to judges and members of commissions or any person who has been made a citizen of another country by operation of that country's law, without ability to opt out."
Mwinzi believes this exempts her should the court buy Parliament's argument that an ambassador is a state officer. Her main argument as presented in court earlier this week by lawyer Tom Ojienda is that ambassadors are not categorised as state officer by Article 260 of the Constitution.
"While Article 260 provides that national legislation may establish an office and designate it as a State office, there is currently no legislation in place which has designated the office of a High Commissioner or an ambassador to be a State office," Mwinzi says in an affidavit.
On Section 31 (2) of the Leadership and Integrity Act, 2012 which requires dual citizens to drop their alien citizenship before assuming Kenyan state offices, Mwinzi insists she is not a state officer but rather a public officer.
She said the "mixed signal" Parliament corded her appointment had left her in a queer situation. While her co-nominees to other postings have assumed their posts, she hangs around as a designate-ambassador with no appointment letter.
Mwinzi wants the court to declare her appointment complete, that her rights were violated, that ambassadors are not state officers, that she is appointable and that she be formally posted to Seoul.
"I appreciate Parliament's role in approvals but I also feel violated and discriminated without any basis in law. I believe the court's decision on my matter will also help Parliament in dealing with situations as mine," she said.