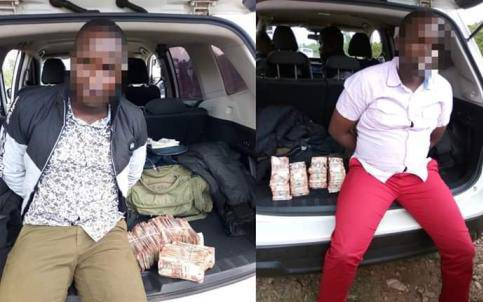 Police have been deployed to parts of western Kenya in the ongoing search for the Sh72 million stolen in a bank heist in Nairobi.
The investigators believe that one suspect, a G4S staff, was hiding the money sent from Nairobi to Kakamega through a public service vehicle as a parcel.
Investigators have since established that the sender of the parcel had addressed it to a relative and the box containing cash was to be picked from a bus terminus in Kakamega town on September 6.
Last week, DCI officers stormed a home in Lurambi, Kakamega County where they recovered Sh1 million. A G4S employee Bernard Sewanga was arrested.
Police said a suspect, earlier arrested in Ruiru, led the police to the homestead of his in-law's in Lurambi where the cash which was covered in a black bag was recovered in a cowshed.
Read More
The police recovered another Sh2.3 million from the house of a 60-year-old woman in Machakos.
DCI on tweeter announced that two suspects who are brothers had been arrested by the police. Kinoti identified the suspects as John Kamau Mulei and Bernard Mwendwa, a G4S officer.
After the arrest, police raided their grandmother's home and recovered the money.
Investigations have also revealed that another AP officer was involved in the crime.
The police constable based at Kikuyu AP camp has been linked to the theft through forensic investigations on call data of some arrested suspects.
He has been placed at the centre of the planning and execution of the robbery through forensic data of his cell phone.
"He was in communication with other suspects for the entire three months when the planning was taking place."
"The man was also caught on CCTV cameras on the day of the robbery," an investigator told the Sunday Standard yesterday.
Police are yet to arrest the Kikuyu AP couple believed to be the masterminds of the robbery.
The two have been missing from the place of work since the day of the robbery and investigators believe they may have fled to Tanzania.
The hunt for the culprits started in Nairobi West, where the crime was executed and extended to Kiambu, Kisii and Kendu Bay where eight of the perpetrators have been netted and Sh7 million recovered.