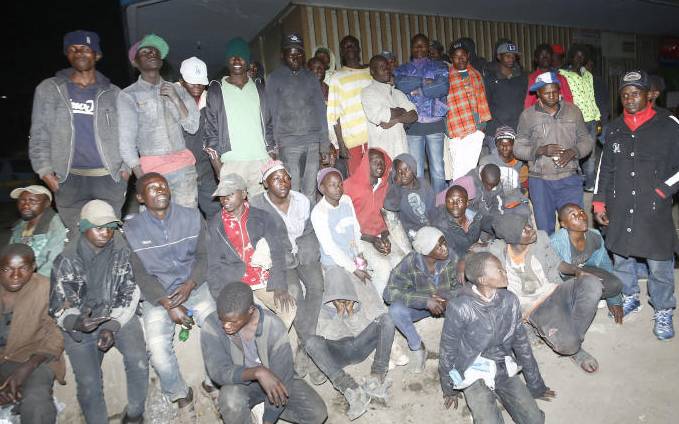 They weave through traffic and busy streets with their hands stretched out begging for money or food. Some of them clutch on bottles of glue, seeking intoxication as an escape from the tough world they live in. Most of the time, people rush past them without a second glance. Street children have been called a menace, eyesore, and unending problem and despite interventions by the government, NGOs and individuals, they have become a persistent problem that refuses to go away. Last year, Nairobi County launched an operation to rehabilitate street children from the Central Business District. According to Governor Mike Sonko, the street children were to receive treatment for drug addictions in the rehabilitation centres. Nairobi residents have, however, raised concerns over the increasing number of street children who roam the streets at night and threaten to kill if not given money.
SEE ALSO: Elachi's resignation should pave way for peace
Irene Auka who operates an Mpesa shop along Kimathi Street took to Facebook to recount what she termed as "terror in the hands of little boys." She had just stepped out of her shop at around 11pm when three street boys approached her. One of them grabbed her skirt and demanded money while threatening to rip her clothes if she did not give them money. "I gave them Sh500 but I was so scared. Every time I see street children, I start shaking," she says. Efforts to save children from the streets has been long and winding, with no hope in sight. In 2009, the Narc government came up with a rehabilitation project led by former Vice-President Moody Awori where street children were to be absorbed in the National Youth Service. Most of the graduates cited joblessness and lack of structures as reasons why the project flopped. Elijah Omollo, who was trained in Nairobi, says nobody followed up to find out if they ever got a job or got reintegrated into society.
SEE ALSO: Governor's troubled reign at City Hall
"We were given certificates and sent back to the street. Most of us ended up where we started," he says. Then came the Street Families Rehabilitation Trust Fund (SFRTF) that came dangling the promise of rehabilitating street families. During the launch of the board members this year, Labour and Social Protection Cabinet Secretary, Ukur Yattani, said they will draft policies that will guide implementation of the rehabilitation of street families, develop the National Street Families Bill and a Street Families Trust Fund Strategic Plan.
Arresting
According to the chairperson of the trust Chebii Kilimo, who came in office in May, the fund is supposed to get Sh245 million this financial year 2019/2020. "I am not sure if we have received the money because it has to come through the Labour Ministry. Maybe in our board meeting which we plan to have on October 2, we will know whether we got what we applied for," she says. She adds that the programme will specifically target those on the streets to rehabilitate, reintegrate and re-socialise them and not just to keep them in charitable institutions.
SEE ALSO: State hangs on to Sonko's Sh500m
Nairobi County Communications officer Elkana Jacob says they are doing all they can to reduce the number of children on the streets. "We have been arresting and taking them to the four rehabilitation centres in Kayole, Makadara, Joseph Kangethe, Shauri Moyo and Mji Wa Huruma. We also have a reunion programme with their families and by June we had over 1,000 street children rescued and rehabilitated over the last one year," says Elkana. In August, Auditor General Edward Ouko hinted at a possible loss of public funds under SFRTF. In a report tabled in the National Assembly by Majority Leader Aden Duale, Ouko questioned inaccuracies of accounting records worth Sh14.9 million which could not be verified. "The operating expenses of Sh14,933,782 as reflected on financial statements could not be verified as accurate," he said in a report. He added that the amounts in the general ledger which had been used in the preparation of the financial statements differed with the supporting documents made available for audit examination. Records of the fund indicate that it owns various pieces of land -all of which had no ownership documents, according to the report. Another query was raised in March 2018 when the Auditor General said they could not trace Sh230 million allocated tor rehabilitation of street families in 2015/16 financial year. The money was allocated to the Ministry of Devolution and Planning. In its financial statements, the ministry indicated that it had made a payment in the form of a grant to another government agency. "The amount was claimed to have been transferred to the Special Programmes Department," the Auditor-General reported. "However, no expenditure returns have been provided in respect of the amount for audit review." He concluded that there were no documents to show how the money was spent. The budget read by former Treasury Cabinet Secretary Henry Rotich in June indicated that Sh1.2 billion has been set aside for Children Welfare Society. In the 2016/2017 financial year, the National Treasury allocated Sh33.7 billion to the State Department of Social Protection, where the SFRTF falls under. In Senate in February, Nominated Senator Beatrice Kwamboka said they resolved that Ministry of Devolution and ASAL Areas in collaboration with the Council of Governors conduct a census of street families in all urban centres in the country to determine their numbers and demographics. Social workers are now raising concerns over NGOs and government bodies that come up purporting to be working with children, only to use their vulnerability to make money. Aisha Ahmed, a volunteer social worker in Kibera says many NGOs approach her asking for a register of vulnerable children and use them to seek donor funding. "There are many orphans, street children and other vulnerable young people whose names are being used to make money," she said. She cited increasing cases of child abuse in institutions that are supposed to rehabilitate them. - Additional reporting by Beldeen Waliaula