Police want 6 more suspects held in probe on Sh72m theft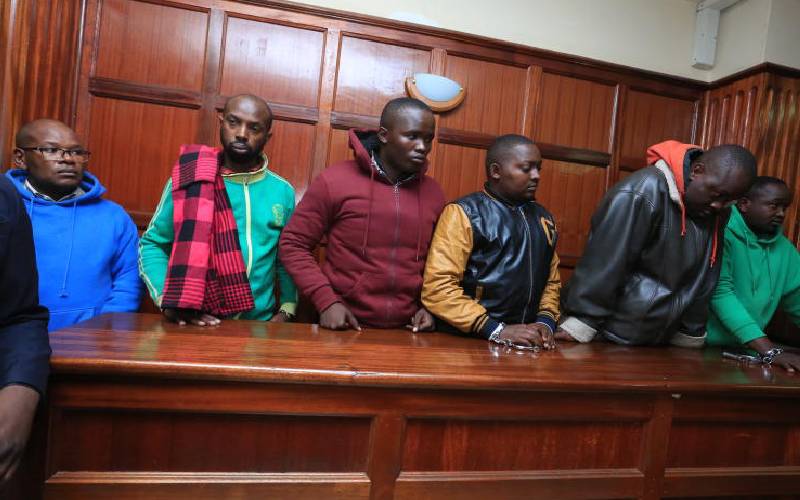 Police yesterday sought orders to detain six more suspects linked to the Sh72 million bank heist for 10 days to conclude investigations.
Lead investigator Hudson Namusasi sought the orders from Milimani Chief Magistrate Martha Mutuku.
Those Mr Namusasi wanted held are Chris Ayienda, Duncan Kaveshe, Boniface Mutua, Vincent Owuor, Alex Mutuku and Francis Muriuki.
They are to be detained at Langata Police Station pending further investigations into last Thursday's robbery at Standard Chartered's Nairobi West Branch.
Namusasi said he is yet to scrutinise CCTV footage from Standard Chartered Bank headquarters.
He told Ms Mutuku that he has also not retrieved call data from mobile phones belonging to the six suspects.
"The respondents face daunting criminal charges should there be sufficient evidence adduced against them. It is therefore prudent to establish the truth of the allegations," said Namusasi.
The court last week allowed police to detain six other suspects for seven days.
Mr Ayienda was arrested in Kisii with Sh4 million, according to the police. Investigators said he led them to Kendu Bay in Homa Bay, where Mr Owuor was arrested with another Sh3 million.
Also recovered at Owuor's Kendu Bay house was a new Subaru Forester car.
According to Namusasi, the State intends to charge the six with robbery with violence. They will either be charged as main culprits or accessories to crime.
"There is a likelihood that the respondents will interfere with investigations," said Namusasi.
Flight risk
He claimed that none of the six had volunteered to take investigators to their houses.
"Owing to the fact that the respondents have elected out of their wisdom not to show us their respective residences, and there are unknown persons, they are hence a flight risk and should not be granted bail."
However, the suspects' lawyer, Cliff Ombeta, opposed the application, saying there was no reason to hold them in a police cell.
Mr Ombeta said his clients are not to blame for the blunders that happened last week at G4S. Part of the money was stolen while in transit from the firm's warehouse along Nairobi's Witu road. The rest was emptied from an ATM at Standard Chartered Bank's branch in Nairobi West.
The ruling from the magistrate's court is expected today.