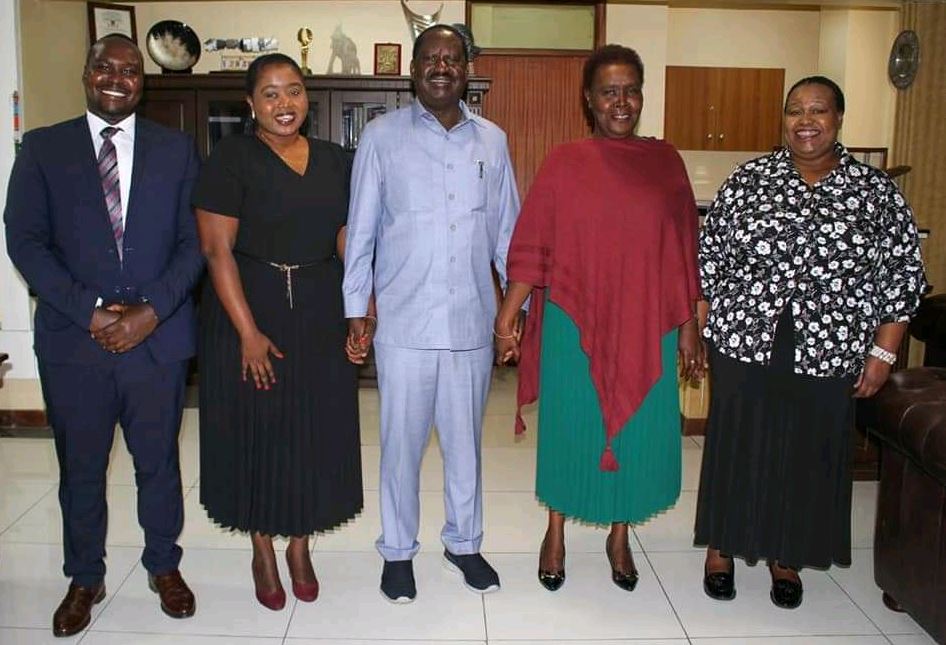 Opposition leader Raila Odinga has met with two prominent relatives of the Kenyatta and Moi families, stoking speculation about his political game plan.
Yesterday, Raila received Doris Elizabeth Chepkorir Moi, daughter of former President Daniel arap Moi and her family at his Capitol Hill office in Nairobi.
The ex-premier is known to use the office to receive delegations including Cabinet Secretaries and governors.
The meeting with Ms Moi comes a day after Kristina Pratt, President Uhuru Kenyatta's sister, also went visiting at the same office.
Sources say Capitol Hill has been Raila's private office for years, and a place where critical decisions have been made including those touching on past presidential campaigns.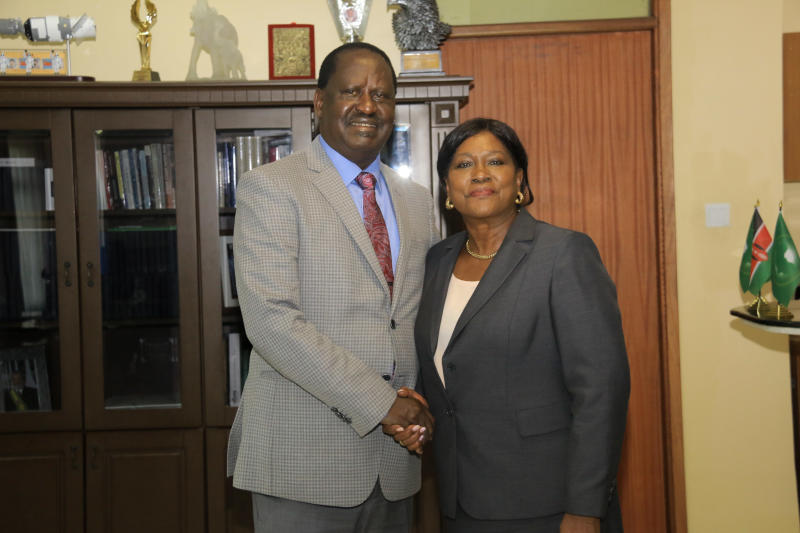 Earlier yesterday, the ODM leader also received Trade and Industry Cabinet Secretary Peter Munya. Later in the evening, Kiambu Deputy Governor James Nyoro came calling.
Hailed State efforts
Mr Munya briefed him on the setting up of the Special Economic Zone (SEZ) in Kisumu, and the revival of Kenya Cotton Mills (Kicomi).
Munya was accompanied by the Chief Executive Officer of the Special Economic Zones Authority Meshack Kimeu, and the acting Chief Executive Officer of the Export Processing Zones Authority George Makateto.
Kisumu Governor Anyang Nyong'o also attended the meeting.
As the meeting progressed, Raila expressed satisfaction with the progress achieved towards setting up the SEZ in Kisumu.
He hailed the Government's efforts including the acquisition of more land for the SEZ and plans to rope in local industries to be part of the SEZ.
The former Prime Minister also appreciated work the Government has done in reviving Kicomi.
Raila urged the fast-tracking of both projects, and asked the State to include the Kisumu County Government and local colleges in their implementation.
Yesterday, Raila and Doris held discussions on climate change and national cohesion. Later in the day, the ODM leader visited the National Museums of Kenya and held discussions with its Director General Mzalendo Kibunjia.
"I was pleased to receive Madam Kristina Pratt Kenyatta at my office this morning," Raila had tweeted on Wednesday.
Since the March 9 deal with Uhuru, which ended hostilities arising from the disputed presidential vote, Raila has worked closely with the government.
The close working relationship saw the Jubilee government support his appointment as the first African Union (AU) envoy for infrastructure.
Cabinet Secretaries, Governors and other top government officials have been trooping to Capitol Hill to brief Raila on various State projects.
In July, Raila accompanied Munya and Transport Cabinet Secretary James Macharia on a tour to Nyanza to inspect various projects.
Raila and Uhuru have also twice inspected Kisumu Port, which is currently undergoing an upgrade. Its planned launch this week was postponed.
There are also plans to put up a oil jetty in Kisumu which is expected to deliver a viable integrated marine fuel transportation system for the region.
The close working relationship between the president and the opposition chief gave rise to the Building Bridges Initiative (BBI).
The BBI team is now writing a report on constitutional reforms that are expected to have a huge implication on the 2022 General Election if implemented.
On Wednesday, Kirinyaga Governor Anne Waiguru said Mount Kenya region could favour a Raila presidency. Ms Waiguru's assertion spurred speculation on Raila's fifth attempt at the presidency, and the fact that Uhuru could support him.
"A wind of political change has hit Mount Kenya. If Raila chooses to run for presidency, he should know that the region will want a piece of his government," Waiguru said.
Political analyst and constitutional lawyer Alutalala Mukhwana said the only people who know the contents of the March 9 handshake are Uhuru and Raila.
Others in the political arena can only read the body languages of the two, and speculate.
"Uhuru realised that his term is coming to an end in 2022 but since the Kenyattas have invested heavily in Kenya, they needed a system that protects them. That peace is guaranteed by Raila," Dr Mukhwana said.
Exert influence
He noted that Uhuru ensured this by giving Raila a role in which he can start exerting his influence to shape future events.
"Raila is co-sharing power with Uhuru. That is why CSs are reporting to him. People can only derive conjecture from what they see. Anyone who doubts this is a stranger in Jerusalem," Mukhwana said.
"Uhuru and Raila will drive Deputy President William Ruto out of town, and influence who becomes President in 2022."
Kioko Ireri, chair of the Communications Department at the United States International University, said Raila has political capital that can't be ignored.
"You can't ignore Raila in Kenya's politics. Any political strategist can't ignore Raila. Any politician will want to exploit Raila's political capital to his advantage. Whether or not he runs for presidency in 2022, he will still play a major role in the succession race," Prof Ireri said.
He averred that any person interested in succeeding Uhuru must tap in the near fanatical following Raila enjoys in Nyanza and many other parts of the country.
Today, Raila is expected to attend the Turkana cultural festival.