Burning of bodies has kicked up cultural, religious storm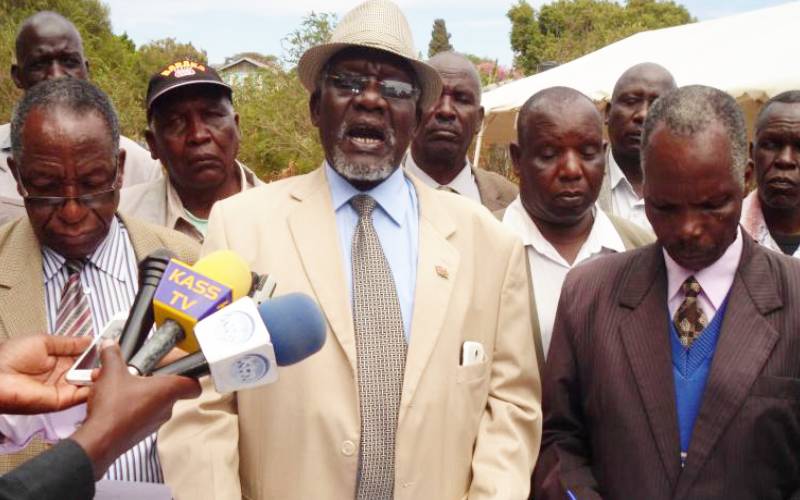 The cremation of Kibra MP Ken Okoth has once again stirred debate on the issue that evokes passionate views influenced by cultural practices and religious doctrines.
Council of elders and clergymen have expressed mixed feelings on the practice that seems to be gaining momentum in the country.
Okinja Makambo, an elder from the Luo community, said his community does not subscribe to the practice.
"In fact, Ken is the second person among the Luo to be cremated after Okuthe," said Makambo. The late Joshua Okuthe, a sports administrator, was cremated in July 2009.
While the request for one to be cremated upon death in Kenya has largely been based on written wills rather than cultural practices, Makambo said even in the past, wills were existent but they never touched on cremation as an alternative to burying.
Wills on cremation
"People in our community used to write wills on how they want their wealth - cattle or land - to be subdivided among their dependents and where they would like to be buried, and even the rituals to be performed. But we did not write wills on cremation. This is a western culture," he argued.
He said the late MP should have been buried in the land of his father, the man who paid bride price to marry his mother, and not any other man. Okoth's death had elicited a debate on his paternal heritage and a family from Homa Bay was ready to bury him as their son, according to Luo traditions.
Makambo said the Luo community believed that when a person dies, their spirit leaves the body and watches the living from the land of the dead.
The spirit is also believed to have the power to offer guidance to the living.
"For this to happen, elaborate burial ceremony accompanied with our traditions should take place," he said.
Peter Munga, a member of the clergy and secretary general of the Kikuyu Council of Elders, also agrees that it is wrong to burn someone upon death.
"In Kikuyu, we refer to death as rest and that is why we say when someone is dead they are resting with their forefathers," Rev Munga explained.
He said even the Bible still talks of death as resting, adding that what dies is the body but the spirit lives on as it is eternal and eventually returns to the creator.
"People like to remember the dead, and just having a grave in the compound means a lot. That is why even if you die in America, we will make sure your body is brought back home to rest," he said.
He, however, noted that the tradition of burying the dead was not African either.
"Back then in the Kikuyu community, if you died, it was worse because you were left somewhere. We had many forests and wild animals, to die peacefully, but when religion came, we started burying people," he said.
He said in the Kikuyu community, the words of a dying person are a treasure and that is one of the reasons why the community today would still allow one to be cremated if that was their wish.
Matter of convenience
"People do it (cremation) as a matter of convenience and as a community, we are forced to abide by the last wishes of the dead for the sake of peace. We do not ask questions and just respect what they asked," he said.
Washington Muthamia, the secretary general of the Njuri Njeke in charge of programmes, said cremation was yet to gain prominence in the Meru community.
"Apart from those we hear have died abroad and were cremated, we have not heard of any in the country," he said.
He said in the past the Meru community left the dead outside to be eaten by hyenas.
"Even the hyenas knew there was food once they heard people wailing. It is only when the white man came that we started burying the dead," said Muthamia.
He said the decision to bury or cremate should, however, be left to the family to decide because of the strong blood relations they have with the dead.
"It is good to leave such things to the family because you know, land is also becoming scarce," he said.
But Josphat Sakwa, an elder from the Luhya community, said while changes in culture are imminent, communities should be keen not to wholesomely adopt everything thrown to them by Westerners.
Luhya culture
Mr Sakwa said the reason why some people opted for cremation was affiliation to Western culture, especially when one marries someone whose community practices such.
"Cremation is not a Luhya culture, but, unfortunately, we have to live with it in these changing times," he said.
Sakwa said most religions had their ways of sending off the dead, some which subscribed to cremation.
But Yusuf Nzibo, Chairperson of Supreme Council of Kenya Muslims (Supkem), said cremation was not practiced by the Muslims.
"In our religion, we say "from dust you came, to dust you will return"," he said.
He said Islam, just like Christianity, which believes in the ancestry of Abraham, prefers to bury the dead.
"That is why you will not hear a Muslim who wants to be cremated. But what we are seeing today is shocking. We used to know Hindus as the only ones who cremate," said Nzibo.
More shocking
It was even more shocking in 2005 when Anglican Church of Kenya cleric Manasseh Kuria was cremated at the Lang'ata crematorium.
Being not only a man of God but also a clergy, the incident shook the beliefs of Christians.
Christians generally believe in life after death — that Jesus Christ the son of God will return and resurrect the dead for judgement, as documented in Daniel 12:2, hence the way a corpse is disposed does have a role in their faith.
Tom Otieno of ACK Church in Lavington said the discussion ended up being emotive rather than rational.
"It became clear later that the scriptures do not forbid cremation in any way," he said during an interview with KTN.
Rev Otieno said cremation, though convenient, had not been considered normative.
But Fred Munyao, a preacher and author, said there was nothing fashionable or civilised about cremation.
As soon as news that the Safaricom boss Bob Collymore was cremated, through his YouTube channel, Apostle Munyao came out to protest, arguing that it had some element of Baalism and Molech.
This deity practice, affiliated with the ancient community of Ammonites, involved one passing through fire as a way of purifying themselves and showing allegiance to the gods.
Munyao said the way of disposing a body might not really matter.
"You can be thrown into a river and people will not mind so much what happens to you. But even if they do, you won't because you will be gone. A man is a spirit and when you go, you leave the body behind. But cremation is part of Baal worship," he said.
Not conform
He said churches should not conform to the changes, as they are misleading.
"You (church) are making yourself an abomination unto God," he said.
John Seii from the Kalenjin Myoot Council of Elders said the worst the living could do to a dying person was not honour their last word, even if it is cremation they requested.
"Do not break the word of a dying person, because you will not call them back for discussion," he said.
He said even as people protest cremation, it should be remembered that burying the dead in graves was once not a norm.
"Even back then, we never took the dead to the house. Culture has to be dynamic in order to accommodate what is changing," he said.