MP's funeral barred as 'lover' claims his only heir left out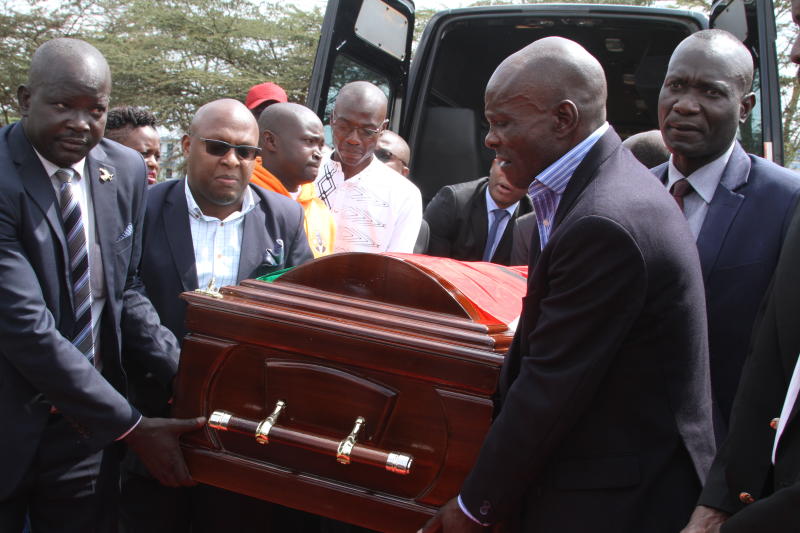 A court in Nairobi has stopped the burial of Kibra MP Ken Okoth.
Senior Principal Magistrate GA Mmasi issued the orders following an application by Ann Muthoni Thumbi, who averred that the family had refused to recognise her son who was fathered by Okoth.
The order stops Okoth's mother Angelina Ajwang and widow Monica Okoth from burying or cremating the body pending the determination of the case.
"A temporary injunction is hereby issued restraining the first and second respondents either by themselves or through their servants from conducting the burial, interment, cremation or disposing of the remains of the late Ken Okoth, pending hearing and determination of the suit," ruled Mmasi.
Ms Thumbi, in her application, argued that Okoth was the biological father of her four-year-old son, but the MP's widow and mother had stopped them from participating in his funeral programme as a recognition of the child's existence.
Denial of rights
The nominated MCA claimed stopping the boy from participating in his late father's funeral programme amounted to discrimination and denial of his rightful inheritance.
She argued that Okoth has been taking care of him and paying his school fees but now fears the MP's family could lock him out of any support the child should get as benefits from his father.
"The minor is currently labouring under serious confusion that may soon warrant the intervention of a psychiatrist. He is reporting back to school in September with a clouded future as his school fee has not been paid and the family doesn't want to recognise him," Thumbi claimed.
She swore that after meeting Okoth in 2013, while working at the Sonko Rescue Team, they became intimate, resulting in the child being born in 2015.
Thumbi swore in court papers that Okoth acknowledged his son and never failed in parental responsibilities by providing for both of them until his health started failing and was hospitalised in France.
She added that even when the MP was in France, he continued to keep in touch with his son and sent them money for upkeep. The MCA claimed her persistent attempts to reach Okoth's relatives after his death were met with resistance and abuse.
"Okoth and I had been in constant communication during his long illness and towards the end of his life persisted that his only living heir is recognised and cared for to maintain his legacy. He made this clear to his family, but I don't know why they disown the child," swore Thumbi.
She described the late MP as a loving man who would do anything for his only son, and that it would be very unfair for the minor to live with a lifetime memory of being denied an opportunity to bury his father.
Her lawyer Elkana Mogaka said cremating Okoth's remains would destroy any evidence that could be used for DNA test to ascertain the child's paternity.