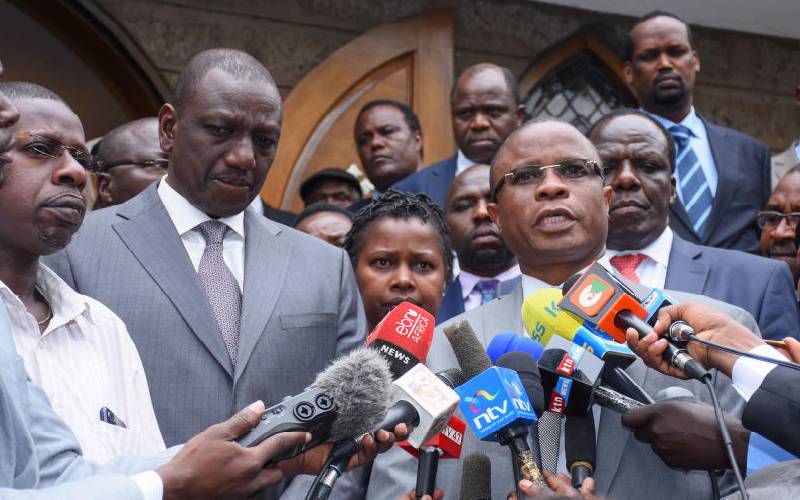 Eight days ago, Bomet Governor Joyce Laboso had told her doctor she wanted to be discharged.
In the past two months, Dr Laboso had been in hospitals in London, India and finally at the Nairobi Hospital, where she died yesterday.
"I want to go rest at home," she had told one of her doctors on July 21 from her hospital bed in the Hgh Dependency Unit (HDU).
Deputy President William Ruto was among those who had visited her that Sunday.
Yesterday, Ruto, who spoke outside Lee Funeral Home, recalled that Laboso had asked him how Bomet was doing. The DP said he told her not to worry about the county, but to take time to take care of her health.
Even as they spoke about her recovery, the governor reportedly asked Ruto to ensure Bomet was not left out in government development programmes.
Two days earlier, on July 19, Laboso had been moved from the intensive care unit to the HDU where she requested to be allowed to go 'rest at home'. But some family members are said to have resisted the suggestion, arguing that she needed to be in a hospital.
That is why on Monday, July 22, she was moved to the general VIP ward in the North Wing where she remained until her death.
Prayer vigil
Last Friday night, family and friends held a prayer vigil at the hospital for the 58-year-old, one-time university lecturer who was first thrown in the political arena in September 2008 following the death in a plane crash of her elder sister and Sotik MP Lorna Laboso.
The vigil was attended by her husband Edwin Abonyo, her children, Chief Administrative Secretary Rachel Shebesh and Nairobi County Speaker Beatrice Elachi.
They had gathered at the hospital's North Wing ward reception for prayers for the first-term governor who had been at the hospital for the last three weeks.
According to medical staff, Laboso was first diagnosed with cancer in 1991, but she had been in remission until recently when her health deteriorated.
Doctors noted that the cancer had spread throughout her body.
Laboso returned to the country recently after spending one-and-a-half months in the United Kingdom and India.
On July 9, Bomet County Director of Communications Ezra Kirui issued a statement to the effect that Laboso was expected back home from India.
The governor had left the country on May 29 for London and was admitted at the Royal Madden NHS Hospital for over a month. She was later flown to India for another two weeks of treatment.
In the statement, Mr Kirui said Laboso would not resume work because she would still be receiving medical care.
"Upon her return, however, the governor will continue with her medication locally as per her doctor's advice."
County affairs
Before she flew abroad, Laboso handed over the management of county affairs to her deputy, Hillary Barchok, and County Secretary Evalyne Rono.
Prior to her visit to London, Laboso had kept a low profile in the county which at one point led to speculation about her health.
Earlier this month, former Bomet Governor Isaac Ruto and Chepalungu MP Gideon Koskei visited her in India.
Five days ago, Homa Bay Woman Representative Gladys Wanga and a team of women legislators to visit her at Nairobi Hospital.
Before she was elected governor, Laboso had served as Sotik MP from 2008 to 2017. She had also held the post of Deputy Speaker of the National Assembly.