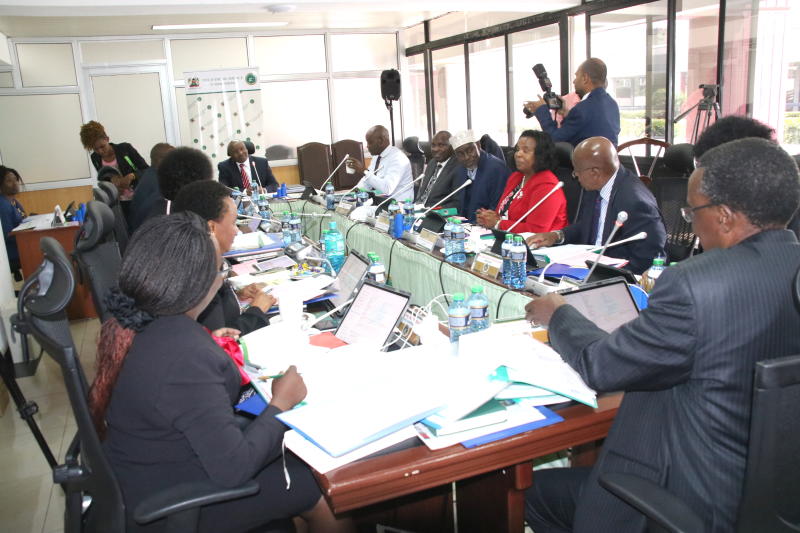 A decision by the Judicial Service Commission (JSC) to pick 10 High Court judges for promotion is set to affect on-going cases.
It will also disrupt administrative processes in court divisions and courts outside Nairobi headed by some of the candidates who had been appointed by Chief Justice David Maraga.
High Court judges appointed by the CJ to preside over the courts based on their vast experience are the ones who assign cases to those working under them and attend meetings on behalf of their jurisdictions.
JSC nominated Justice Msagha Mbogholi (Civil Division), Aggrey Muchelule (Family Division), Jesie Lesiit (Criminal Division), Pauline Nyamweya (Judicial Review Division), Mumbi Ngugi (Anti-Corruption Division) and Weldon Korir (Constitutional and Human Rights Division).
From the High Court outside Nairobi, apart from Justice George Odunga (Machakos), Joel Ngugi (Nakuru) and Hellen Omondi (Eldoret), only Justice Francis Tuiyot is not a presiding judge.
Pending cases
JSC gave only one slot to those not working in the Judiciary, and it went to Dr Kibaya Laibuta who is in the academia.
The Law Society of Kenya (LSK) thinks the selection of the judges will likely affect some cases that are still pending in court.
"The judges should not hear new matters but should identify the partly heard cases and prioritise them. We also urge our members to assist the courts by ensuring that the cases are fast-tracked without engaging in any dilatory tactics," said LSK President Allen Gichuhi.
LSK has also written to the CJ complaining about the criteria used in the selection process that saw candidates in the private practice locked out.
The lawyers society claims the selection of 11 candidates to serve in Kenya's second highest court did not take into consideration diversity of experience from both the bench, the bar and academia as has been the practice in the past.
Only nine percent of the 35 shortlisted candidates came from private practice.
It was a delicate balance for JSC as regional, gender and professional consideration guided their process of picking 11 candidates to serve in the Court of Appeal.
This was evident during the interviews where the issue of ethnicity took centre stage.
The CJ, who chairs JSC, sought to verify from each candidate which tribe he or she belonged to, a question that saw the female candidates who are married try to explain the complications involved.
For instance, while interviewing Justice Kasango, the CJ wanted to know where she comes from and her mother tongue.
"We want to start by asking you to tell us your county and your ethnicity and I am sure you know why we are asking," he said.
The Constitution stipulates that appointments reflect the regional and ethnic diversity of the people of Kenya.
Kasango said she understood the question had to be asked because of diversity in appointments.
The judge said she was from Machakos, her father was a Luhya from Kakamega and mother was a Kikuyu but she was born and brought up in Nairobi.
Her national identification card indicates that she hails from Mwala in Machakos, but on the JSC screen it indicated her county as Kiambu and ethnicity as Kikuyu.
"You are reading something different. I live in Kiambu -- I reside on Kiambu Road," she said.
Justice Lesiit told the panel she comes from Samburu, but was born in Kisumu and her ethnicity is complicated because her parents are "half-half".
"Ethnicity is complicated because both sides have half-half tribes so there is no whole. My mum was born to a Kamba father and half Maasai and half Kikuyu mother," she said.
Regional balance
Judge Lesiit disputed claims that her county is Kirinyaga and that she is Kikuyu, saying that her ID indicates Samburu County where she is married.
Judge Christine Meoli said she is married in Kajiado but was born in Nairobi. She is Kikuyu but also has Maasai blood.
Lawyer Joyce Majiwa said she is from Homa Bay County by marriage, Kisumu by birth and lives in Nairobi.
Justice Fred Ochieng told the commissioners that at the time he got his national ID, one was required to associate with his father.
"When we were taking the IDs, they required you to associate with your father, so the particulars on it are Siaya. But I live in Muhoroni where my father himself has lived in since 1965," he said.
Apart from the regional balance issue, the commission is to look into the issue of gender, given that 13 women and 22 men were interviewed.
The Court of Appeal has an approved limit of 30 judges who serve in Nairobi, Mombasa, Nyeri, Kisumu, Nakuru and Eldoret, but currently it has only 19.
This court has been operating with a shortage of judgesfollowing the promotion of some, such as Maraga, his deputy Philomena Mwilu and Attorney General Kihara Kariuki.
Some of those who retired upon attaining the age of 70 include Justices John Mwera, Anyara Emukule, Festus Azangalala and GBM Kariuki.
But even as JSC works to fill the 11 positions, three vacancies at the court will have to be filled after the exit, at the end of the year, of Justice Philip Waki, Erastus Githinji and Alnashir Visram.
The three are probably the most experienced judicial officers having collectively dispensed justice for over 100 years.