Prosecutions beckons for Waititu, ex-governor and LBDA officials over graft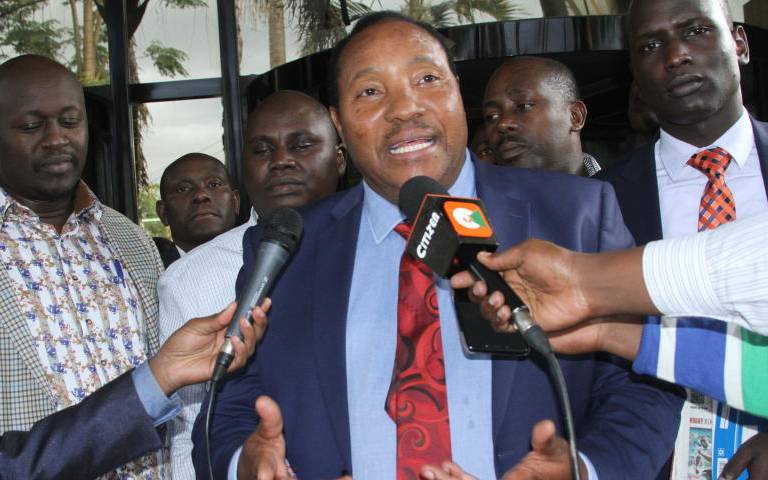 The Director Public Prosecutions (DPP) Noordin Haji has approved the prosecution of Kiambu Governor Ferdinand Waititu over corruption.
Also approved are charges against former Nandi Governor Cleophas Langat and former officials of Lake Basin Development Authority.
A number of chief officers in Kiambu County are also lined up for prosecution.
The DPP has approved two charges against the Kiambu suspects who could be arrested anytime, a source said.
Another official also confirmed the suspects' files had already been sent to the Ethics and Anti-Corruption Commission (EACC) for action.
EACC chief executive Twalib Mbarak had, last month, said they were investigating the governor on claims of irregular procurement, fraudulent acquisition of public funds, conflict of interest and money laundering.
Show contractors
"Preliminary investigations show contractors paid monies to senior county officials, their companies or relatives through proxies," he said. Waititu and some members of his immediate family have since been questioned by EACC.
Mbarak also indicated the raid at Waititu's Runda home and offices was extended to his family members, directors of private companies and ten senior employees of the county government.
In the heat of the drama, Waititu claimed the probe was politically motivated.
He moved to a Kiambu court and obtained an anticipatory bail, which prompted protests from EACC. The bail was meant to stop the detectives from arresting him. It was however lifted.
Yesterday, Waititu moved to the High Court seeking orders to block his arrest (see separate story)
A number of Kiambu County government staff have since resigned amid fears they could be used as witnesses.
EACC had accused the governor of receiving kickbacks through his bank accounts and accounts of companies associated with him, his wife Susan Wangari Ndung'u and their daughter Monica Njeri.
An affidavit by EACC investigator Regina Ng'ang'a detailed how two companies the commission said are owned by the three, received up to Sh30.6 million from a firm awarded a tender to construct roads late last year and early this year.
Testimony Enterprises Limited, which EACC claimed had been irregularly paid a substantial amount "without producing certificates required to show the work done", received Sh180 million between April last year and last April.
Investigations showed the company's account was opened on March 27, last year with its managing director Charles Chege and Beth Wangechi Mburu, being the directors.
Between July and October last year, Testimony Enterprises Ltd paid Sh25.4 million to Saika Two Estate Developers Limited, which is owned by the governor and his daughter, according to EACC.
Between October 2018 and January 2019, the firm paid, from its bank account, Sh5.2 million to Bienvenue Delta Hotel, also owned by Waititu and his wife, EACC said.
The investigator told court their inquiries from Registrar of Companies revealed Waititu and his daughter are the directors of Saika Two Estate Developers Limited.
EACC also said according to the Registrar of Companies, Waititu and his wife are the directors of Bienvenue Delta Hotel.
"An analysis of evidence reveals the governor received kickbacks through his bank accounts and accounts of companies associated with him and his family members for contracts awarded by the county government," reads the affidavit.
EACC said money paid to the company is normally transferred either directly or indirectly to the top county officials, their companies or relatives or proxies.
Another source said former Nandi governor Cleophas Langat could also be arrested by the EACC officials, following ongoing investigations on alleged graft at the county government during his reign.
The DPP is reported to have approved prosecution of the former governor as well.
"Millions were sunk in the building of the county government approved house which is still incomplete," said an investigator at EACC.
Current officials
The DPP has also approved prosecution of former and current officials at Lake Basin Developed Authority (LBDA) over loss of Sh2.7 billion through inflation of the cost of constructing the Lake Basin Mall in Kisumu.
The probe, involving the Sh4.6 billion project, has seen sleuths seize documents from Bobasi MP Innocent Obiri and Kisumu asssembly Onyango Oloo's residences and offices.
They were among 20 people targeted by EACC to unearth the alleged losses. The duo has denied any wrong doing.
Oloo's Mamboleo, Milimani and Nairobi's Roysambu homes were searched by detectives probing his role in controversial mall project.
The lawmaker's residence in Igare, Kisii, and Nairobi and private office were raided.
Oloo served as the chairman of the authority's board while Obiri, a quantity surveyor, was the project consultant.
It is in 2013 when the project was conceptualized but his administration was dogged with queries over inflated costs and use of government property to secure loan of Sh2.5 billion.
Others whose premises and offices were searched include former CEO Peter Aguko Kabok, Erdemann Properties Ltd belonging to a Chinese investor, former chief procurement officer Achieng Achoka and all the members of the tendering committee as well as former officials of the procurement department.
The investigators had been asked by the DPP's office to obtain more documents, which prompted the searches.
The affected former authority officials were being probed over alleged inflation of the cost of the project from the initial Sh1.9 billion to Sh2.5 billion, Sh3.7 billion and eventually Sh4.6 billion, occasioning a loss of Sh2.7 billion.
The title of the multi-billion project is still in the hands of Chinese investor, having been used to secure loan from Cooperative Bank of Kenya.
LBDA took a loan of Sh2.5 billion from the bank, charged to the title deed of its land, which houses its headquarters and the mall.
Mbarak invited several former officials to clarify a number of issues.
Over 70 people recorded statements over the project, including former AG Githu Muigai and Jubilee Secretary General Raphael Tuju, who were interviewed in March.
Other top government officials, authority's subsequent board members and managers have also been grilled by EACC.
The mall was built through a partnership between LBDA and a developer on a 20:80 basis respectively. The amount owed to the developer was to be paid upon completion of the mall, which is still pending.