Muthaiga OCS interdicted over Dennis Itumbi pictures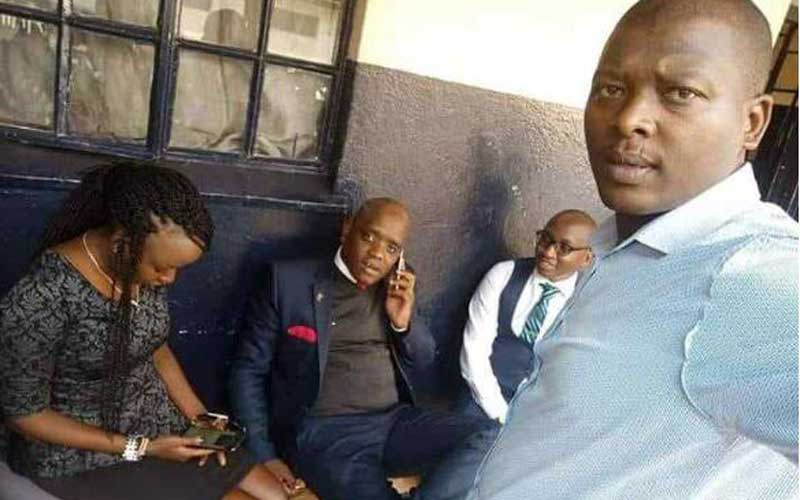 The investigation and trial of the alleged plot to kill Deputy President William Ruto has claimed its first casualty.
Muthaiga OCS Alphonse Kimengwa was interdicted for letting people take pictures with digital strategist Dennis Itumbi who is in custody.
A relaxed Dennis Itumbi was photographed with Citizen TV anchor Jacque Maribe, politician Josiah Murigu and Itumbi's brother David. The selfies drew ire over his preferential treatment while in custody.
According to the Police Act, Itumbi and his friends are at risk of imprisonment for a term not exceeding two years or fine not exceeding Sh20,000 or both if found guilty of disorderly conduct.
Section 60 (1) of Act says that if 'a person who, in any police building, police office lock-up or cell behaves in a riotous, indecent, disorderly, or insulting manner shall be guilty of an offence'.
Itumbi, the secretary of digital media at State House, but who lately worked from the DP's office, was arrested on Wednesday over a letter that sparked claims of the assassination plot.
Itumbi was picked up from a city restaurant on Wabera Street in the central business district by a team of 14 Flying Squad officers in three cars.
They whisked him to the Directorate of Criminal Investigations (DCI) headquarters for questioning.
After hours of grilling by a team of 11 detectives, Itumbi was moved to Muthaiga Police Station, where it would spend the night.
It is here where droves of friends have come to visit Itumbi in a show of solidarity.
Yesterday, Itumbi argued against his detention at Kamukunji Police Station saying hardcore criminals were held there.
He made the statement in his replying affidavit to an application by the police to detain as they continued with the investigations.
He reiterated that he feared for his life because he was in "bad books" with DCI boss George Kinoti and Interior Principal Secretary Karanja Kibicho.
He asked the court to detain him at either Muthaiga Police Station, State House Police Station, Gigiri Police Station or Kileleshwa Police Station.
Milimani Senior Resident Magistrate Zainab Abdul allowed DCI officers to hold him for five days at Muthaiga Police Station.
The Official Secrets Act outlaws photo taking in prohibited areas like government buildings, military establishments, anywhere where there is a government armoury or any place gazetted as so by the Cabinet Secretary for Defence.
Kimengwa will now be on half pay for a period of time his conduct is investigated.