Blogger Robert Alai arrested, driven to DCI Headquarters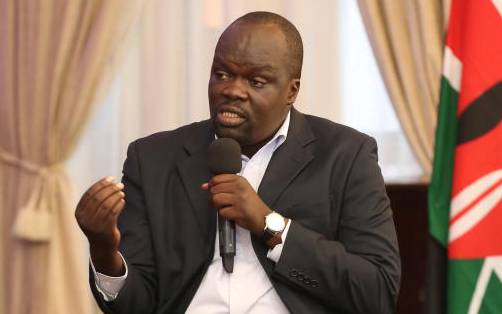 Police have arrested the controversial Nairobi-based blogger Robert Alai for allegedly sharing pictures of policemen who were killed in Sunday's terror attack in Wajir.
Alai has been reportedly driven to the Directorate of Criminal Investigations Headquarters for questioning.
On Monday, Police Spokesman Charles Owino warned internet users against circulating the images terming the act unpatriotic and supportive of the actions of Al-Shaabab.
A statement from the police read in part: "The unfeeling act of posting pictures of our fallen heroes is online by one blogger is very unfortunate and inhuman. This is glorification of terror which is tantamount to supporting the same. It is also a cold-hearted display of insensitivity to families of the deceased, the NPS fraternity and the entire nation of Kenya."
This was then followed by a warning by the National Cohesion and Integration Commission which called on Alai to pull down the graphic pictures of the dead police officers.
"Whereas Mr Alai has the freedom of expression, such publications can be interpreted as propaganda for war which is not protected under the Constitution of Kenya," The NCIC noted.
However, Alai yesterday accused the government of neglecting the police. He vowed not be silenced by the criticism.
He tweeted: "I will continue to speak out for the poor police officers who are neglected and their allowances taken by "wakubwa." We must give our men and women who die wearing uniform, respect, dignity and honor they deserve. We shouldn't treat our cops like dogs. I am angry!!"
He also slammed the NCIC for not fighting for the plight of the police officers.
"Ever seen NCIC condemn ethnic appointments in govt? Even seen them address the real issues preventing cohesion like the now fights in Marsabit? They are after silencing people addressing real issues. Police officers have asked me to help highlight their issues," he added.
Alai burst into fame after he published graphic pictures of people making love in Kakamega's Muliro Gardens. Over the years, Alai and has stepped on many toes through his fearless exposure of social evils.
At one stage, his uncompromising tenacity compelled State House to rope into its communications whereupon he became a familiar figure during President Uhuru Kenyatta's open forums at the big house on the hill, awarding him Head of State Commendation for raising pertinent social issues.