More trouble at Ng'ang'a church as bishops walk away in a huff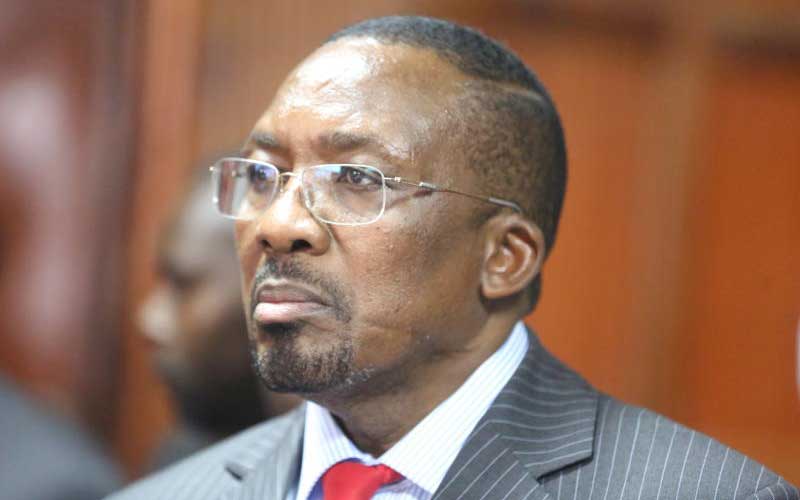 The troubles at Pastor James Ng'ang'a's Neno Evangelism Church have deepened after the coast region bishop Robert Wafula confirmed that he had resigned.
His resignation came shortly after a video of Ng'ang'a spewing obscenities and warning bishops against disrespecting him and his wife went viral.
Wafula, one of the three bishops at Neno, says he felt attacked and offended that a man he has known for more than 20 years would take to the pulpit and cast them in negative light.
"If he had issues with us, he should have called us for a meeting. But declaring in public that he will kick us out means he no longer wants to work with us. I would rather leave than wait for him to do what he threatened," says Wafula.
Vile and bile
He added that he has never engaged with Ng'ang'a's wife beyond their regular church meetings.
Ng'ang'a says the bishops know his wife who is in her 30s is young, and they use her age to disregard any instructions she gives. On the vile words, peppered with abuses and innuendos that he delivered in his charged sermon aired live on his Sasa TV station two weeks ago, he says:
"I am two in one. There is Ng'ang'a the man and Ng'ang'a the spirit. When the spirit takes over, I become a different person."
He adds that when he was talking to the bishops, the spirit of God had instructed him to rebuke the disobedience that was slowly emerging in his church and threatening to scatter the congregation.
He says his ministry is pegged on deliverance and casting out demons, and that when he is in his "casting demons out mode", he gets into a daze and words roll out of him uncontrolled, and that when he watches the videos of the sermons later, even he gets perplexed at what he said.
"They were disrespectful. I call them for meetings and they say they are busy. Sometimes, they plan separate meetings that coincide with the ones I have scheduled," he adds.
Insiders reveal that the outburst was a manifestation of emotions that have been building over time. The bishops were increasingly getting agitated by the many scandals their leader was entangled in. They held secret prayers and fasts in an attempt to deliver their leader from the shackles of bad press that have dogged his career.
"We knew our apostle was in a lot of trouble. We were praying for the devil to let go of him so that he could focus on preaching and be the man of God everyone once respected," says one of the church members who admits that he is now looking for another church.
Wafula's exit has plunged the congregation into confusion, with a section of them supporting Ng'ang'a, while others are rallying behind Wafula, whom insiders say is forming his own church. Some of them took to social media to enquire about who between Wafula and Ng'ang'a will preside over service today.
"I am going into silence. Not making a move now. I am praying that God guides me on the next step. I do not want to act in anger. Ng'ang'a was like my father, and even though we have fallen out, I still respect him," says Wafula.
Ng'ang'a says he is unfazed by the side shows. He calls the wrangles in his church a spiritual battle. He says he will fight on his knees, Bible in hand and guitar strapped on his shoulders; like he did in a small classroom in Mombasa where he started preaching to a handful of people before he became famous.
"I started small before Jesus appeared to me and told me that God has big plans for me. The same God who talked to me then is the same one who talks to me to guide my flock in the best way I know," he says.
Even if some bishops decide to leave, he adds, the church will move on, and other people will take over. The other two bishops are said to be in consultation and will guide their respective churches on their decisions today.
Murder and fraud
Wafula and Ng'ang'a have come a long way. Twenty years ago, Wafula was a watchman with an ambition to accomplish great things. He needed transformation. Ng'ang'a was a jailbird who had been in prison for illegal possession of guns, among other crimes whose sentences he had previously served.
He set up a church in Mombasa that was called World Evangelism, before he changed the name to Neno. It is his luring words delivered in forceful preaching that drew Wafula into his church.
"I would go in my watchman's uniform. I was working at night, so I had no time to change. He noticed me and we became friends," he says. He shared his story during sermons. Moving tales of how he got saved at Shimo La Tewa Prison, and how he hawked with a handcart, selling mangoes in Bombolulu before God held a long conversation with him in a vision that changed his life.
By the time Ng'ang'a was becoming a force in the evangelical world, Wafula and his admirers described him as an anointed man. His wealth was growing immensely, his church filling to capacity, and his televised clips getting a national response.
"The response was bigger than expected, so I moved to Nairobi to start another church. I left the Mombasa church for Wafula to run," Ng'ang'a says. When he handed over the Mombasa church to Wafula in 2000, it had more than 6,000 members, a number that has since increased dramatically. He has other branches in central and western Kenya. Over the years, Ng'ang'a has dominated the media with scandals, ranging from personal marital issues, charges of fraud, even accusations of murder.
Two sides
His congregation gives two sides of him. Others believe he is a true follower of the word of God, and that his preaching is powerful. Others says he is ruthless.
Ng'ang'a says the devil is unhappy with his success, and that he will embarrass him by building a Sh2.5 billion church whose plans are already underway.