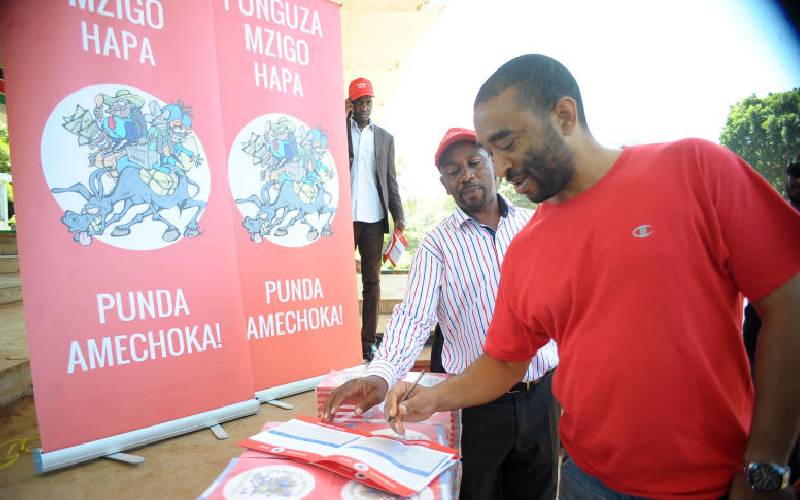 The electoral commission will today begin verifying signatures submitted in support of a referendum.
The crucial stage for the referendum push under the Punguza Mzigo Initiative is set to begin today at the Independent Electoral and Boundaries Commission (IEBC) offices.
Lawyer Ekuru Aukot's Thirdway Alliance submitted the Punguza Mzigo (Constitution of Kenya Amendment Bill, 2019) alongside 1.4 million signatures to the commission.
One million signatures are required to propel the process to the next stage.
Read More
The commission is expected to submit the Bill to the 47 County assemblies once it verifies the signatures.
"If the Independent Electoral and Boundaries Commission is satisfied that the initiative meets the requirements of this Article (257), the Commission shall submit the draft Bill to each county assembly for consideration within three months after the date it was submitted by the Commission," states Article 257 of the Constitution.
If at least 24 county assemblies approve the Bill within three months, the stage will be set for the National Assembly and the Senate to either approve or reject it.
Presidential Assent
The Bill will be ready for the Presidential Assent if it gets the backing of the majority of the members of the two Houses.
It would, however, be submitted to the people for a referendum should it fail to get Parliament's approval.
Mr Aukot's Bill has an attractive proposition for county assemblies. It proposes an increase to county revenue share allocation from the current 15 per cent to at least 35 per cent.
The initiative is also seeking to use each of the 1,450 wards as the primary unit of accelerated development, replacing the National Government-Constituencies Development Fund (NG-CDF).
IEBC Chairman Wafula Chebukati invited Aukot's team to turn up for the verification of signatures.
"Your agents, who participated in the document submission and receiving process, are invited to participate in the verification exercise and will be sufficiently briefed before the start of the exercise," stated Mr Chebukati.
The Punguza Mzigo Initiative seeks to slash the number of MPs from the current 416 to 147, as well as alter the President's term from the current two five-year terms to a single seven-year term.
Several other proposals have since come up, some for a referendum, others against it.
The Kamket Bill and several proposals before the Building Bridges Initiative have recommended the creation of a powerful prime minister's post and two deputies'.
Some leaders have in the past criticised the clamour to change the Constitution, saying there were more urgent issues to address. They have also opposed proposals to create new positions for a powerful prime minister and two deputies.